Pastor Timilehin Adigun Of MINE Ministry Responds To Actress, Juliana Oloyede's Sexual Abuse Accusations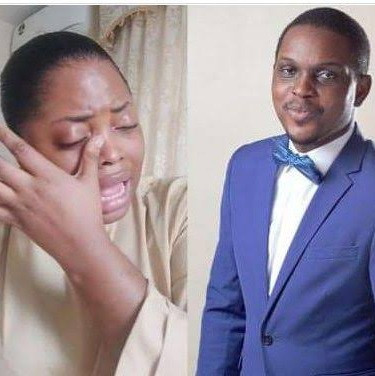 Pastor Timilehin Adigun has reacted to actress, Juliana Oloyede's latest claim that he sexually abused her sister, which is why she couldn't forgive him and had to leave his church.
Juliana popularly known as Toyo Baby had on Tuesday called out Adigun, who was her 'spiritual' father and manager, for taking control of her Facebook and other social media accounts.
The pastor responded, stating that he created all her social media accounts, including YouTube, Instagram, and Facebook for free as a father would. He added that he gave her all her passwords when he created the accounts.
He further stated that she left his church in 2020 after saying that she could not forgive him for something he did, which he already apologized for.
He went on to tell her that he initially held on to her Facebook account, hoping she will one day come back to him.
He admitted that he used her Facebook account to make a post but when she called him out on Instagram about it, he deleted it. He went on to explain why he unpublished her Facebook account.
He further told her that he knows many of her secrets but won't reveal it to the world because he is her "father".
The pastor also lashed Juliana for calling him by name when she came to his church to confront him about her password. He told her that he raised her and she has no reason to call him by his name.
Responding, Juliana alleged that Timi Adigun sexually molested her younger sister which is why she couldn't forgive him. She said he apologized to her family but the apology just wouldn't do.
Timi who pastors the Haven of Love Church, has now reacted. The married pastor denied the sexual assault allegation and said he's ready to go to court to defend himself.
He added that he hopes Juliana will find peace.
READ ALSO: 'I Just Hope That The Girls At Yeshua High School Are Safe' -Juliana 'Toyo Baby' Oloyede Opens A Can Of Worms As She Accuses Popular Pastor, Timilehin Adigun Of Sexually Abusing Her Sister, Others
He wrote on his Instagram story,
"For those concerned for me and asking me to stop responding, if I was brought before a court, I would have to talk or my lawyer would talk.

"I have been brought before a social media jury. I have to speak the truth but it is still up to individuals to choose what to believe.

"That said, I want to make it public here that I am ready to stand before any court or panel and I am ready to be investigated.

"When you know you have told the truth, there is no more fear. I NEVER sexually abused anyone! I have facts, figures and dates. What I was guilty of, I owned up to and apologised for. The next I want to see is a subpoena.

"I will continue on social media and continue building my businesses and ministry. This is a distraction I have no time for. I will not be posting on this again."
SEE ALSO: Pastor Timi Adigun Of MINE Ministry Issues Public Apology, Admits To Taking Advantage Of Girls He Was Mentoring On Sexual Purity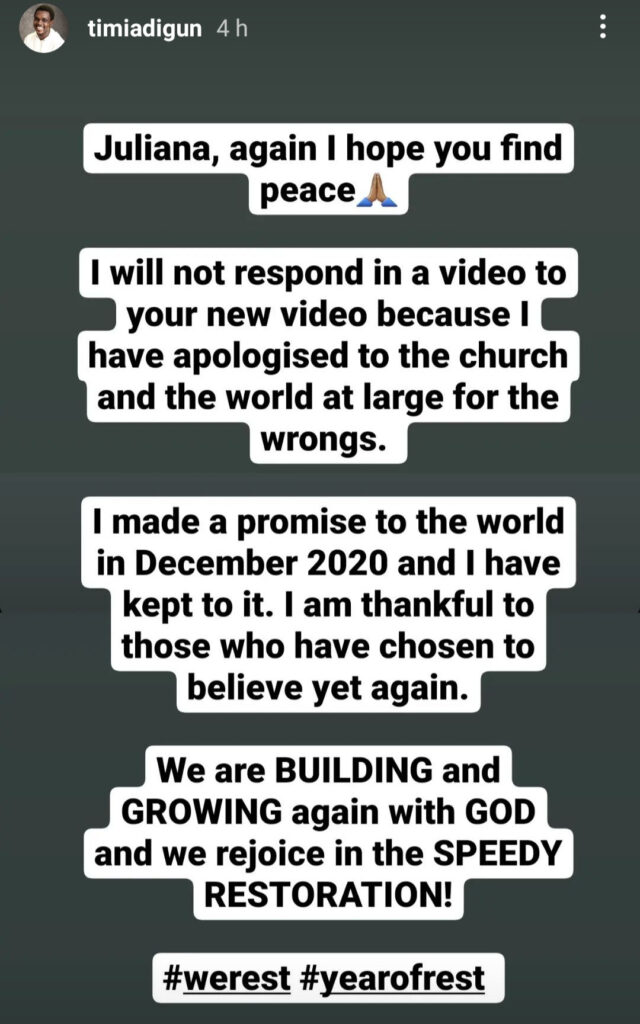 In 2020, Timi was accused by members of his ministry of sexually molesting girls in his car. He released a statement, admitting and apologising.
He has remained a Pastor and has continued running the church.