Newly Wed, Mercy Aigbe Clears The Air About Her Marriage To Ibaka TV Owner, Adekaz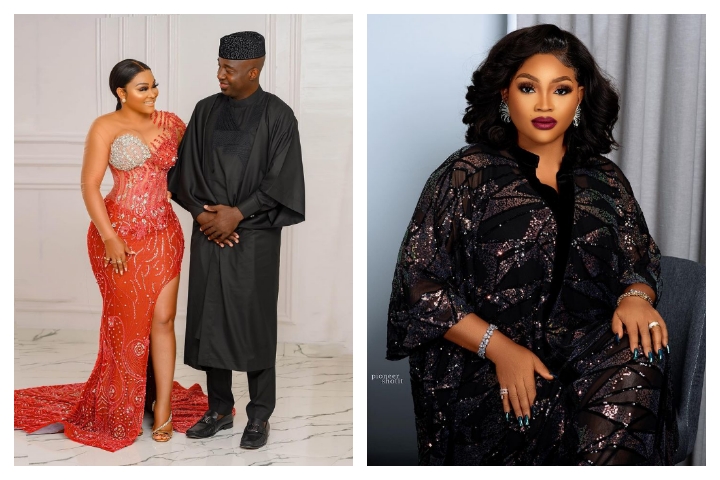 Mercy Aigbe has cleared the air about her marriage to husband, Kazim Adeoti popularly known as Adekaz following the backlash she has been receiving online.
The Nollywood actress revealed that her new husband who is a filmmaker is a Muslim and entitled to marry more than one wife.
The mother of two has been trending for some days now after the news of her secret marriage to Kazim, a married dad of four, came public.
Social media users expressed shock and also lambasted her for marrying a married man and friend of her ex-husband, Lanre Gentry.
Mercy has however come out to shut down rumors that her current husband was the friend of her ex-husband.
According to the 44-year-old newly wed, in a phone conversation with TVC talk show host, Morayo Afolabi-Brown, her husband is a Muslim and is free to take as many wives as he pleases.
READ ALSO: 'Mercy Aigbe Has Been Sleeping With Kazim Adeoti For More Than A Decade' -Family Source Makes Shocking Revelations
On Thursday morning, Mrs. Afolabi-Brown confirmed to viewers that she had an extensive chat with the famous actress on Wednesday evening. During the conversation, Mrs. Afolabi-Brown said Mercy opened up on some issues relating to her new marriage.
Morayo said:
"Mercy Aigbe had called me last night. She called me to correct an impression and that it is wrong for us to say, 'how can she go and marry her ex-husband's best friend.' According to her, her current husband which she recently got married to and her ex were never friends.

"And secondly she told me that 'Morayo the man is a Muslim he is entitled to more than one wife. Yes he had issues with the first wife so he is not marrying her as a second wife'. And she has accepted to be a second wife. Doesn't she deserve to be happy?"

"She was really upset that people were going to her DM threatening her kids and this has nothing to do with her children."
ALSO SEE: Wife Of Mercy Aigbe's New Husband, Funsho Adeoti, Finally Breaks Silence 
Mr. Kazim has a wife who lives in Minnesota, U.S, and is the owner of Asiwaju couture. They have four kids together.
Mercy left her marriage to Gentry in 2017 on allegations of domestic violence and infidelity. The estranged couple have a son together.