'This Is The Second Home She Is Destroying' -Insider Spills Grave Details About Newly Wed, Mercy Aigbe
Nollywood star, Mercy Aigbe has been accused of having a secret affair with her new husband, Kazim Adeoti for a long time and while she was still with her former husband, Lanre Gentry.
Mr. Kazim has a wife who lives in Minnesota, U.S, and is the owner of Asiwaju couture. They have four kids together.
According to the informant, who claims to know Mercy and her new husband very well, this is the actress' second home that she intends to destroy.
Mercy has been sleeping with her new husband for years, according to the insider, and she still comes over to meet with Adeoti's family when his wife and children visited.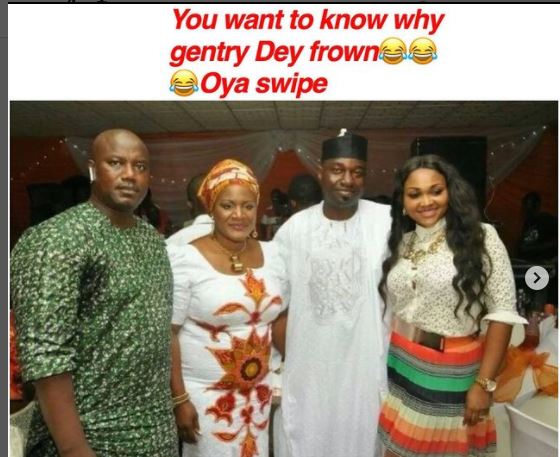 ALSO READ: 'Mercy Aigbe Has Been Sleeping With Kazim Adeoti For More Than A Decade' -Family Source Makes Shocking Revelations
The following was taken from the post:
"This is the second home Mercy is destroying. Haba! Same thing she did to Gentry's first wife when the woman was in Dublin. Adekaz will get his own.

I've known Adekaz for 15 years back. This man has been f*cking Mercy for many years away and I'm still surprised his wife wasn't aware. Because anytime his wife visits from U.S, Mercy always make herself available to meet and greet with the woman and children."
READ ALSO: Newly Wed, Mercy Aigbe Clears The Air About Her Marriage To Ibaka TV Owner, Adekaz
See screenshot of her claims below…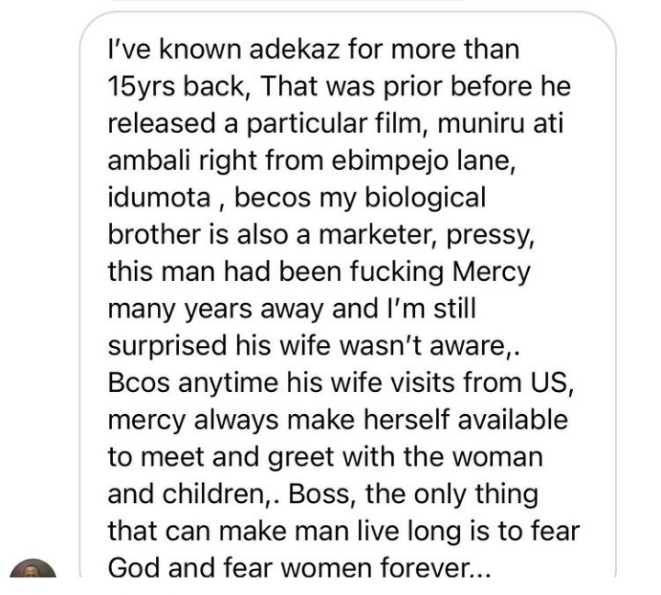 Mercy left her marriage to Gentry in 2017 on allegations of domestic violence and infidelity. The estranged couple have a son together.