Distraught Mom Of 19-Month-Old Obinna, Beaten To Death In School Speaks, Demands Justice: '3 Teachers Flogged My Baby Like A Goat'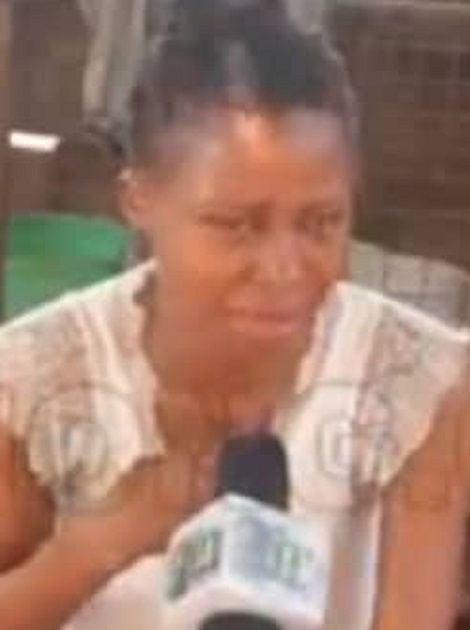 Gift Ohanezeze, the bereaved mother of the 19-month-old pupil who died after he was mercilessly flogged by his teacher in Delta state, has cried out for justice.
Speaking to newsmen amidst tears, the single mother said the incident happened only three weeks after she registered her baby boy, Obinna at the school (Arise and Shine Nursery and Primary School).
Gift claimed that her late son was flogged 31 times by his teacher Emeka Nwogbo, who is also the son of the proprietress of the school, and two other teachers.
The distraught woman added that she met the school proprietress on Monday, February 7, the same day her son was flogged and was told that her son had committed a grievous offence.
In her word:
"As I was making noise creating a scene for the teacher to come out, pupils from the class came out and told me that 'our big mummy and uncle, and one aunty tied Obinna with white hanky hand and leg, and was flogging him like a goat.'
I now say who is big mummy, they pointed at the proprietress. I met her and she didn't deny it, she said Obinna is stubborn, that was why. And I said who held him by the hand and leg, the son came out, looked into my face and he was the one. My younger brother said he should come out, and he slapped my brother."
READ ALSO: Emeka Nwogbo, Teacher Accused Of Flogging 19-Month-Old Obinna To Death In Delta State Speaks
However, speaking to newsmen after a delegation of the state government visited the state police command yesterday, Emeka said he flogged the late Obinna "like a baby".
When asked why he beat the little boy, Emeka said Obinna was disciplined because he pushed another child.
"I did not kill the child, the child was not killed by my hand, I caned him as I'm supposed to flog a child, I flogged him as little as I can."
According to another report, the primary school in which the 19-month-old pupil was mercilessly flogged to death by his teacher has been shut down by the Delta State Government.
It was gathered that the victim died from injuries sustained by his teacher who reportedly flogged him on Monday, leaving marks on his body.
The little boy was said to have fallen sick after the beating and was taken to the Federal Medical Centre, Asaba. His health condition deteriorated until he eventually died on Saturday morning.
The Delta State Commissioner for Basic Education, Chika Ossai said that the school was not approved by the state government.