Kanye West Voices Concern Over Estranged Wife, Kim Kardashian's Relationship With Boyfriend, Pete Davison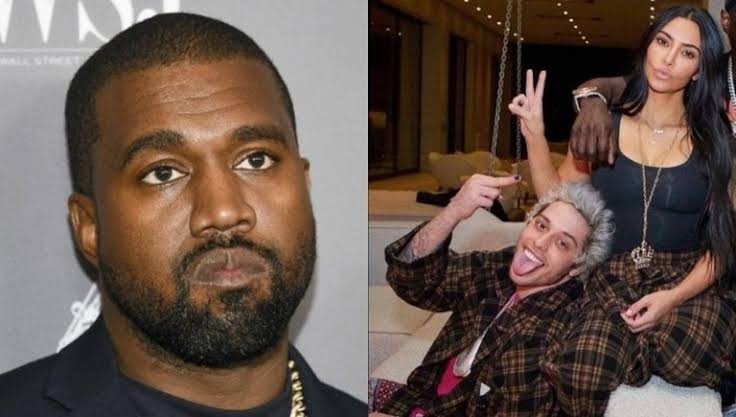 American rapper, Kanye West has voiced his concern over his ex-wife, Kim Kardashian's relationship with her new lover, Pete Davison.
Kanye, 44, has repeatedly attacked Pete on social media and in his music since the start of the year, even going so far as to portray the 28-year-old being kidnapped and decapitated in his "EAZY" music video.
On Wednesday, March 16 , the rapper continued his attack on Pete Davidson by voicing his concerns that "SKETE will get my kids mom hooked on drugs. He's in rehab every 2 months."
Pete has been open about his history of drug use and mental health struggles, revealing in 2017 that he was diagnosed with borderline personality disorder on top of suffering from Crohn's disease.
Now Kanye shared a fan comment and a message of concern for Kim, 41. The father of four posted a screenshot of a follower's comment reading:
"The way Skete used Kim's marital status to address Kanye was a sneak diss to her & she didn't even catch it."
Kanye captioned his post:
"I'm really concerned that SKETE will get my kids mom hooked on drugs He's in rehab every 2 months."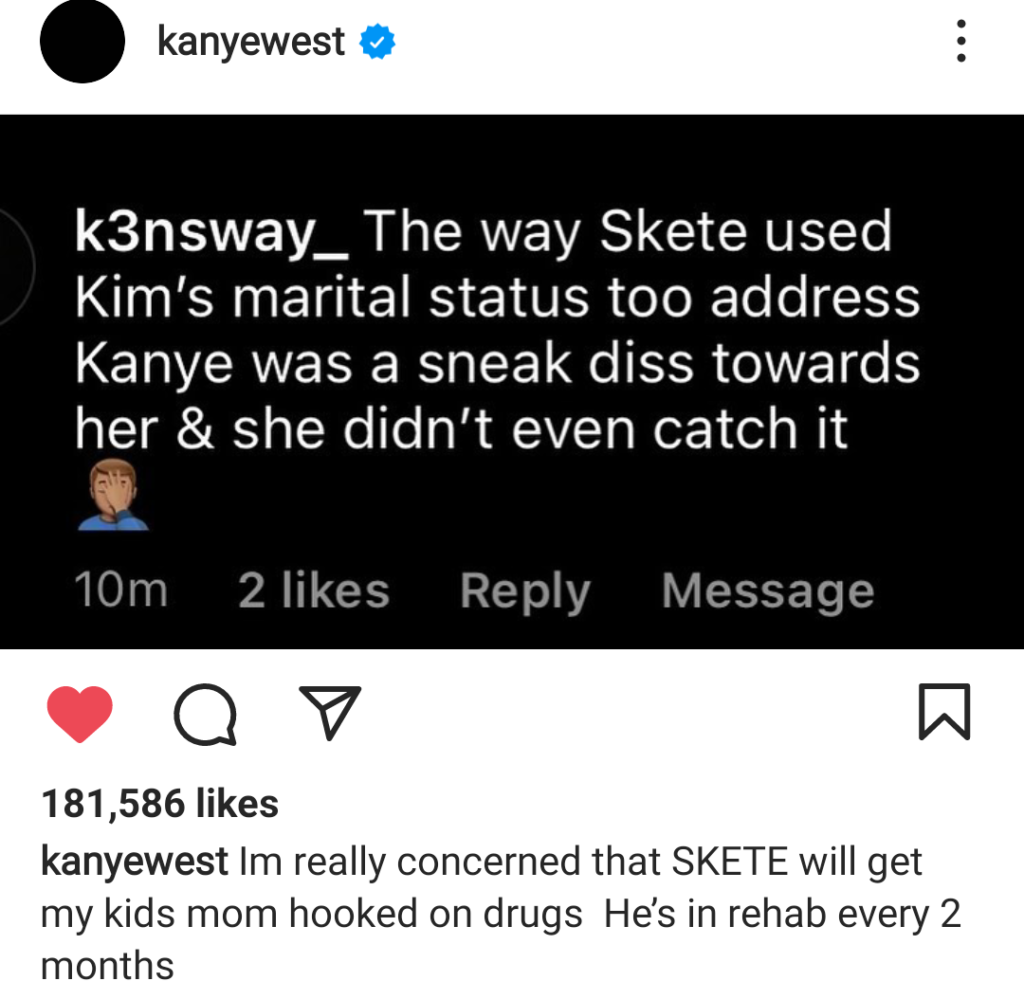 The fan comment referred to a leaked harsh text exchange between Pete and Kanye earlier this week when the comedian reached out to the rapper.
"Yo it's Skeet," Pete texted, referencing the nickname Kanye gave him.
"Can you please take a second to calm down? It's 8am in the morning. It doesn't gotta be like this. Kim is literally the best mother I've ever met.

"What she does for those kids is amazing and you are so f**king lucky that she's your kids' mom."
He added:
"I've decided I'm not gonna let you treat us this way anymore and I'm done being quiet. Grow the f**k up."
SEE ALSO: Kim Kardashian Fires Back At Kanye West After Seeking Public Opinion About Their Daughter, North, Joining TikTok Without His Permission
Kanye countered him saying, "Oh you using profanity. Where are you right now?"
To which Pete replied: "In bed with your wife," along with a selfie showing him lying on a bed.
The rap icon took to Instagram on Wednesday, March 16 to unleash yet another attack on the Saturday Night Live star, a week after releasing two videos for his song with The game titled 'Eazy' where he simulated an animated version of himself burying Pete Davison and planting rose seeds on his head.
Kanye posted a screenshot of an article with the headline, "Pete Davidson Enrages Audience With Jokes About Having Sex With A Baby," saying it is further evidence why the comedian shouldn't be allowed near his and Kim Kardashian's young children.
Kanye also claimed Pete had a "mental breakdown" after he "ran him off the internet."
The actor/comedian returned to Instagram last month but deleted his account just a few days later, as Kanye took credit for driving him off the app after he got lambasted by Kanye's fans.
"Yet another reason why SKETE gotta stay away from my children," Kanye wrote in his Instagram caption.
"Oh and nobody noticed that he ain't show up to SNL Because Mr. I can help you with meds had a mental breakdown after we ran him off the internet SKETE you not built for this I already blacked the Super Bowl out on you Apologize to your family for being in your family."
ALSO SEE: Kim Kardashian Breaks Silence On What Motivated Her To Divorce 3rd Husband, Kanye West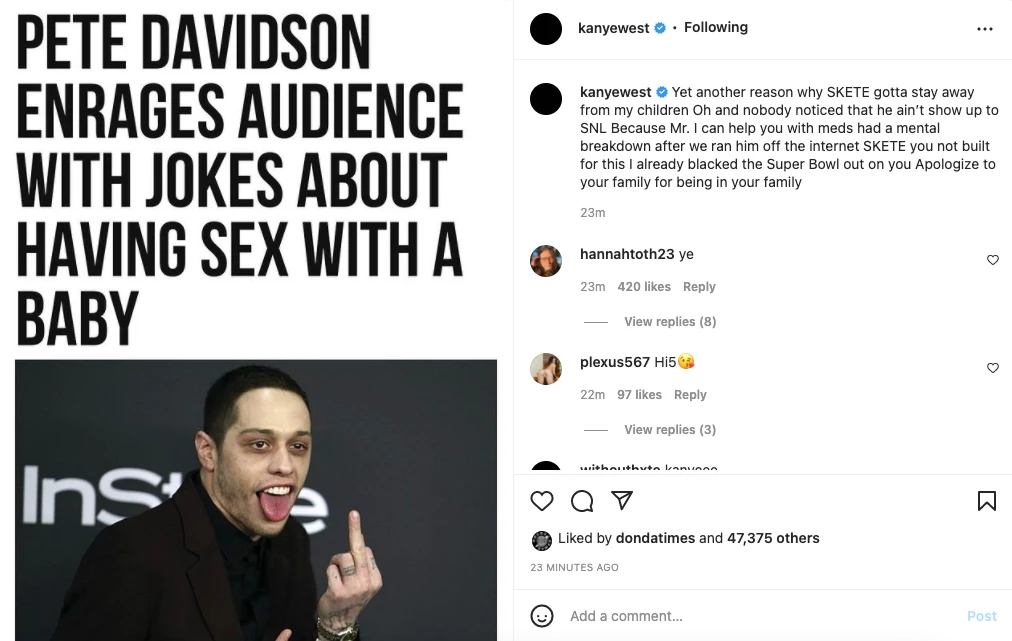 Pete Davidson's "sex with a baby joke" is from a 2019 stand-up comedy set at The Bell House in Brooklyn, New York, where he reportedly told a story about the time he was babysitting a friend's child and the baby, who was teething, began sucking on his finger and it felt "good."
"I don't want to fuck this baby, but he's asking for it," Davidson joked, adding that he doesn't want to have sex with any babies, but if he did, he would choose that one.