Annie Idibia's Elder Brother Calls Her Out In Bitter Rant: "I Want Nigerians To Know Today That…"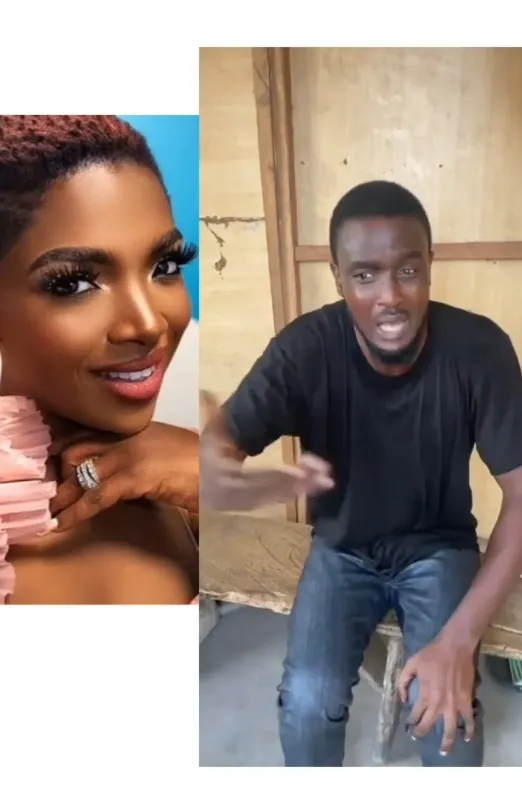 Wisdom Macauley, the elder brother of Nollywood actress, Annie Macauley Idibia took to social media to call her out and accuse her of being a drug addict and using him.
Wisdom, who is a married man with kids disclosed in a video that he works for Annie but she never pays him, instead, she only gives him paltry sums like "20K, 30K" and has manipulatively turned him into a slave. He added that when she's angry, she stops giving him anything at all.
Wisdom also revealed that Annie introduced him to hard drugs, adding that Annie is a violent person who is also a drug addict and that is the reason she isn't at peace with anybody.
"Annie introduced me to drugs, hard drugs. Annie is a drug addict. She takes it every day. She's so violent. And it is the same way, she doesn't have peace with anybody. She quarrels everybody. She fights everybody."
He said Tuface recently sent him some money after years of begging but the money wasn't enough to meet his family's needs.
He further said: 
"She wouldn't give me a car. I've been begging my sister for a car for many years to do Uber, for many years now, so that I can at least, on my own, provide for my family, provide for my wife and my three children.

My sister has never responded to me. She offered me to be her manager but at the end of the day, she turned me to be her errand boy, to a slave.

Annie is evil, like, she doesn't want me to be able to stand on my own.

Every slight opportunity she will call my wife and insult my wife. She insults everybody. She's violent. Every night she's on drug, every day she's on drug."
Wisdom added that since Annie wouldn't buy him a car, he begged her for the smallest car in her compound so he can use it for Uber but she refused.
SEE ALSO: 'Your Juju Is Finally Catching Up With You' -Tuface Idibia's Brother, Charles And Wife Hit Back At Annie In Explosive Instagram Post
He said he took the car on Wednesday morning, March 30, while leaving Annie's house and she sent her driver together with some knife-wielding men to come after him. He eventually left the car on the road and ran away.
He said his "life is at risk" and claimed that Annie has been sending threats to him.
He added:
"I want Nigerians to know today that if anything happens to me or any member of my family, it is not far from Annie. I need help. I cannot continue like this, I'm scared. I don't know what I'm going to do next. She's on drugs.

She's so violent. Annie is so violent. Annie is so ill-tempered… Even her mother cannot talk to her."
This comes just months after her elder brother, Uduak Macauley, disowned her
Wisdom, in another post, said that he isn't begging Annie for charity as was assumed from his previous video, rather he wants her to pay for the job he's done for her.
He claimed he designed Annie's children's clothing line, spent days and nights in Yaba getting the clothes ready, and put his time and sweat into creating the brand.
He added that in spite of all that, Annie hasn't paid him. He alleged that his sister doesn't want him to stand on his own and wants him to always have to rely on her.
He said:
"Annie is so manipulative. She just doesn't want a situation where I can stand on my own and provide for my self. She always wants me to come back to beg her."
ALSO SEE: Annie Idibia's Brothers, Wisdom And Sylvester Attack Tuface's Brother And Mom, Demand Public Apology Within 24 Hours Or Else…
He told Annie to pay him back and fulfill the promises she made to him. He also shared a photo of him wearing a jacket from Annie's kid's clothing brand and insisted that it was his design and concept.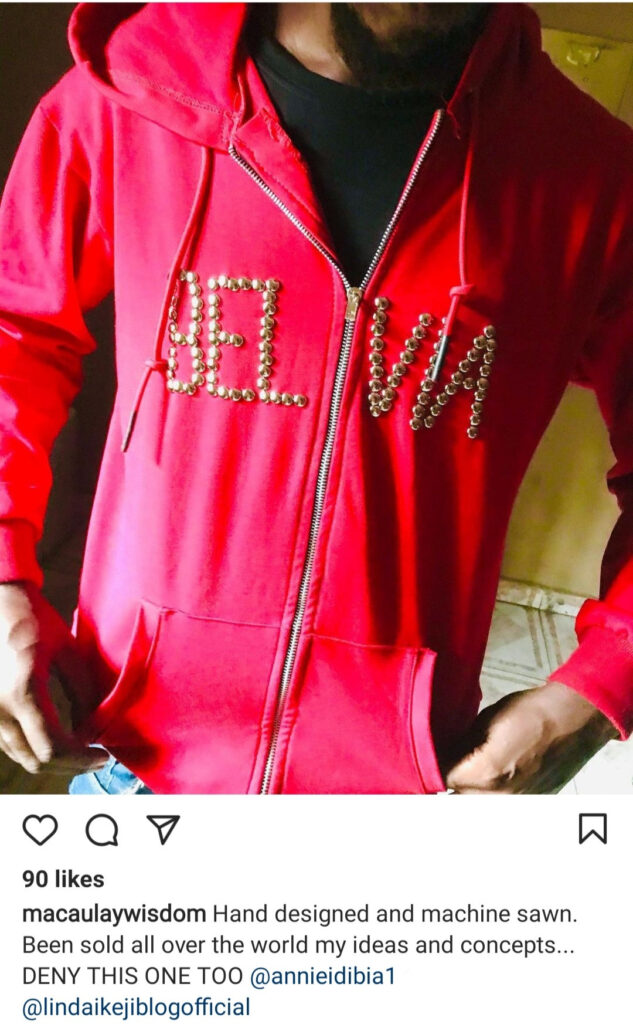 He dared Annie to "deny this one."