Celebrity Moms, Others React To Chrisland School Sex Scandal: 'Those Kids Have A Backstory To Their Behavior'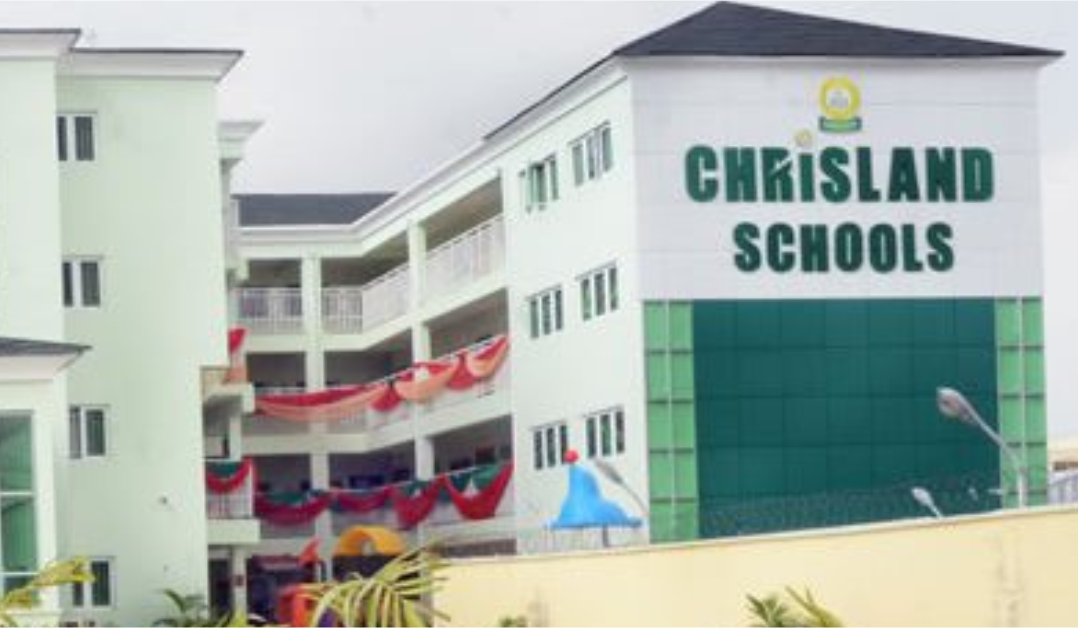 Celebrities like popular Nigerian Dancer known by her stage name Kaffy, Tonto Dikeh, Daddy Freeze, have reacted to the viral video of a 10 year old Chrisland student involved in a sex scandal.
The pupils were in Dubai to represent their school in a sporting competition. A suspension letter sent to the parents of the female student by the VGC branch of the school says that while in Dubai, a female student and some of her male colleagues engaged in a 'Truth or Dare Game', which was immoral.
While some are of the opinion that the 10-year-old girl was raped, others argue that the allegation of rape is unsubstantiated as the pupils engaged in "consensual sex".
Some others believe that the age for consent in Nigeria is 18 and neither of the pupils in the video is 18 and so cannot be accused of rape.
Others wondered why children would engage in Truth or Dare game that would lead to them having sex. Some others faulted the school authorities for leaving the pupils unattended to while in Dubai. Others blamed the parents of the pupils.
Well, according to the Kaffy, a mother of two, parents are expected to do more in raising their kids uprightly, while schools on their parts should also fulfill their duties.
Kaffy made it known that a broken person can only raise a broken child with the help of a broken system.
Sharing a tread on her Instagram platform, Kaffy wrote,
"Hmmmm….. this is sad! I am so disappointed at  not just the parents( bigger blame on them ) but also the school systems and their child protection policies. Parents as you can see, from DOWEN now to this ??‍♀️ we have to realize no one will take care of our kids better and no one is more responsible than the parents.

I agree with the closure of the school my kids go there but it's better I raise them from home than a place not prepared to do their due diligence.

I have hosted a camp before and I never let any room be without a chaperone, security personnel's were on watch the hotel  hallways, and so many other protocols. Being strict as teachers isn't enough a lot of measures must be put in place.

It's the business you are in and requires that much attention to detail. I am vexed !!!Broken people will raise broken people, especially with the help of a broken system Education, government and religion). They say it takes a village to train a child, this alone shows the gravity of the task of doing so."
She continued below…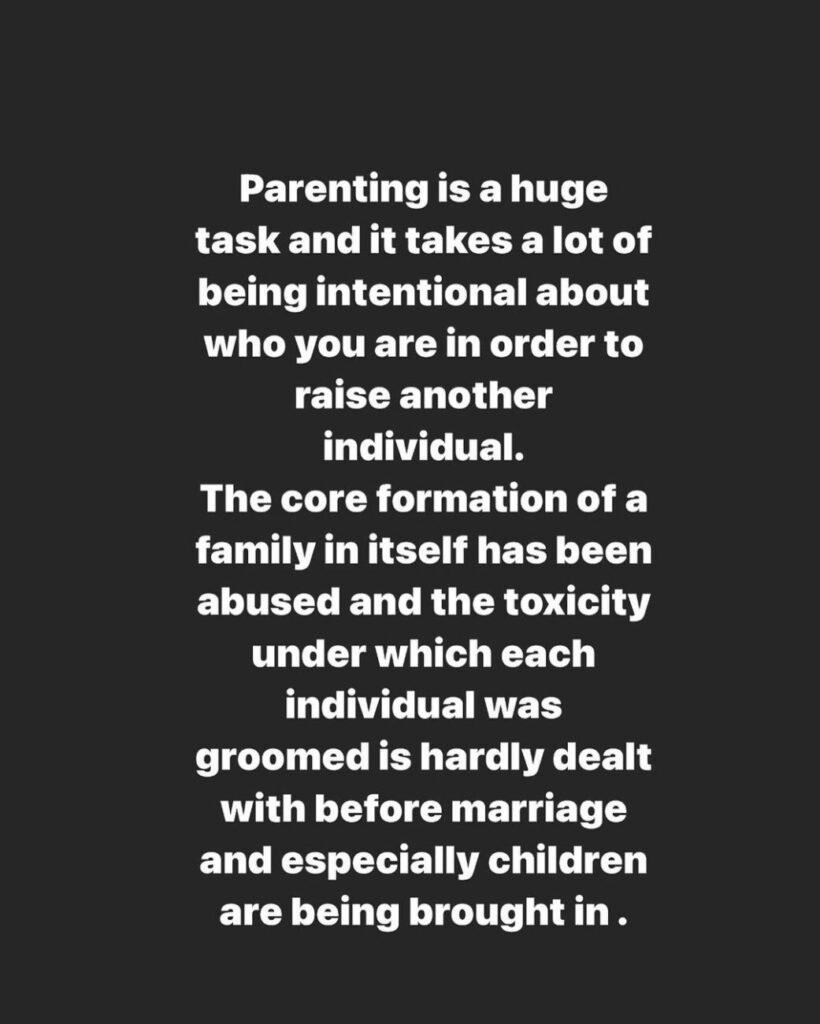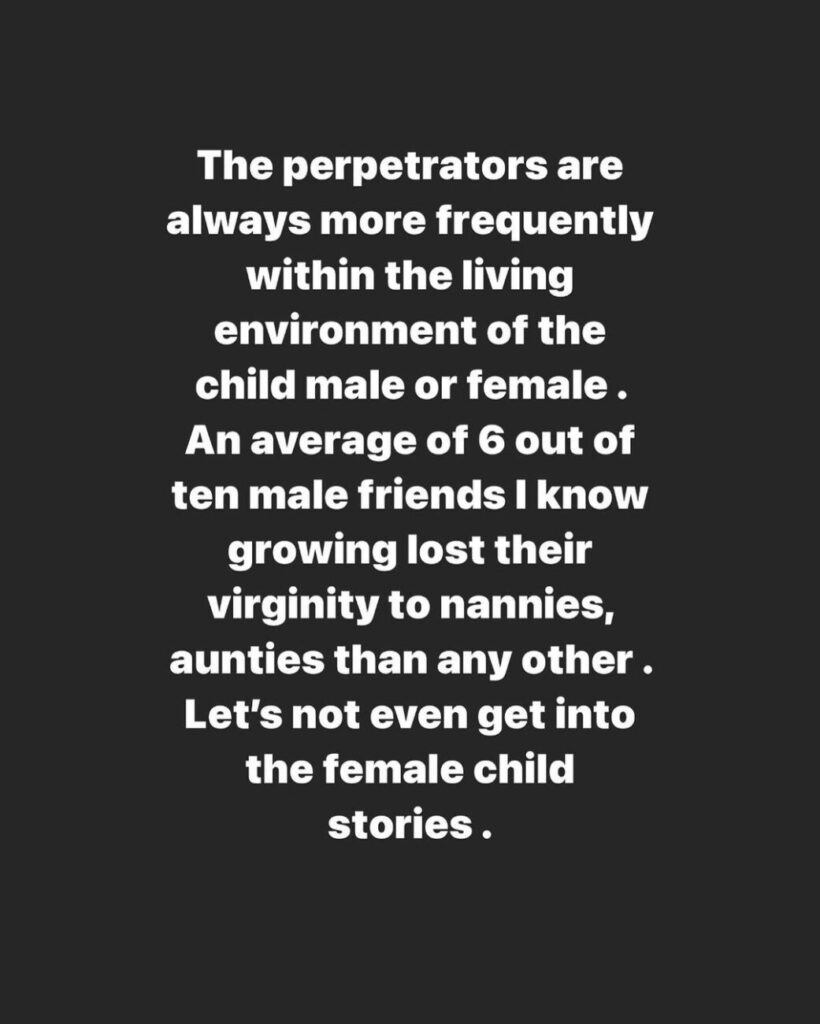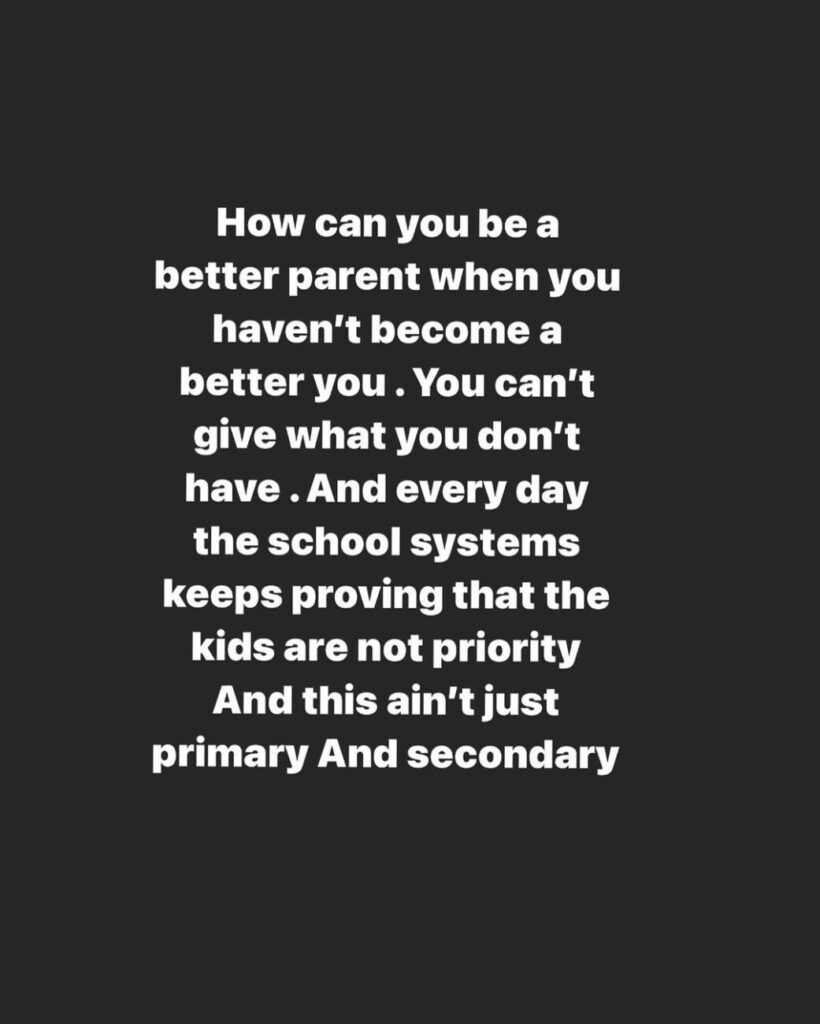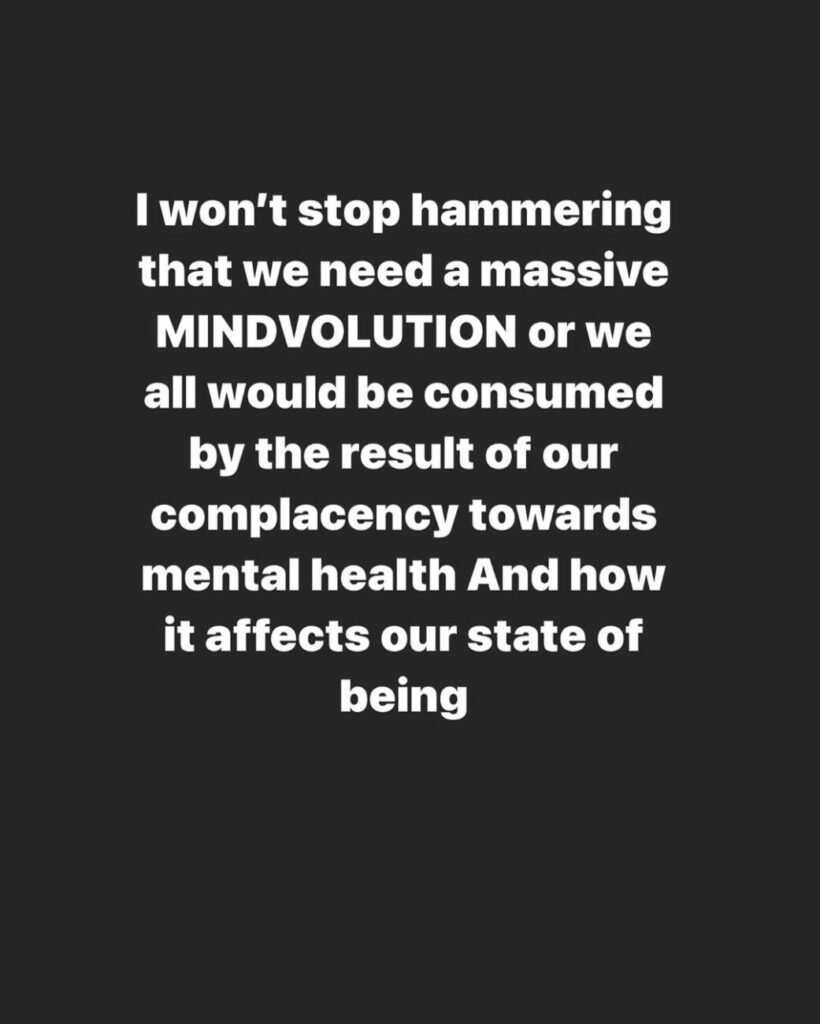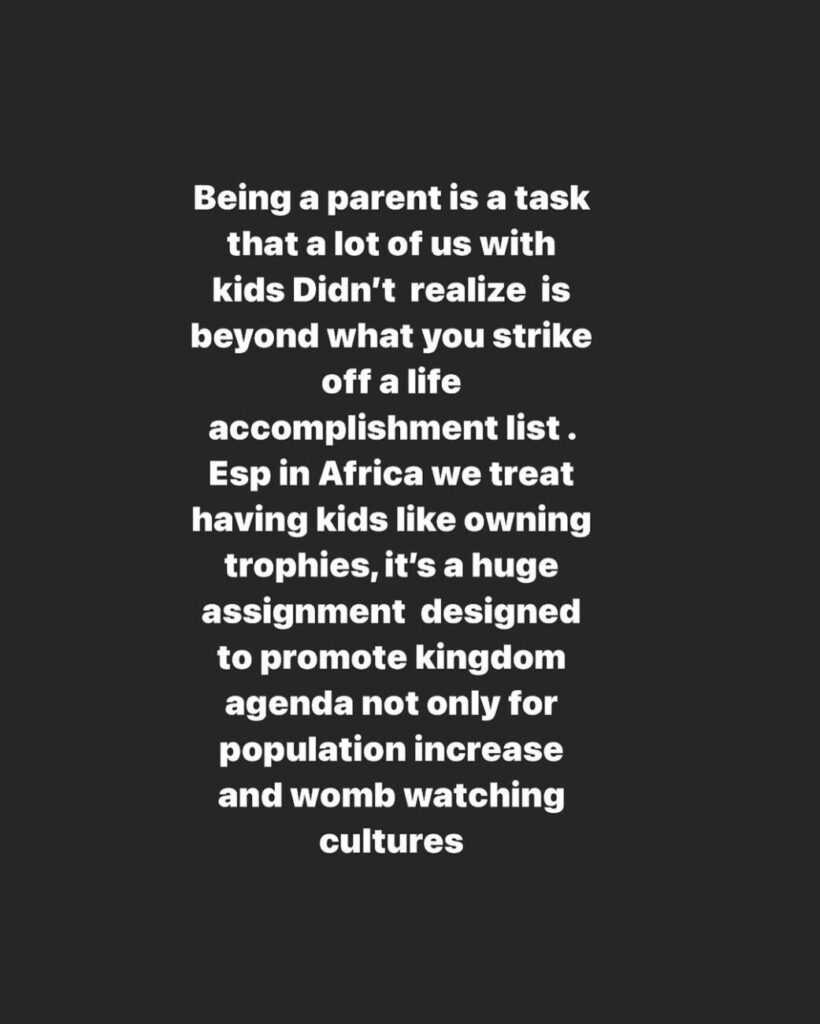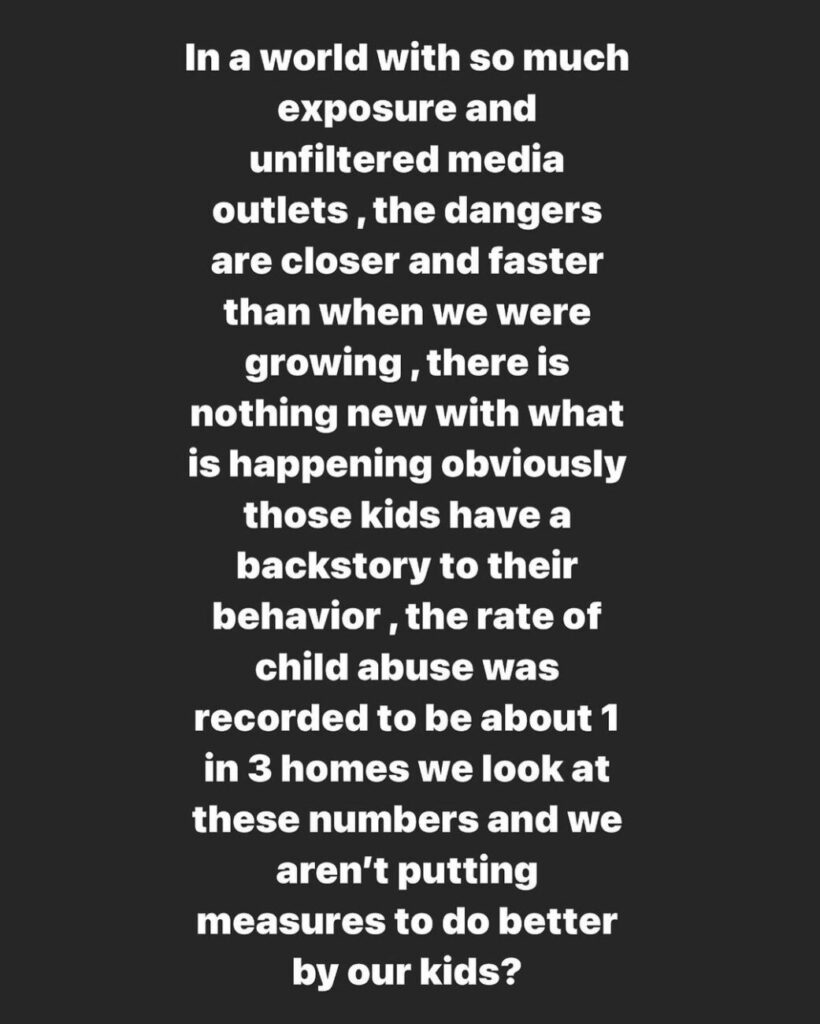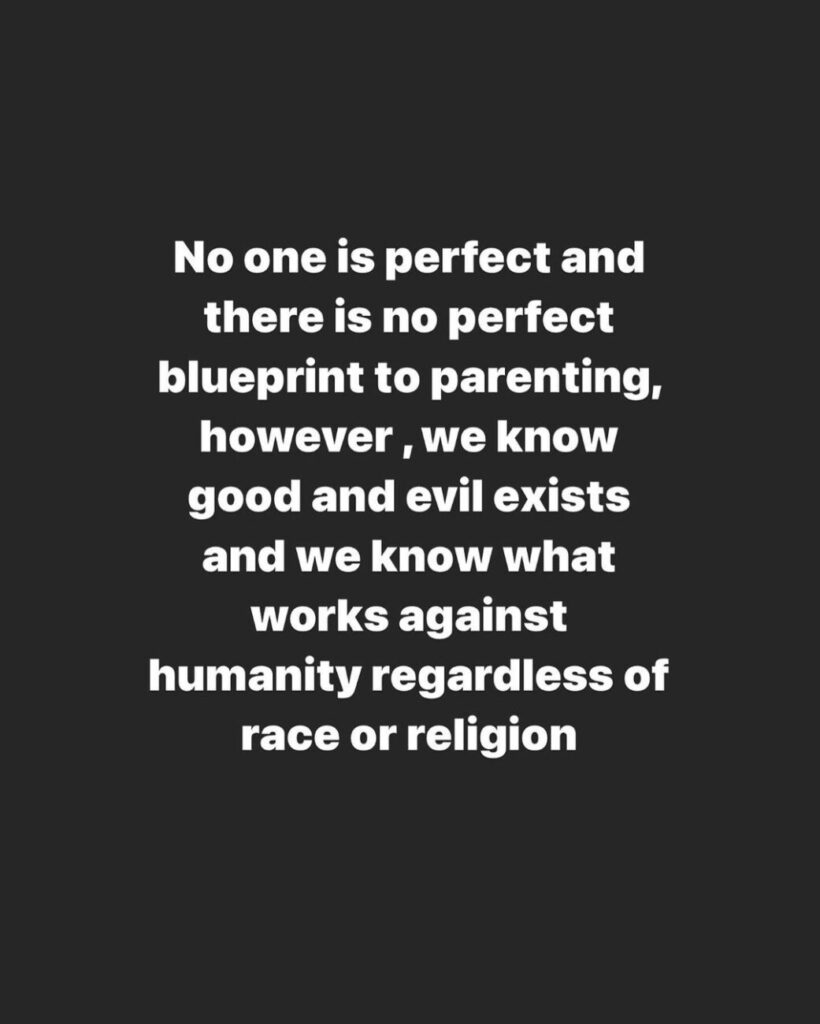 SEE ALSO: Distraught Mum Speaks Up After Her 10-Year-Old Daughter Was Gang-raped By Her Classmates, Video Shared Online During Chrisland School Trip
Actress and mom, Tonto Dikeh on the other hand pitched tent with those saying the girl wasn't raped.
According to the philanthropist, the incident isn't rape as the 10 years old girl knows sex. She avowed that this doesn't seem like her 1st or 5th time and probably she has an older groomer somewhere.
Tonto then advised the girl's family to ask the right questions and protect the girl more.
Addressing the school, she slammed them for concealing the truth. She wrote:
"Ok so I just watched the Chrisland video all I can say is that is not rape, that 10 years old girl knows sex, in my opinion it's not her 1st nor 5th time.

She has a much older groomer somewhere. The family needs to ask the right questions and protect the girl more. Please stop sharing the video.

The school is guilty for concealing the truth on such a horrible crime!! Our leaders need to do better (My opinion comes from a 52nd second video I saw). My sympathy goes out to the parents, family and the little girl. Hope she gets the protection she needs."
However for rapper, Eva Alordiah parents should put more efforts in educating their children about sex.
Eva warned that if parents don't do their duties diligently, the kids would be forced to learn sex education elsewhere and also put it into practice.
Eva expressed her opinion via series of tweets,
"I hope that more Nigerian parents will stop hiding behind the curtains of hypocrisy & righteousness, and begin to have real conversations with their own children about Sex.

We are sexual beings by nature. Heal your own shame & traumas and teach your kids about their Sexual Nature.

In a world where Information is rampant and easily accessible, where most children today are gifted Ipads before they are gifted books, where Sex is on ever ready display at the click of a button, it is even more Urgent that we discuss Sex in an open, intuitive and respectful way."

Unfortunately most Nigerian parents fold their arms and hope their children learn about Sex at the right time. When? They hope the Pastors promising hell as penalty for sin will twat the ever raging curiosity of children. The fear of hell is not as great as the desire for Sex.

We seriously need to stop with the damn hypocrisy and learn and teach about our God-given Sexual nature as humans.

Preaching "Suppression" is just as well as begging people to explode with reckless abandon.
You cannot suppress nature. Nature will do what it wilt.

To think that children are "just" children is to set yourself up for a rude awakening.

Children know so much more than you give them credit for. It is Better to have real, intentional relationships with your children, founded on love & mutual respect.

You give Children the most expensive schools, Ipads, Internet, Gadgets, Teachers, Pastors, but you don't give them your own counsel as parents.

Dear Nigerian Parents, please, it is your responsibility to teach your Kids about Sex. If you don't, they will learn anyways."
Also reacting is OAP and dad-of-three, Daddy Freeze who blamed the parents of the female student.
According to him, the parents of the girl in the viral tape didn't raise her well and the school also got their own share of the blame.
In his words:
"The parents of this pikin not try one kobo. The school no try, but we definitely cannot absolve the parents ah ah… Naaah naaaa this is way too much. Parents raise your pikin well o.

I'm not sure the mother saw that video before making that claim. It was in my humble opinion, consenting. The school failed thoroughly and so did the parents of the children involved. After closing the school the parents should also be sanctioned. This is my humble opinion."
ALSO SEE: 'Why We Suspended Female Student In Viral Sex Video' -Chrisland School Management Speaks Up
Some Nigerians on Twitter have blamed popular reality TV show, Big Brother Naija, BBNaija as Chrisland school students play Truth or Dare game.
Truth or Dare is a game regular played by housemates of BBNaija which has them revealing secrets about themselves. Anyone that fails to reveal his secrets is asked to bail his or herself out by performing a sexual act on the opposite sex or allowed such act to be performed on himself.
One of such saw Saga sucked the breast of a married housemate, Tega, during the 2021 edition of the show.
The show is usually watched by many parents, some of who allow their young children to watch with them.
one @iam_doctormayor asked, "Chrisland school pupils playing Truth or Dare? What happened to "name, animal, place,things?" I don't know how they got exposed to that kinda game In the first place."
@itsmamalee responded, saying, "You wanna know how? The media; movies and music contain vulgar words and uncensored content e.g BBNaaija. Parents; the woke ones who are nonchalant about what their kids are exposed to. Giving minors unrestricted access to the Internet. And every one of us."
@_temioflagos said, "You are letting your kids / siblings watch BBNAIJA and 18+ rated movies and you are wondering where they are learning truth or dare and those acts from, we all have a role to do play, Not schools alone."
@SirDavidBent said, "Last tweet: As we blame Chrisland and we blame the parents, let us blame society at large. We have condoned acts of immorality and normalized them as wokeness. Shows like BBNaija that do not add any value to people are promoted massively. What did we expect this generation to be?"
@MrOdanz said, "Marriage is too important a thing to be messed around with sha. Every successful society starts with successful family units. When you see parents watching BBnaija with their kids and cheer their kids singing sexually explicit songs, you know there is a problem. Big problem."
@leeswhag said, "People Wondering why Children Know what Truth or Dare is. Its Yourself you should ask simple questions like, Why did I let that Kid watch an 18+ rated TV program? BBNaija will start and then you let your kids and below 18 siblings watch and even argue with them …Think!"