Nigerian Woman Makes Valid Points On Why Women Should Always Insist On A Court Wedding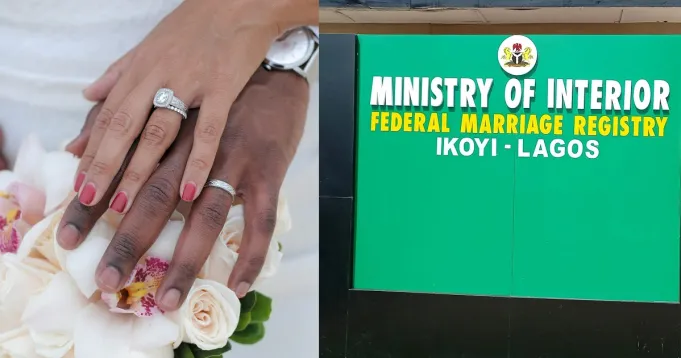 A Nigerian woman has urged other women to always insist on a court wedding.
The woman identified as Anthonia Umerah averred that women who wedded their husbands at the registry need not worry about polygamy.
According to her, Nollywood actor, Yul Edochie who recently made headlines after his public announcement about marrying a second wife and having a baby boy with her, could marry a second wife because he and his first wife, May, did not tie the knot at the registry.
She said that women should always insist on a court wedding to protect themselves against bigamy. She wrote:
"Women who wedded their husbands in court do not worry about Polygamy and this is why court wedding is the best! If Yul Edochie and May did court wedding, he will have to deal with the consequences of BIGAMY.

Dear women, always insist on court wedding, it's the best in other to protect yourself against BIGAMY and other things too."
Speaking further, she highlighted the benefits of getting married in court.
READ ALSO: Actress, Princess Shyngle Defends Yul Edochie, Gives Reasons Why His First Wife Must Not Leave Him For Having A Child With Another Woman
Read her full post below,
THINGS YOU SHOULD KNOW ABOUT A COURT WEDDING

1. PROTECTION AGAINST BIGAMY: in you wedded in court, your partner is not allowed to marry another person unless he or she gets a proper divorce, Unlike in traditional weddings you can marry the number of wife you like. BIGAMY is a serious crime and it is punishable with 5 years imprisonment. Your partner must get a proper divorce before he or she is allowed to marry someone else!

2. FAMILY PROTECTION: here in Nigeria, there are so many families that always throw a woman with her children out of her husband's house and take over their properties immediately the man dies. This kind of abominable act does not happen if you did a court wedding. If you love your wife and children, you should consider a court wedding to protect them.

3. LESS STRESSFUL, FASTER AND LESS EXPENSIVE: If you are a financially struggling man, you should consider a court marriage because it is cheaper to fund and it eliminate all the dress code and asoebi expenses. It is also very faster and less stressful.

4. RELOCATION: court wedding certificate is the most acceptable marriage certificate when you want to relocate abroad or need to show proof of your marriage in big organisations.
ALSO READ: 'No Place In Law To Just Sign Divorce Papers And End Marriage' -Lawyer, Inibehe Effiong Educates Nigerians On The Process Of Marriage Dissolution
5. DIVORCE: most people marry happily with no intentions for separation but sometimes some things or disagreement can lead to separation and this is the part that scares most Nigeria men because they are afraid the woman might swindle them when divorce happens, with the process of payment of alimony and child support.

This shouldn't be something to fear about, if you are rich and afraid of a woman or man swindling you, you both should sign a prenuptial agreement. This prenuptial prenuptial agreement protects your assets in the event of divorce or death.

This prenuptial agreement is created by the couple before they get married which will state how they want to manage their assets during marriage or in the event of death or divorce. Most rich people do not marry without signing a prenuptial agreement now.