ASUU Extends Its Ongoing Strike Again | DETAILS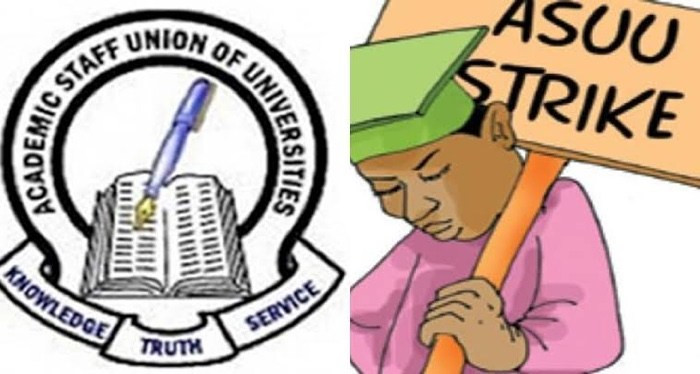 The Academic Staff Union of Universities (ASUU) has extended its ongoing strike by three months.
The decision was taken during the union's National Executive Committee (NEC) meeting which held in Abuja on Sunday May 8.
In a statement issued after the meeting, Emmanuel Osodeke, ASUU president, said the extension takes effect from today, Monday, May 9, 2022.
Mr Osodeke said the extension is aimed at giving the government more time to satisfactorily resolve the issues.
The statement reads:
"NEC was shocked that public universities have remained closed for about three months while members of the political class were busy purchasing expression of interest and nomination forms worth several millions of Naira in preparations for 2023 elections!

Those in power turned their back on our degraded universities as they shuttle between Europe and America to celebrate the graduation of their children and wards from world class universities. This speaks volumes on the level of depravity, insensitivity, and irresponsibility of Nigeria's opportunistic and parasitic political class.
SEE ALSO: ASUU Ends Warning Action; May Begin Indefinite Strike | See Details
NEC condemned Federal Government's cavalier attitude towards the strike action in the last twelve weeks. Government's resort to the use of starvation as a weapon for breaking the collective resolve of ASUU members and undermine our patriotic struggle to reposition public universities in Nigeria is ill-advised and may prove counterproductive.

After extensive deliberations, noting Government's failure to live up to its responsibilities and speedily address all the issues raised in the 2020 FGN/ASUU Memorandum of Action (MoA) within the additional eight-week roll–over strike period declared on 14th March 2022, NEC resolved that the strike be rolled over for twelve weeks to give Government more time to satisfactorily resolve all the outstanding issues.

The roll-over strike action is with effect from 12.01a.m. on Monday, 9th May, 2022. NEC found the planned overseas trip organised by the Committee of Vice-Chancellors of Nigerian Universities' Spouses (CVCNUS) despicable and condemnable.

The advertised five-day conference in Istanbul is a waste of scarce resources of our universities; it is insensitive and provocative, particularly at a time like this when lecturers are denied their salaries for daring to struggle to improve the lot of our public universities."