Marital Crisis: "Funke Akindele And JJC Skillz Both Cheat On Each Other…" – Stepson and Son, Benito Spills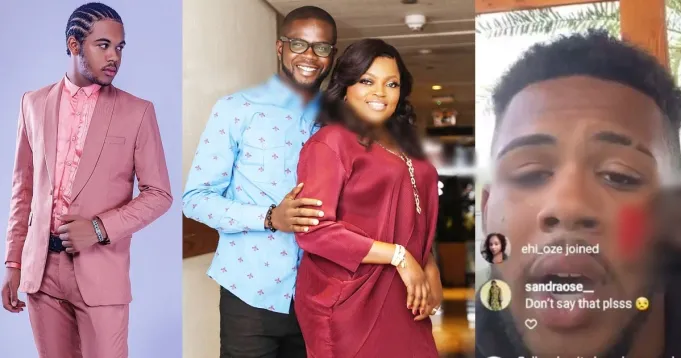 It has again been confirmed that all is not well with the marriage of Nollywood actress and producer, Funke Akindele Bello and her producer husband, Abdulrasheed Bello better known as JJC Skillz.
Rumours have been circulating for some time now that the celebrity couple is going through a rough patch in their marriage, although they are yet to confirm or dispel the reports.
They further fueled marriage crisis rumours at the African Magic Viewers' Choice Awards (AMVCA) last weekend when they arrived at the event in separate cars and reportedly avoided each other all through.
Unlike when things were going smoothly, Funke and JJC always turned up for events together, oftentimes in matching outfits, but this year was different.
However, JJC's love child, Benito during an Instagram live session claimed that there's indeed trouble in paradise. According to him, the couple, who share twin boys together no longer live together.
READ ALSO: JJC Skillz's Baby Mama, Mella Exposes Him And Actress, Funke Akindele On Living 'Happy Marriage Pretense'
Benito, who is the first son of JJC further alleged that Funke and his father both cheated on each other on several occasions. He said in part:
"Funke accuses everyone of dating my dad but your beloved had cheated on my dad. My dad cheated too. They do not sleep in the same room. They have not slept in the same room for two years."
He continues:
"They are not really together. They both cheat on each other, they both had a fight. My dad is practically living somewhere else. I don't even have any care for them no more. I can't talk for them as a couple anymore. I can only say what I have seen. They are in open relationship."
ALSO SEE: 'Living With Her Was Horror' -Funke Akindele's Stepson Shares Messy Details Amidst Her Marital Crisis With Husband, JJC Skillz
This is not the first time Benito would be calling Funke Akindele out. A few weeks ago, Benito, via his official TikTok account, dropped a comment on a post talking about his stepmother.
He claimed he lived with her for 2 years and in that time, "the house was a horror site".