Amen Estate 'Developer', Babatunde Gbadamosi Throws Shade After JJC Skillz Announced His Separation From Wife, Funke Akindele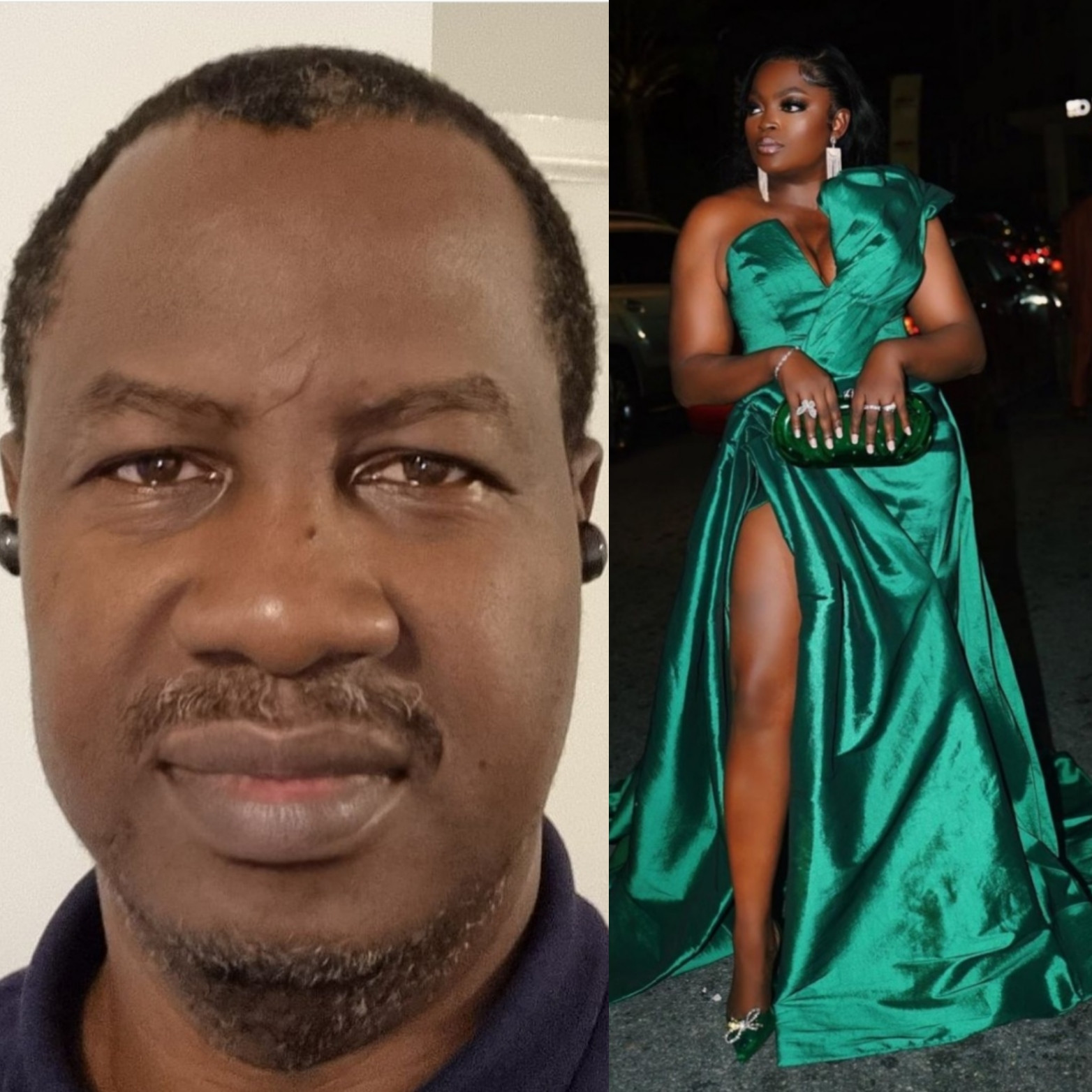 Top Nigerian actress, Funke Akindele's crashed marriage with music executive, JJC Skillz has continued to stir reactions on social media including from Nigerian politician and her former client, Babatunde Gbadamosi.
Gbadamosi was the husband to the owner of Amen estate, where Funke Akindele resides.
Today, June 30, JJC Skillz took to social media to announce that he and Funke are separated. He said the actress asked him to leave the house 3 months ago and they have not been able to settle amicably.
Following the public announcement, real estate developer Babatunde Gbadamosi took to Instagram to taunt the actress.
In his post, the former Lagos state governorship aspirant talked about 'being served breakfast,' which is a slang for relationship breakup.
Gbadamosi noted that the actress has been served breakfast and that her lunch is coming. He added that her dinner will also be sumptuous.
READ ALSO: JJC Skillz Announces Dissolution Of 6 Years Marriage To Funke Akindele: 'It's Beyond Repair Now'
Not stopping there, he also took to his caption to pen down a now-deleted note where he continued to cast aspersions at Funke.
He added that all masquerades will eventually be unmasked and served their own breakfast, lunch and dinner at great cost to them.
Gbadamosi wrote: "Breakfast is served, lunch is coming, dinner will be sumptuous."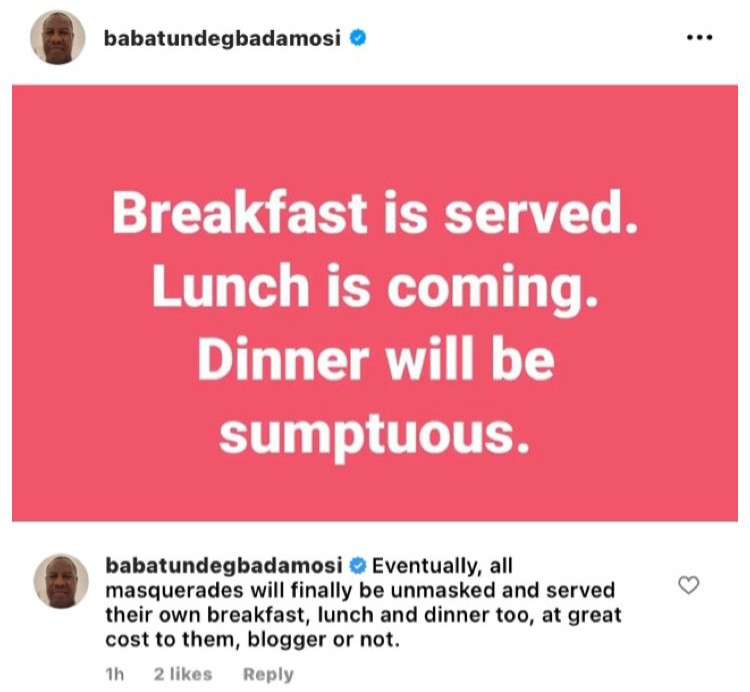 Babatunde Gbadamosi and Funke reportedly fell out in 2021 when the businessman's marriage crashed and Funke allegedly took sides with Babatunde's wife, Shade, owner of Redbrick Homes International Ltd, developers of Amen Estate, after he parted ways with her to marry someone else.
The politician's post raised a series of mixed reactions. Read some of them below:
Latifahcooks: "Mockery over failed marriage in 2022?"
Db_naturals_: "You guys should rest na!! Is it that some of you are sitting and waiting for the downfall of others? Must you people react to everything? Is your own life perfect?? Ahan."
Doktorfabz: "Because she no fight for u for ur own marriage after u give London girl belle. Oga rest."
Hayorsamuel: "There are more people waiting for you to fail than there are waiting for you to succeed. Let that guide how you live your life. Be sensitive."
Ayometide: "Agbaya ni sir . That was why he was also sent packing from amen estate."
Vivisco_: "Everybody Wan talk… Mtchewww."
Anonymous: "Why is the man not minding his business? He was present at their 'Covid-19' party. He doesn't seem to know there is something called limit. If you would not dish out kind words to these two, please shut your mouth. Divorce at any level is challenging! No need to take sides or mock anyone of them."
James: Marriages are crashing everyday in Nigeria because people are being myopic and think it's civilization, marriage must be build on a foundation of love, honesty, faithfulness and above all upon God, getting married because of money, beauty, fame or boredom will never stand a marriage.
Pray to God before marriage to give you the maturity you need to handle your marriage but in physical and spiritual, don't go into marriage with expectations and take away pride, ego, arrogance and third party out of your marriage.
It's stupidity that makes anyone to have pride and ego to their partners because your spouse is your second half so having pride and ego to your spouse is like having pride to yourself, no matter how civilized, powerful, successful you are when you are home with your spouse bring yourself to his or her level.
There must be issues in marriage but believe it or not the only person that can settle any issue in your marriage is you and your partner, involving third party is like adding fuel to fire because his or her family may some how try to defend he or she, friends will always tell you not to take any nonsense which they are facing worst at home, pastor are preachers and not marriage counselors, you and your partner alone knows your likes and dislikes, please we all can do better to avoid this high rate of divorce, learn to be forgiven, learn not to do what is unacceptable in marriage and above all put God first in your home."