43 Years In Marriage And Counting: The Ejiofors Share Lessons Couples Can Learn From Their Journey And Challenges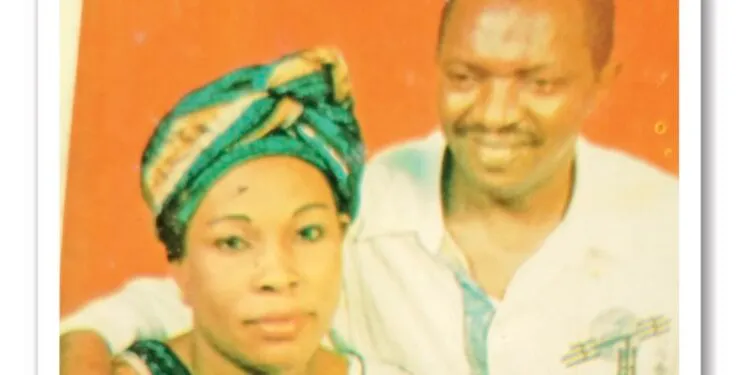 Sir Peter Ejiofor from Okwudo, Orlu, Imo State, and Lady Elizabeth Ejiofor (nee Nwokeocha), from Arochukwu, Abia State, have been married for 43 years. While Sir Peter worked and retired from the Nigeria Ports Authority (NPA), Lady Elizabeth is a caterer.
In this chat with DailySun, the couple shares the story of how their marriage, blessed with four kids and many grandchildren, started. They also talked about some lessons that new and intending couples can learn from their challenges. 
Enjoy…
How did the two of get to meet?
Sir Peter: I met her while I was working with the Nigeria Ports Authority (NPA). I used to buy fish from her mother's shop and send to my parents. By that time, she was in school. Her character and attitude gave me the impetus to come closer to her family.
Though I was not thinking of marriage, my younger brother was instrumental to our getting married. This is because when my parents started disturbing me to get married, the young man who was living with me then, told them to follow him to Port Harcourt.
He said that there was a particular girl in the city that had been coming to see or visit me. He said he would want me to marry her. And truly, my mother accompanied him. She insisted that I must take her to the girl's family before she could sit down. I had no choice but to do that. 
Lady Elizabeth: As he said, that was how it happened. Personally, I never knew that my mother-in-law would take such a step. As things were going on, I was visiting him (my husband) but it was more or less casual visits. Nothing serious was going on between us. I never knew that marriage would come up so soon. 
Was the marriage moves by his parents surprising to you?
Lady Elizabeth: Yes. It was a surprising thing to me because I never thought of that at that age. I was about 18 years then.  But when his mother came to Port Harcourt and saw me, she said: "This is exactly the kind of person I want for my son." My mother-in-law said she wanted a tall and fair girl. And preparations for formal introduction and marriage started immediately. 
Now, how would you say you proposed to her?
Sir Peter: I didn't propose to her. My mother did. Although they wanted me to get married, I wasn't prepared for that. My mother wanted me to marry from my village. But the moment she saw my wife, she said she was her son's wife. 
Is he correct to say that his mother proposed to you?
Lady Elizabeth: He's correct. His younger brother told his parents that there were other girls coming to his house. But, it was one girl he liked and wanted his elder brother to marry. But it's like my husband was confused on the right step to take.
Why did you decide to go for her amid several other young and beautiful girls that used to throng you in those days?
Sir Peter: I wasn't a man of too many women. Although I knew some women before I met her, I wanted to marry a wife that would be acceptable and at peace with my family; a girl that my parents would see and love.
When I saw the way my younger brother living with me loved her, I became encouraged. Sincerely, there was no other girl that I cherished more than her. She was cool and calm. From the first time she started coming, she never changed in character.
As a young and beautiful girl, you must have had advances or proposals from other suitors. What attracted you to you him?
Lady Elizabeth: Actually, suitors were coming, even from my own place (Arochukwu). But there was something special about him that I liked, which I may not disclose here.
How did you handle your first misunderstanding in marriage? 
Sir Peter: It is difficult for misunderstandings not to happen in a relationship, especially in marriage. But how you handle it matters. We had misunderstandings, not once.  But, there was a particular one that made her to return to her family. 
Lady Elizabeth: The quarrel started when he hit (beat) me. And, when my family heard about that, they recalled me home. They said the marriage had ended, and that their daughter cannot be treated that way. My parents detained me for more than one month. But, my mother-in-law came from Enugu, with their people as if it was another traditional marriage.
How did both of you feel at the time?
Sir Peter: The truth is that people do make mistakes. I felt bad and regrettable about the whole thing. Her parents supported her, while my parents and relatives were against me. I felt the pain because my mother shuttled to and from Enugu.
Lady Elizabeth: Well, it wasn't a good experience. While my father stood his ground that I should not continue with the marriage, his mother said no. Surprisingly, my uncle who originally supported me, insisting that I should not continue with the marriage, suddenly had a change of mind and asked me to continue. Immediately after he said that, everybody obeyed.   
SEE ALSO: After 35 Years Together, The Olapojus Share Their Challenges, Triumphs And Why Marriages Are Collapsing Like A Pack Of Cards
If it were possible, which areas of your wife's life would you want her to make a change?
Sir Peter:  None.
What about you, Madam, which area of his life gives you concern?
Lady Elizabeth: I would want him to address his temperament. Apart from that, he is okay for me.
What should young men know about marriage before going into it?
Sir Peter:  Any young man planning to marry should ensure that the woman is acceptable to his family. My own wife was accepted not only by my family but also by the entire kindred. A wife is not only the man's but also the family's asset. As a young man, you must be prepared to accommodate your wife's shortcomings and weaknesses before going into marriage.
What advice can you give to young ladies planning to go into marriage?
Lady Elizabeth:  Girls or ladies should cut their coats according to the size of their cloth. Don't start marriage by aiming at marrying a rich man. Marry a man destined for you by God.
Whether he has something or not, with such divine partnership, both of you can build a lovely home together. The best wealth is the one both couples struggle and team up to make. If you want a ready-made home, the man might push you out tomorrow for contributing nothing.
What do you think is responsible for the increase in divorce cases?
Sir Peter:  First and foremost, many couples don't believe in each other. Once a husband and wife believe that God brought them to live together they won't imagine or anticipate divorce.
Lady Elizabeth: With the trends of things now, I think impatience plays a major role in the rampant cases of divorce. Lust is also another reason. 
You have been married for 43 years. What advice would you give couples to forestall a break-up?
Sir Peter:  Couples must tolerate each other and also be able to endure challenges. Human beings are not God and are imperfect. Marriage is a lifetime union. So, you must do everything possible in God and with God to sustain and make it enjoyable. Couples should trust each other and build on their character, to stand. 
Lady Elizabeth: For this number of years, I cannot tell you that we haven't had challenges, problems, and quarrels. There have been ups and downs. But because we believe in God, we have always overcome them. If you believe in the efficacy of God's grace, you will 'jump and pass' those obstacles.
If things are not going the way you want them, don't quarrel, put your trust in God. Very importantly, wives should support their husbands, especially in times of trial. As you do that, you are helping to build a strong and united family. 
Would you encourage couples to keep old friends or associates?
Sir Peter:  Friends or business associates that would not impact positively on one's life and family should be cut off. 
Lady Elizabeth: Women, in particular, should know the kind of women they associate with in order to prevent their undue interference in their families. Negative influences from old friends or associates have done more harm than good in many homes.  
In your marriage, what turns you off?
Sir Peter: Lie is the ultimate.
Lady Elizabeth: Not being straightforward pisses me off. I hate lying.
How do you apologise to your spouse when you think or feel you have done something wrong?
Sir Peter: It is not difficult for me to tell my wife "sorry" if I offended her.  I don't carry bitterness in my mind because if you nurse grudges and tell your partner 'sorry', you are being fake. So, I don't pretend. 
Lady Elizabeth: Well, he has never told me that I had offended him. If I had, I apologise. One thing I like about him is that you might have a misunderstanding with him, but he doesn't keep it in his heart for long. He doesn't keep malice at all. 
ALSO SEE: Drawing Inspirations From Their 25 Years In Marriage, The Omorebokhae Dish Out Advice On Matrimonial Challenges To Couples: 'We Lost Our Jobs 5days After Wedding'
How do you correct your children?
Sir Peter: I am a realist. I believe in discipline. I expect my children to grow and learn how to say the truth. Life is about teaching and learning. Teach the child the best way to go and he will not deviate from it. 
Lady Elizabeth: I don't report them to my husband. I handle issues by admonishing them. 
What is the secret to the success of your marriage?
Sir Peter: It is belief. I don't doubt her. 
Lady Elizabeth: As he said, it is mutual faith and trust in each other. Why I cherish him is because he defends you anywhere and at anytime. He wouldn't want you to carry a heavy load without helping you with it no matter the circumstance.
When last did you tell your wife you love her? 
Sir Peter: I tell her that I love her both in words and by actions. 
What about you, Madam?
Lady Elizabeth: I use to tell him I love him. But, if I'm angry, I don't. 
How do you know when your partner is unhappy and how do you handle it?
Sir Peter:  If her mood is not good, I quietly walk out. 
Lady Elizabeth: If he is angry, I don't keep quiet. When he is angry and I feel that his anger is not justified in such a situation, I talk. And if he sees that I'm talking, he keeps quiet. And it ends there. 
When was your happiest moment?
Sir Peter: It was when my son recorded a remarkable academic and financial success.
Lady Elizabeth: My happiest moment was when my two daughters got married and when my son had his first child.