This Mum's Very Honest Post About Why She Despises Motherhood Earns Other Mothers Nods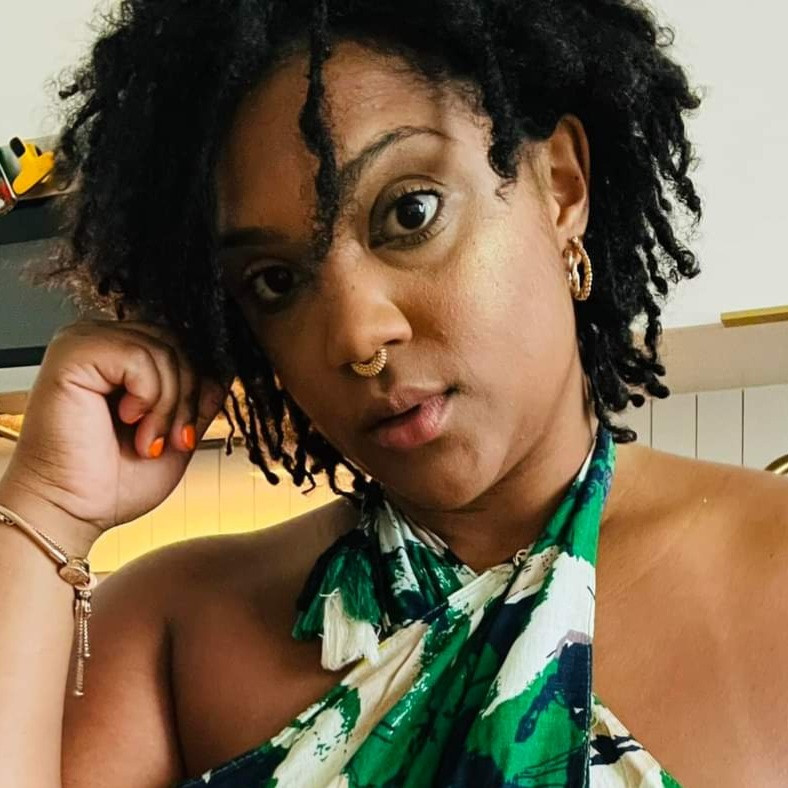 A mother of one has declared that she hates motherhood and would not recommend it to any woman and her post has gone viral.
Sharing her experience on Facebook, the young mum identified as Nicole Powell said that if she knew then what she knows now, she would never have had a child, and surprisingly, many other mothers agreed with her.
According to her, before being a mother, women should try to understand and know themselves. She noted that if she had taken her time to truly understand herself, she would never have considered being a mother.
She also said that there is no baby cute enough or pure enough that can make her go that route again while reiterating that she loves her freedom.
However, she said that now that her toddler is here, she is doing everything possible to give her a wonderful life and raise her to be a well-rounded adult.
Her post, surprisingly, got comments from some mothers saying they can relate. She also got comments telling her off for her post.
READ ALSO: Skitmaker And New Mum, Maraji Laments Over The Difficulties Of Motherhood Nobody Told Her
See her posts and some comments below.
"If I would have known what I know now, motherhood would have NEVER been on the table for me. I despise motherhood. I hate my sleep has been interrupted for two years.

I hate cooking in the evenings (I hate to cook). I hate finding snacks, and making bottles, and changing diarrhea diapers consistently for 15 hours straight (this was my Saturday).

Being a mother is not aligned with my souls purpose. And THAT is why, before we have children it is important to get to know self. If I would have taken the time to truly understand who I am, and the things that bring me joy, being a mother would have easily been taking off the table.

It baffles me how women can sit up and have multiple kids by multiple men knowing damn well they hate that shit. Ain't no baby cute enough, sweet enough, pure enough for me to do it again. I enjoy my freedom wayyyyyy too much.

Now, she's here and I'm going to stick beside her. Because I've chosen to take on this task I have put my feelings of being a misaligned mother to the side to give her optimal life and the best wellbeing possible.

My only goal at this point is to raise a high vibrational child into an adult so she can help assist to raise the collective consciousness of this world. I've also in-listed a bomb ass tribe that picks up where I leave off. I am grateful for her dad and the things that he is able to do as well.

I would not recommend motherhood I give it 1 star. And I definitely don't recommend it to people that are in trauma bonds hoping that it will hold some shit together which I would guess happens to be 80% of our population.

Close your legs, and go within before you decide to have a child or you will only continue to reproduce your traumas and low vibrational frequencies into this universe."
ALSO READ: 'I felt trapped and isolated'- S.A Actress, Denise Zimba On Tough Pregnancy & Motherhood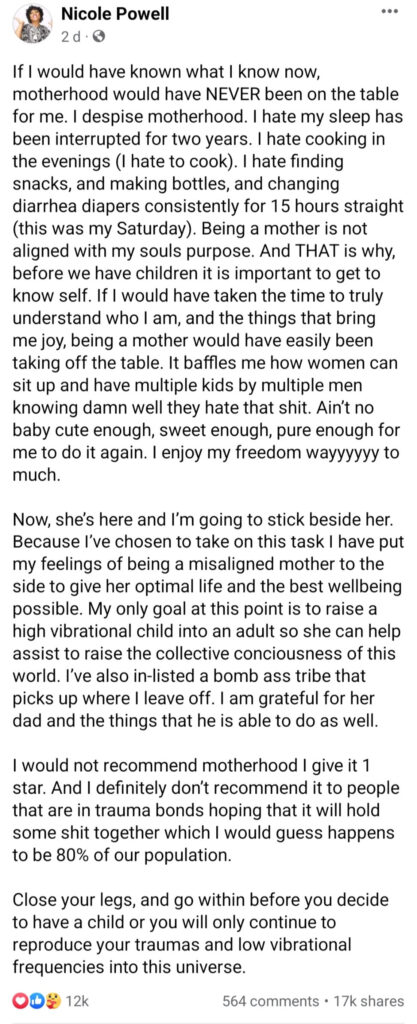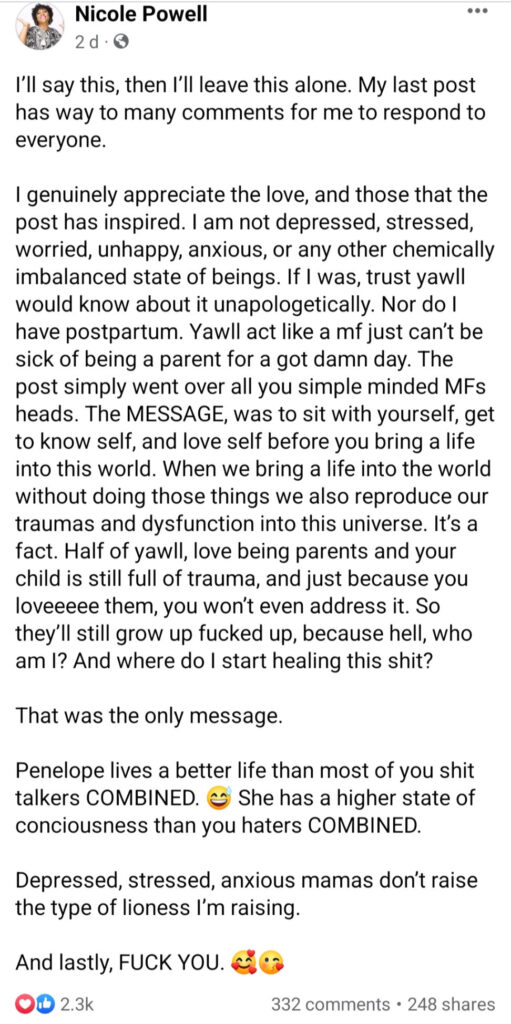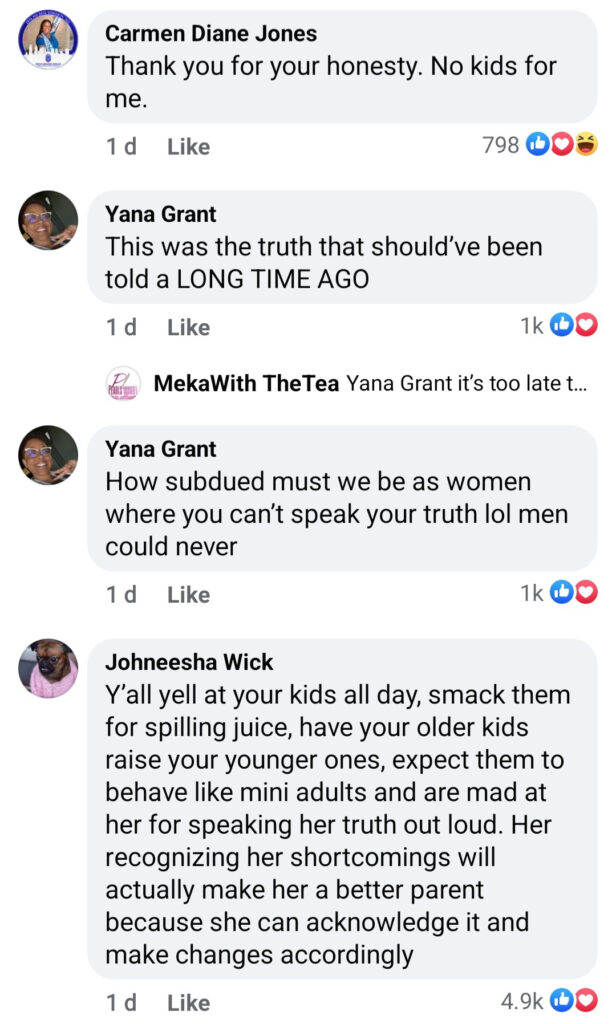 Sarah C: I understand this write up, have kids because you are mentally ready to not because others are doing it. I love having few kids but being pregnant is another thing altogether. The body change, the complications sometimes and the labour pain is something I wish God can take away from us women.
Above all, when you eventually have kids whether you by choice or by mistake. Try your possible best to give them a better life because they didn't ask you to bring them into this world. Kudos to all the amazing mothers out there motherhood is not an easy task.
Linda: She just said what most women are afraid to say in public. Motherhood is not easy. I can't remember the last time I had a full sleep. But it is what it is. I can't trade my baby for anything in the world.
Nancy: Clearly many are missing the point. Parenting is a lot of work and costs a lot of money to do it right. A lot of you bashing her are just too cowardly to agree cos it's too late to change your mind now that you are stuck with raising kids that will end up growing older, leave you to go start their own lives.
Parenting is a selfless act cos the child gains more than the parents are positioned to gain. From those sleepless nights where you don't sleep unless they sleep to those "mom I'm a grown man you can't control me or tell me what to do" most of these kids become selfish ungrateful assholes because at the end of the day, they didn't ask to be born, na you want born pikin bring dem enter this life.