Sola Sobowale Gets Teary As She Opens Up On Her Life As A Working Mom And Why She Sacrificed Her Well-paying Job In Nigeria To Do Menial Jobs In The UK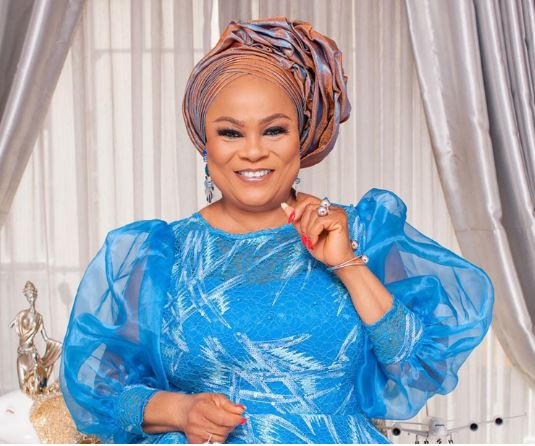 Legendary Nollywod actress, Sola Sobowale has opened about the ultimate sacrifice she made just to meet her children's needs.
Speaking in the latest episode of #WithChude, the 56-year-old mother recounted her ordeals in life as she explained how she left Nigeria to do menial jobs in order to cater for her children who were schooling in the United Kingdom.
The King of Boys star revealed that she left her mouthwatering acting job, which was fetching her over N5 million within months — during the early 2000s — for menial jobs in England.
Explaining further, the film star said while in the UK, she worked multiple "7.5 pounds per hour" jobs like cleaning, cooking, and mopping office floors to make ends meet.
According to the screen goddess, during a visit to her children abroad, she noticed that they lacked motherly touch and so, she decided to sacrifice her career, the fame and stardom here in Nigeria just to be with them.
She told the host, Chude Jideonwo:
"I went back to England and noticed the kids lack motherly touch. Then I moved to England and forgot stardom. Now, all of them are working and they appreciate me for my sacrifice.

I was practically living in Enugu where I was shooting a movie, 'Christ In Me'. After the movie, fame came. So I was given another film job. I got over 10 movie jobs so I was stationed in Enugu.

And in one location, I spent one week. In that one week, I was on N800,000 and that was in the year 2000. So like that, when I was going back to Lagos, I had over N5 million within how many months. The money was blowing.
So I left that for 7 pounds per hour jobs in England. Then before I could make 1000 pounds I will have to work extra hard. There is nothing this woman cannot do because I know what is called dignity in labour. I will sweep anywhere so far it will put food on my table, cloth on my children, and shelter on my head.

I swept, cooked, washed, mopped, cleaned offices. Yes, I did all those. The other thing is I wasn't sleeping. On the train or bus, I make sure I wear my uniform with the name of the company like that.

Then you hear Nigerians say 'She isn't the one', 'Sola Sobowale, no she isn't the one'. I will then tell them it's me, my name is Sola Sobowale, so they will ask what I'm doing here and I ask them the same question. I made a lot of friends. Now, I'm happy because it's now history."
READ ALSO: 38 Years Widowhood Journey: Celebrity Mum-Of-5, Mama Rainbow Encourages Other Widows As She Recounts How Her Sacrifices On Her Children Is Paying Off
The mother of three also talked about why she made sure her children studied abroad. According to her, she had initially wanted her children to attend one of the top varsities in Nigeria but was discouraged due to the incessant strikes by the Academic Staff Union of Universities (ASUU).
The movie star who began her story by shedding some tears explained how important her kids and their education were to her. She also revealed that her father was a principal while her mother was a headmistress.
"Children are not asked to be born. The moment you decide that you want to have children, then you must be ready to take full responsibility for those children.

They are beautiful creatures, you don't bring them into this world to suffer, you don't bring them into this world for anybody to take care of them, you brought them, then stay with them and do the work. I had my children.

My father is a retired principal, and my mother retired as a headmistress may their souls rest in peace, I know what they did for me and my siblings and I know what is called education, that is the only legacy you can give your children.

I know the universities, I know how they select people, and I looked and I said so my children would either go to university in Ife, University of Ibadan or Lagos, but unfortunately, today strike, tomorrow strike so the course of three years, they end up using six years, so I said, no, if I can be paying this much in primary and secondary, I'm not going to throw that in University so let my children leave Nigeria and that was why I moved my children from Nigeria to London."
ALSO READ: 'Words are not enough to express the love I have for you..' Sola Sobowale Writes To Her Twins Daughters
Sola Sobowale has been in the movie industry since the late 1900s, she had her massive recognition in 2001 in the drama series Super Story: O father, O daughter.
The Nollywood actress has also produced and directed several movies, among which is the popular movie "King of Boys", a movie which won three awards, among which was the award for Best African Movie on the African Entertainment Award in the USA.
Watch the video below: