Rising COVID-19 Infection: FG Issues Important Advisory On Use Of Face Masks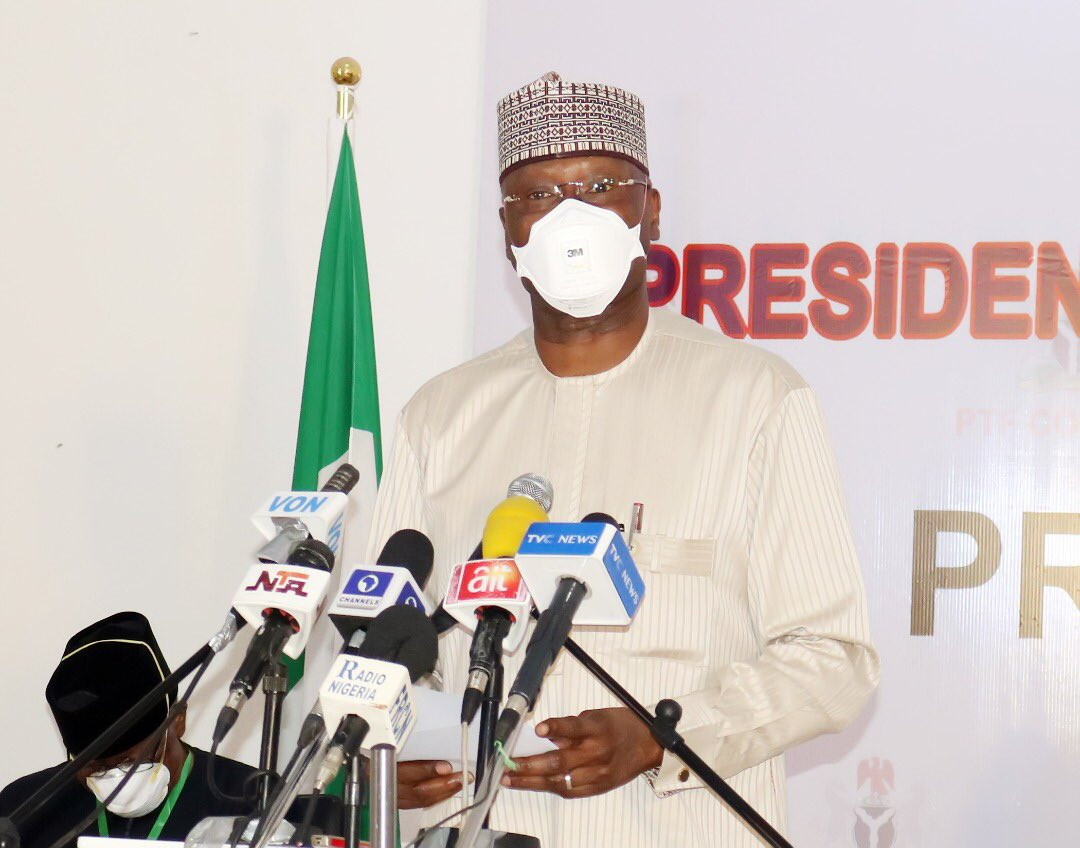 The Secretary to the Government of the Federation, Boss Mustapha has restated that the use of face masks in the country is still compulsory, noting that the directive has not been discarded contrary to assumptions.
Mustapha said Nigerians are slacking in wearing masks, warning that this habit is wrong because COVID-19 cases are once again rising across the globe.
The SGF said wearing a face mask is an important measure to take in protecting one's self from the spread of the viral disease.
Mustapha stated this on Monday, at the launch of the S.C.A.L.E.S 3.0 Strategy for Accelerating Integrated COVID-19 Vaccination in Nigeria, organised by the National Primary Health Care Development Agency.
The SGF stressed further that Nigerians should continue to ensure the use of face masks, especially in enclosed environments.
According to Mustapha, face masks are used as a component of public health safety measures, which has been a crucial part of the country's COVID-19 response.  
He said,
"Keep in mind that continuously wearing a face mask in certain public situations can help protect those who have compromised immune systems or are high-risk.  

"Right now we should emplace it in enclosed environments, when we are travelling in vehicles and when we appear in rather congested areas. 

"As we get close to the end of the year with all the number of festivities, we must try as much as possible to avoid a crowded environment.

"Proper wearing of face mask will reduce the probability of transmission between an individual who is infectious and one who is susceptible to infection and helps protect those with a high risk of infection and severe disease.

"No one is safe until everyone is safe. Like HIV, COVID-19 no dey show for face." 
SEE ALSO: New Study: Multiple Quilted Face Mask Most Effective To Prevent COVID-19 Spread
Mustapha also stated that the S.C.A.L.E.S 3.0 strategy launch will tackle the identified implementation gaps in S.C.A.L.E.S 2.0 and bring about more accountability for performance and strengthen electronic data reporting.
According to the chairman, it is safe to state that there is a significant decline in deaths arising from COVID-19 as a result of the ongoing vaccination, adding that Nigerians should not lower their guards or give in to complacency because the virus is still very much around and can mutate.
He, therefore, urged Nigerians not to relent in observing non-pharmaceutical preventive measures like wearing face masks, social distancing, and good hand hygiene.
He also urged Nigerians to get vaccinated. The SGF added,
"We must encourage everyone to get vaccinated, let us also not relent on observing the pharmaceutical measures or non-pharmaceutical measures like wearing of our masks, keeping physical distance and washing our hands regularly, until we have vaccinated at least 70 per cent of eligible Nigerians to achieve hard immunity.

"As long as there are carriers who do not even know they are carriers and they are busy spreading the virus, we would definitely not get out of the woods unless we ramp up our vaccination and we get everybody that needs to be vaccinated properly vaccinated.

"The integration of COVID-19 vaccines along with other vaccines at this moment will tremendously assist us in raising the number of people so that we can quickly get to a substantial number of Nigerians who would have been vaccinated and double vaccinated with even booster vaccines.

"Every life lost as a result of COVID-19 is regrettable, so we have a lot to do. I urge Nigerians to know that nobody has discarded the use of masks." 
ALSO SEE: New Experiment Shows Which Face Masks Are Best At Blocking The Deadly Coronavirus Pandemic
Mustapha also called on community leaders to mobilise their communities, aged 18 years and above to ensure everyone gets vaccinated. He stated:
"The voice of stakeholders in their own communities carries a lot of weight and will be the vehicle that will help us in spreading and advocating for the efficacy and safety of the COVID-19 vaccines.

"I also urge parents to ensure that all eligible children receive the vaccination, as well as those other vaccines against childhood diseases."
Also speaking at the launch, the Executive Director and Chief Executive Officer of the National Primary Health Care Development Agency, Dr. Faisal Shuaib said,
"I want to remind Nigerians that COVID-19 is still very much present in our country, and it remains a formidable threat to our collective health and well-being. We need to take necessary measures to protect ourselves against COVID-19."