Marriage Coach, Ohis 'The Winlos' Ojeikere Tells Us How He Handles Challenging Times In His 9-Year Marriage With Wife, Anwinli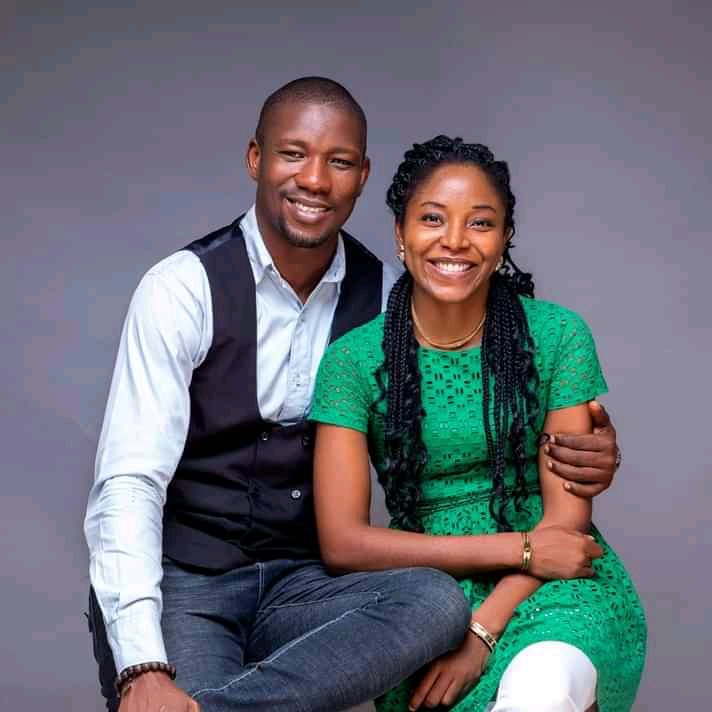 Pastor Ohis Muyiwa Ojeikere is a relationship and marriage coach. He is happily married to her heartthrob, Anwinli Ojeikere and together, they are popularly known as The Winlos.
Ohis, who share a daughter with his wife talks about their marital journey that has spanned nine years. During the chat with PUNCH, the dad-of-one spoke about how he handles challenging times in his marriage and many more.
Read and enjoy below…
What were the qualities that endeared you to your wife?
First, I realised that she was God-fearing. Aside from that, I loved the fact that she upheld the values of Christianity and was a very disciplined Christian woman.
If she says she wants to serve God, she goes all out for Him. We used to be friends before I got closer to her. Then, I noticed that she had strict values such that when one got close to her and did not project godly values, she would close the door against that person. That attracted me to her.
She is not just someone who loves God; she follows Him wholeheartedly. She is also very beautiful and I love her eyes so much (laughs).
You have been married for nine years. What are the differences between being a bachelor and a married man?
There is a big difference. When I was single, I had the liberty to live anyhow. I could also decide how to spend my finances and have friends over for visits at any time. I could stay outside the house till 11pm because there was nobody waiting for me at home. But, when I got married, I became more organised.
I became under control and my life had a structure. Also, I became more coordinated because of my wife. The Bible says that one would chase a thousand and two would chase ten thousand. Thus, it became more realistic for me to have a helpmate in my life.
How do you handle challenging times in your marriage?
The fruits of the spirit helped me to handle the challenging times in my marriage. I learnt patience and self-control. There have been certain times in my marriage that I felt we should just stay apart. But, one has to understand that marriage is not the coming together of two perfect people, but two imperfect people from two different socialisation processes.
Meanwhile, what my wife learnt for over 20 years of her life will not change just because she got married to me. Also, what I learnt for about 30 years of my life cannot change because I got married to her.
I have learnt patience, endurance, forgiveness, and fighting to ensure that my marriage works. I think that has helped us through the challenging periods of our lives.
Do you think it is necessary for Christians to get the final word from one's pastor before getting married?
The Bible says that, 'Let two or three prophets prophecy but let other people judge'. What that means is that one's pastor can prophecy that someone is going to be one's wife; but the major assignment lies with the person getting married.
God has given us the mandate to judge prophecies because the pastor one is meeting to tell one who will be one's spouse is first a human being before being a man of God. Every prophecy must be subjected to judgment. That is why we all must build our spiritual lives.
Christianity should not just be about what someone is telling one. One's personal relationship with God matters. If we can hear directly from God, we will be able to judge if a man of God is talking from the flesh or from the spirit.
ALSO READ: Relationship Coach, Anwinli 'The Winlos' Ojeikere On How People Become Casualties Of Abusive Marriages 
Do you think a woman must get married before she can be fulfilled?
I don't think so but it is true that women are being pressured to get married. It is a major challenge in our generation right now that many ladies are being forced to get married. They are made to feel they are not complete if they are not married. However, the truth is that marriage cannot complete anyone.
A lot of women get married because they feel they are lonely and believe that when they get married, a man is going to complete them.
However, some of these women get married and later realise that they are still lonely in marriage. Marriage is not meant to complete anyone. Our completeness is in us building our self values. A woman has to have the understanding that with or without a man, she can be who she wants to be.
When one gets married, one will realise that the person that is making one happy in the relationship will not always do so.  Sometimes, one will quarrel with one's partner. One will face financial and health challenges and will realise that marriage does not really make anyone happy or fulfilled.
It is important that everyone understands this fact and build their value and self worth before they get into marriage. If not, they will be lonely and unhappy if they go into marriage with the mentality that they need to be married to feel complete.
READ ALSO: 'How my attitude in my singlehood reflected in my marriage' -Youtuber, Anwinli Ojeikere Narrates As She Dishes Marital Tips To Singles
Where are some of the notable places you have spoken at?
We have spoken in almost all the states in Nigeria. We have also spoken in countries such as the United States of America, Ethiopia, Cameroon, Ghana, Sierra Leone and Kenya.
We have also spoken at the Living World Cathedral, Tennessee, USA; David Christian Centre, Lagos; House on the Rock, Enugu; Relationship and Marriage Hangout, Abuja, Lagos and Benue; and many other places.
Aside from being relationship and marriage coaches, what other things do you do?
We 'pastor' a church in Benin, Edo State, called The Votage, whose full meaning is 'The Voice of this Age.' Outside acting, we are good parents to our daughter, Aima.
What are the challenges you encounter as relationship coaches?
One of the challenges we encounter is working as a couple. It is very good to work with one's spouse but at the same time, it can be very challenging.
When we are at work, it is expected that we act as colleagues. But when we are at home, we have to act as lovers. That was a major challenge for us when we started.
What are your fondest memories of being married?
I love travelling with my wife.