KARIS Family Development Initiative In Partnership With The La Casera Company Sensitize Youths On Devastating Effects Of Drug Abuse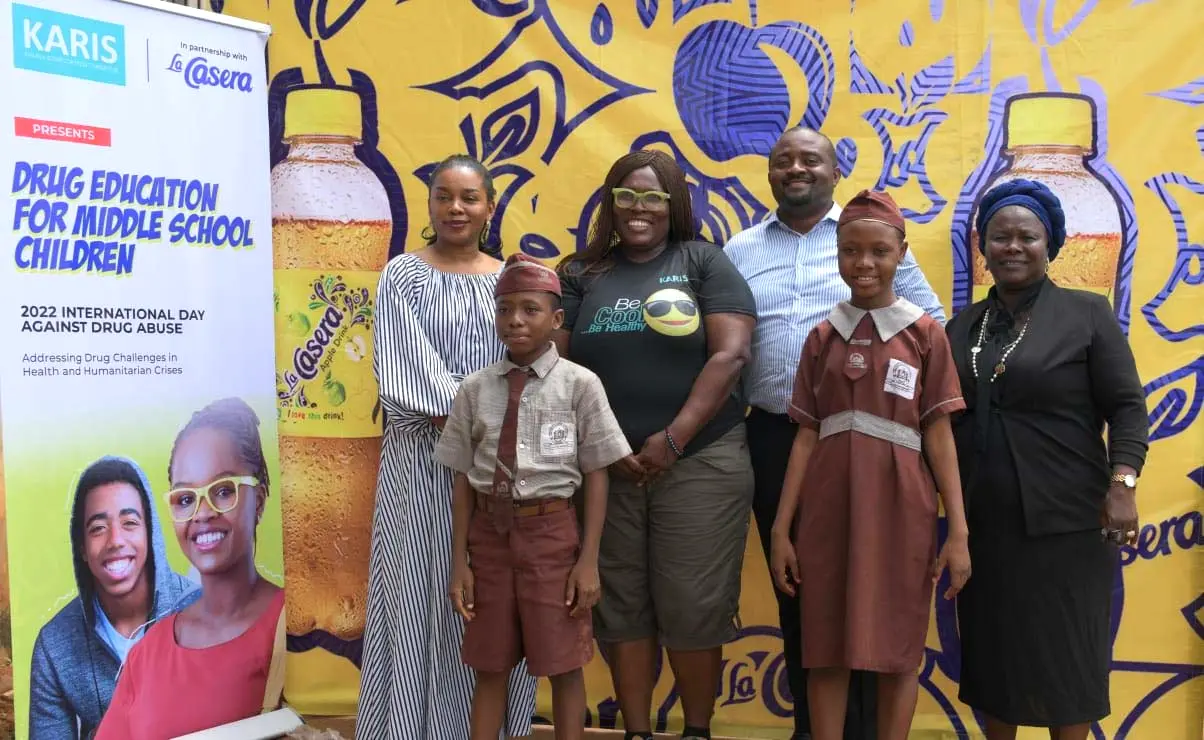 The problem of drug abuse has become prevalent among Nigerian students, youths and this is raising serious concerns.
As part of activities to mark the United Nations World Day Against Drug Abuse and Illicit Drug Trafficking 2022, The La Casera Company in partnership with KARIS Family Development Initiative has implemented a Prevention of Drugs and Drug Literacy initiative to sensitize Middle School Children at District Junior College, Agege on the devastating effects of drugs to their health and their future.
The International Day against Drug Abuse and Illicit Trafficking or World Drug Day is marked on 26 June every year to strengthen action and cooperation in achieving the goal of a world free of drug abuse.
Themed, "Addressing Drug Challenges in Health and Humanitarian Crises" this year, the global event highlights the physical and psychological impact of substance abuse, drug overdose, and drug-related humanitarian crises to eliminate the menace from our society.
Founder, KARIS Family Development Initiative, and a licensed Clinical Social Worker, Ms. Angela Bekederemo acknowledged that the annual event spreads awareness about the dangers of drug abuse not just among adults but also among children.
She noted that the objective of the initiative is to prevent early initiation of substance or drug use, delay use, and prevent disorders for students who are already dependent on drugs. In her words:
SEE ALSO: NDLEA Educates Parents On Ways To Spot Drug Abuse In Children
Whether we like it or not drug is readily available in our society and to prevent our children and young adults from delving into such, we sensitize them on the dangers of taking drugs and equip them with skills that enable them to develop a repulsive attitude so as not to do drugs.

We thank The La Casera Company for partnering with us to prevent this menace and we admonish the Nigerian Government to invest more into prevention intervention programmes like this because currently the UNODC is the one doing it on behalf of the government and the reason they are doing it is to get the Nigerian government to key into this initiative as treatment does not come cheap.

Prevention is much less expensive unlike treatment, so it will be great for our government to allocate funds for prevention education for secondary school children because for every one dollar invested in prevention you save 10 dollars in substance use disorder."
Also speaking at the event, Chike Nwokoye, Senior Brand Manager, La Casera said:
"We are particularly glad about this partnership as it provides us the platform to educate and enlighten junior and senior secondary school children who are teenagers about the inherent dangers of substance abuse and its consequences and to further discourage first-time drug abuse.

This is particularly because we are all about encouraging Nigerians especially the young ones to be the ones that birth the next big thing in tech, fashion, music, health, agriculture, entertainment or in whatever fields they are gifted at.

This may not be possible if they begin to struggle with substance abuse and drug addiction from a very young age."
ALSO SEE: From A Privileged Home To The Streets: 26-Year-Old Substance Abuser, Lizzy, Recounts Her Heartbreaking Story On How She Got Hooked On Drugs
Principal, District Junior College, Agege, Adedeji Bolajoko Wasiat while also speaking at the event appreciated the Lagos State Government for creating awareness among all principals and directors in the Ministry of Education.
According to her "initiatives such as this goes a long way to help our students because when we look at the environment these students live, we realise that many of them get into drug use without knowing the effect.
"We want them to be aware and to be cognizant of what they do and how their actions can affect their future and that is why we the entire directorate and management of the school and all our students appreciate KARIS Foundation and The Lacasera Company for counting us worthy to implement this life-changing programme in our school – indeed we are grateful,"
she concluded.