Principal Of Lagos Secondary School Where Students Engage In Threesomes Speaks Up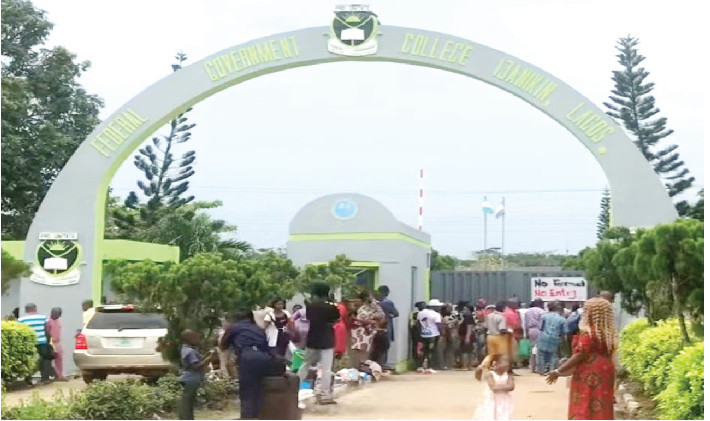 On the 1st of this month, there were reports that some students of the Federal Government College, Ijaniki, Lagos State, were caught engaging in sex romps in hotels in the community.
According to reports, the male and female students who reportedly jumped the school's fence and stayed out of school for days are between the ages of 14 and 17.
Sources told PUNCH that for three sessions, including the just concluded first term, some of the students, numbering about seven males and five females, had been leaving the school unnoticed. It was also alleged that they engaged in threesomes and used drugs like codeine, molly, among others.
Their escapades were brought to the school's notice after one of the male students impregnated a female colleague.
A source told the publication;
"There is a possibility that some staff are also involved in the whole atrocities because how will a secondary school student leave the school environment for days without anyone noticing? Some of the staff are benefiting from it somehow."
Some parents who confirmed the development, accused the school of negligence and allegedly plotting to cover up the scandal.
A parent identified simply as Alex said;
"This is happening because of the negligence of the principal and the housemasters and mistress. If something like that goes hidden, my children are in that school; they can become victims."
Another parent, Johnson Smith said;
"The management needs to intensify efforts at cleansing the school because these bad eggs will corrupt our children. Something urgent needs to be done in ensuring that discipline is restored."
Chairman of the Parent-Teacher Association of the school, Olusola Tokede, who also confirmed the incident, refuted claims that the school was trying to cover up the incident. Tokede said the students were caught by the school management at hotels on two different occasions after noticing their absence.
SEE ALSO: Distraught Mum Speaks Up After Her 10-Year-Old Daughter Was Gang-raped By Her Classmates, Video Shared Online During Chrisland School Trip
He added that asides expelling and suspending some of the students involved, the school has also engaged the service of local security guards to ensure the environment was being monitored.
Tokede said;
"We were the ones who told the parents about it on the platform (WhatsApp). I don't know why some parents are trying to be mischievous by saying the school did not do anything about it.

"If parents failed to train their children, they will pollute others. Can you imagine a child between ages 15 and 16 having up to N1m in her account? They went to do twosome: two girls, one boy. They were caught before the end of last session.

You can imagine that a 15-year-old that should be a virgin is already engaging in immoral activities. They are rotten from their various homes and we are working hard to stop them from polluting others.

"It is not correct to say we have not done anything. We are trying, but you know that no matter what we are doing if a child is not well trained at home, they will always come up with such acts. We have sent out warnings that I will not spare anybody; it is really an unfortunate situation.

"One of the students was expelled because she was pregnant. We also expelled the boy that impregnated her. Some of them that were caught were also suspended, but they will be allowed to come back to write the exam. Everything we are doing, we are trying to marry everything together being a parent and a teacher."
In a new development, Mrs Tofunmi Akamo, Principal of Federal Government College, Ijaniki, Lagos State, also denied allegations of covering up.
Akamo who spoke to PUNCH, said the six students involved were picked up from the hotel by the school, adding that the incident happened once.
According to the principal, the school management noticed the absence of the students during an urgent roll call at the hostel.
In her words:
 "Our assignment is to mould them and we don't expect all of them to behave well all the time. So, when they misbehave, it is our duty to do the necessary correction.

"I was called from the school that they did a roll call on Sunday and some students were discovered not to be in the hostel.

"So, that Monday morning, they called their parents to confirm if they were at home and the parents said they were not at home. The parents came to the school; we were all searching and investigating what could have happened.

"One of the parents of those girls told us that the girls went to the hotel, jumping the fence on Sunday. We went to the hotel to evacuate them. They were five that were evacuated; two boys and three girls.

"When they came to the school, we asked them to write reports; it was through the report that we even discovered that there was another girl who left on Monday to come back to school, while others still remained in the hotel.

"We made them write their reports and they faced a disciplinary committee, which gave a verdict on what to be done to them according to the guidelines given to us from the ministry.

"The children are currently on indefinite suspension; that is the guideline recommended for them. We normally involve their parents and hand such letters and their children to them. The girls and the boys are no longer in the dormitories. That is the only incident that happened and it happened two or three weeks before we vacated this last term."
Akamo added that claims of the students being drug abusers are unfounded. She said;
ALSO SEE: Celebrity Moms, Others React To Chrisland School Sex Scandal: 'Those Kids Have A Backstory To Their Behavior'
"Late last session when they were writing an external examination, we discovered that some boys were not in the hostel during roll check and we learnt that they normally went to a nightclub around our school.

"My chief security officer went there around 9pm and at that time they had not arrived at the club. So, the owner of the club collected the number of my CSO so that he would inform him.

"By 11pm, they called my CSO and by 1am we brought about 10 of them back to school. One of them was my assistant head boy and immediately, we had an assembly; I brought all of them out and de-badged the prefects among them.

"I also asked them to leave the dormitories; but they could be coming to sit their external examinations, which they were writing at that time. I told them they could no longer stay in the hostel.

"There is no history of anybody getting pregnant as a student. We knew one of the girls had one million naira in her account. I am sure this child has been showing all of these things at home. It cannot be that it was inside the school that she learnt how to go and make money from sex.

"The only time we had an issue of a pregnancy in the school was a blind girl. The lady got pregnant during COVID-19 at a place she used to go to play with people. After we did a test and we discovered she was pregnant, we invited the father and she left the school. I told her that she could not stay in the school because we are training young girls and not mothers-to-be.

"The claim by the PTA chairman that one of the students impregnated another student is not true. There is nothing like that; I am not aware and if that happens I will know."