Politician And Dad, Dino Melaye Blows Hot, Threatens Popular Instagram Blogger Over Sugar Daddy Allegation | See Messy Details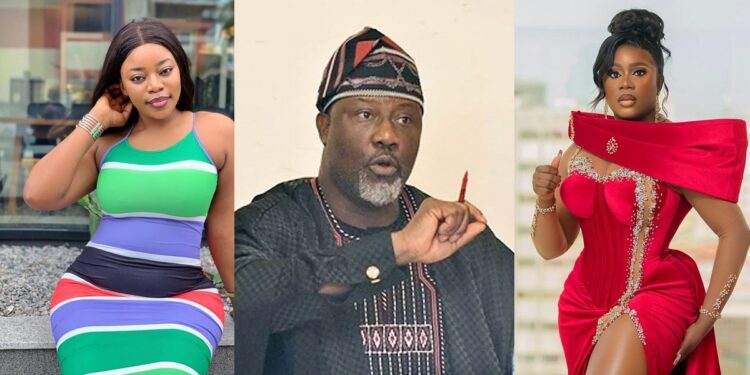 Former Nigerian senator, Dino Melaye has addressed his rumoured threesome relationship with popular Nigerian influencers, Amarachi Amusi better known as Ashmusy and Chinonso Ukah, better known as Nons Miraj.
The politician and single father threatened to file a lawsuit against an anonymous blogger who insinuated that he's having an affair with the two Instagram influencers.
The controversial blogger, GistLover caused a stir on Tuesday evening after posting a photo collage of Dino, Ashmusy and Nons Miraj, while hinting at exposing their escapades.
The controversial blogger hinted that Ashmusy and Nons Miraj were having a affair with the Senator.
Social media users who are aware of the modus operandi of GistLover knew trouble looms whenever the blogger shares pictures of someone.
The post came shortly after media personality, Nedu Wazobia, revealed that he walked in on two popular Instagram celebrities having threesome with a rich man in a hotel in Abuja.
SEE ALSO: Speed Darlington Calls Out Senator Dino Melaye For Making A Joke Of Peadophilia
In a seeming attempt to divulge the identities of the said celebrities, the controversial blogger posted the photos, claiming that Ashmusy and Nons Miraj are the ladies and Dino was the rich man.
However, the two ladies who own houses in Lekki, have since come out to deny being in a relationship with Dino, stating that they have never met.
Dino have also taken to his Instagram page to debunk the report, claiming that he doesn't know Ashmusy and Nons Miraj.
Dino also threatened to sue and locate the blogger, whose identity has remain a mystery over the years. Blowing hot, the senator promised not to allow the blogger walk away with it's unfounded story.
"I will sue you this time. Will locate you. I don't know any of these ladies. Agent of APC. You will not get away with your lies and unfounded story this time. You just dialed the wrong number. Apologize within 24hours or face consequences."
Addressing the affair, Skit maker and brand influencer, Ashmusy took to her Instagram page to debunk the rumour.
Ashmusy noted that she has never met him personally. She wrote:
"LIES UPON Lies!!!!! I don't even know DINO Personally. Never ever met him in my lifetime!!!!! God forbid such a terrible lie, Just for clout."
Ashmusy further went the extra mile to prove her innocence about the alleged lies against her and her colleague, by sharing her private chat with GistLover and noted that they have a business deal with which she expects the blogger to honour.
She went on to make a phone call to her colleague, Nons Miraj concerning the alleged relationship with the politician.
Nons Miraj, on the other hand, took the extra measure to debunk the report that she is being bankrolled by Dino.
In a bid to prove her innocence in the alleged relationship, Nons Miraj shared the conversation she had with Nedu Wazobia.
In a now-deleted post on her Instagram, Nons Miraj urged Nedu to mention the names of the celebrities he met at Transcorp Hilton Hotel, Abuja because a blogger wants to tarnish her image. She further noted that she wants to get married in 2023 and doesn't want anything to deter her plans.
ALSO SEE: Actress, Steph Nayah Drops Bombshell Over Iyabo Ojo's Alleged Threesome Affair With Apostle Johnson Suleman: 'He's The Sugar Daddy Of Most Hollywood Actresses'
Replying to the skit maker's plea to reveal the identities of the celebrities involved in the threesome, Nedu noted that Nons Miraj worries too much. He noted that he didn't mention the names of the celebrities for obvious reasons.
Nedu teased Nons Miraj for always showing off as a tough person when she is the opposite. He also advised her to ignore what is being said about her.
Nons Miraj also sent a direct message to the controversial blogger, accusing him of being a liar and tarnishing her image.