Nigerian Journalist Suggests One Way The Church Can Curb Infidelity And Paternity Fraud In Marriages
A Nigerian journalist, Oriretan Honour took to social media to suggest ways infidelity and cases of paternity fraud in marriage can be curbed.
According to the man, one way to checkmate infidelity in marriages as well as paternity fraud, is for churches to edit marriage vows to include curses for anyone who cheats on their spouse, that is, churches should normalize adding "Let me die the day I cheat on you" in the wedding vows for couples.
He said that this way, people would respect their marital vows more and be more faithful in their marriages.
See his full post below…
"Churches should normalize adding "Let me d!e the day I cheat on you" to the marriage vow/oat sw0rn by couples on the altar. This'll limit infidelity & eradicate paternity fraud, side chick/boo cases.. Many homes will be preserved. Say after me "Let Me D!e The Day I Cheat On You!"
READ ALSO: Nigerian Woman Makes Valid Points On Why Women Should Always Insist On A Court Wedding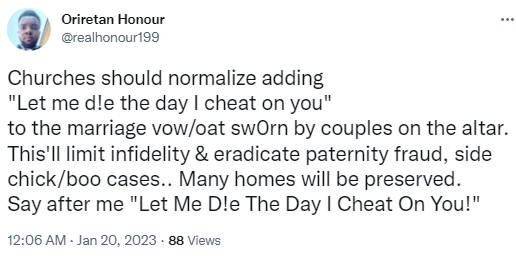 Reacting to the post,
@Annie: That won't change anything ooo. No matter the vow they make they will still cheat. What about our thieving politicians that use Bible and Koran to swear during inauguration? Have they not been stealing, and practicing nepotism and tribalism?
@Bello: 🤣🤣🤣🤣, you want everybody to die… you know cheating is not just getting intimate… there is emotional cheating ooo… na that one go kill people pass.
@NNN: Evil is so entrenched in Nigeria that no amount of vow, oath or curse can stop them. Nigerian men can cheat for Africa but Nigerian women ass no dey stay one place. It is a cheating galore among married men and married women in Nigeria. The only innocent one is the wey dey never catch.
@Femi Olusola: The church is not a shrine where you swear before sango or amadioha. It is a solemn vow before the Almighty God, a vow with eternal consequences. It may seem the person that breaks that vow is getting away with it on earth but it will catch up with that person in eternity. God cannot be mocked!
@ChinmL: When I say Christianity was never meant for Africans, you people will start arguing. Which kain foolish statement be this? Do you realize that even if a husband or wife cheats and they genuinely seek God's forgiveness they become clean in God's eyes, even if the wife or husband continues to hold a grudge and the cheating person still guilty of adultery under the law? Christianity is no joke. What this guy is suggesting is African traditional practice. Choose one and stop mixing the two. Awon ode. Lol