Lassa Fever: NCDC Decries The Rising Number Of Fatalities As Virus Spreads To Edo, Ondo And Eight Other Sates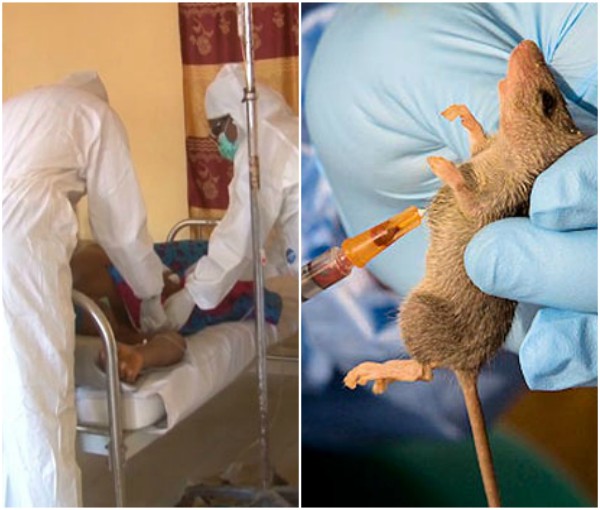 The Nigeria Centre for Disease Control and Prevention, NCDC, has decried the rising number of fatalities from lassa fever, saying that Edo, Ondo, and Bauchi states account for 84 per cent of the infection in the country.
The Director-General, NCDC, Dr. Ifedayo Adetifa, said this in an Interview with the News Agency of Nigeria on Sunday in Abuja.
Dr. Adetifa said that between Jan. 2 and Jan. 15, the country recorded 369 suspected cases of Lassa fever. He said out of which 105 were confirmed positive from 30 LGAs in 10 states.
The NCDC said that the 10 states were Ondo, Edo, Ebonyi, Bauchi, Benue, Kogi, Imo, Oyo, Plateau and Nasarawa States.
He said that there had been seven deaths with a Case Fatality Rate (CFR) of 6.7 per cent in the country.
He added that since 2017, the NCDC through the Lassa Fever Technical Working Group (TWG) had been been offering support to all states and responding to Lassa fever especially the high-burden states of Edo, Ebonyi and Ondo. He stated:
"Support offered includes capacity building and training healthcare workers on infection prevention and control, clinician training on Lassa fever case management (including the provision of Ribavirin, consumables such as intravenous fluids, antibiotics, personal protective equipment (PPE), body bags, etc.),

"The development and dissemination of protocols and guidelines, the set up and maintenance of a network of laboratories for Lassa fever diagnosis (including training, maintaining quality management systems, provision of all consumables required for testing).

"As well as risk communication and community engagement activities to raise awareness."
According to reports, 10 more cases of the virus has been confirmed in Edo state, raising the total number of confirmed persons in the state to 81.
Briefing journalists in Benin City at the weekend, the Edo State Commissioner for Health, Prof. Obehi Akoria, said the ten new cases were confirmed in five local councils in the state, Etsako West, Esan North East, Esan West, Akoko Edo, Etsako Central.
Reassuring the government's commitment to containing the pandemic and ensuring the health and well-being of residents, Prof. Obehi urged residents to complement the government's efforts by complying with preventive protocols against the spread of the disease. According to her,
"We have continued to witness a steady rise in the number of confirmed cases and deaths from Lassa fever with ten new cases confirmed in five local councils in the state. We now have a total of 81 confirmed cases with eight deaths from the disease."
She said the 81 confirmed cases are spread across 11 local government areas in the state, including Etsako West, 33; Esan West, 19; Esan North East, 16, Esan Central, two and Esan South East with two confirmed cases.
Others are Etsako East, two; Owan East, two; Akoko Edo, two; Ovia North East, one; Oredo, one, and Etsako Central LGA with one confirmed case.
Decrying the rising number of fatalities from the virus, the Commissioner said the state now has a case fatality rate of 10 per cent, adding that 8 deaths were recorded in 4 local councils in the state including Etsako West, four; Esan North East, two; Etsako East, one and Oredo with one death.
Prof. Akoria noted that most of the deaths recorded in the state were persons who were unwell and failed to report to a proper hospital for care until they developed complications, urging residents to "take responsibility to work with the ministry of health, observe preventive measures and report early symptoms suspected to be malaria or any other illnesses that present like malaria."
According to Adetifa, at the end of November 2022 and ahead of the projected rise of Lassa fever cases, the NCDC prepositioned supplies for case management, infection prevention and control and laboratory diagnosis, among others in all historical Lassa fever hotspots including Edo.
He said that in December 2022, the agency in collaboration with partners, Federal and state-level stakeholders successfully conducted the finalisation and validation of a five-year strategic plan to reduce the Lassa fever fatality ratio in Nigeria to less than 10 per cent.
The NCDC boss said that in the last six years of the Lassa fever response in the country, there had been an establishment of Public Health Emergency Operations Centres (PHEOC) to ensure effective multi-sectoral coordination for early containment of outbreaks.
He added:
"Timely deployment of multi-sectoral National Rapid Response Teams (NRRT) on request. Yearly distribution of response commodities medicines (Ribavirin) and personal protective equipment (PPE), social behaviour change communication (SBCC) materials, thermometers, tents, to Epidemiology Departments of State Ministries of Health and treatment centres.

"Routine support of testing state laboratories with testing kits, reagents and consumables. Support for engagement of contact tracers and supervisors for enhanced surveillance and active case search.

"Support designated treatment centres with equipment such as ambulances, dialysis machines, medicines, PPE, generating sets, etc. Deployment of surge staff (healthcare workers) to support overwhelmed treatment centres."
SEE ALSO: Commissioner for Health, Prof. Akin Abayomi Stresses On Hygiene & Good Housekeeping As Lagos State Records Its First Case of Lassa Fever
According to him, there has been training and retraining of healthcare workers on Lassa fever response, case management and IPC as well as development and dissemination of Lassa fever guidelines on case management, Infection Prevention and Control (IPC), preparedness and response.
"Implementation of targeted rodent control measures in high-burden LGAs in collaboration with the World Health Organization and Federal Ministry of Environment. Dissemination of alert and advisory letters to Commissioners of Health to institute appropriate response and preparedness measures.

"Deployment of Surveillance Outbreak Response Management and Analysis System (SORMAS). State presence of NCDC liaison officers in high-burden states.

"High-level advocacy visits to the Governor and Commissioner of Health in high-burden states. Implementation of Nigeria Lassa Fever Epidemiological Study and other research activities in high burden states."
Adetifa, therefore, advised Nigerians to reduce the risk of Lassa fever infection and keep their environment clean always.
"Block all holes in your house to prevent rats from entering. Cover your dustbins and dispose of refuse properly.
"Communities should set up dump sites very far from their homes to reduce the chances of having rodents within their homes. Store foodstuff like rice, garri, (cassava flakes) beans, corn/maize etc. in containers that are well covered with tight-fitting lids," he said.
He said that Nigerians should avoid drying foodstuff outside on the ground  or roadside where it would be at risk for contamination and also avoid bush burning which could lead to the displacement of rats from bushes to human dwellings.
"Eliminate rats in homes and communities by setting rat traps and other available means. Practice good personal and hand hygiene by frequently washing hands with soap under running water /or use of hand sanitisers when appropriate,"
he explained.
He also advised Nigerians to visit the nearest health facility if they notice any of the signs and symptoms associated with Lassa fever as mentioned earlier.
"Avoid self-medication," he said.
He called on healthcare workers to always practice standard precautions. He said:
"Wear gloves and other appropriate personal protective equipment while handling patients or providing care to an ill patient/relative.

"Healthcare workers should maintain a high index of suspicion for Lassa fever.

"Be vigilant and consider a diagnosis of Lassa fever when seeing patients presenting with febrile illness.

"Healthcare providers should report all suspected cases of Lassa fever to their local government Disease Surveillance and Notification Officer for immediate access to healthcare."
He said this was essential because early identification and treatment of cases appear to be more effective and save lives.
ALSO SEE: LASSA FEVER: How To Protect Your Loved Ones From Contracting The Disease
According to him, any febrile illness that has not responded to 48 hours of use of anti-malaria or antibiotics should raise an index of suspicion for Lassa fever.
He said that the Federal Government and the Federal Ministry of Health through the NCDC continue to offer both technical and material support to all states when responding to infectious diseases of public health importance including Lassa fever.
Adetifa said that the agency is the country's national public health institute, with the mandate to lead the prevention, preparedness, and response to public health emergencies caused by communicable diseases.
"The mission of the NCDC is to protect the health of Nigerians and one of the strategies in attaining national health security is the capacity building of states to have a skilled workforce to promptly respond to outbreaks of public health importance,"
he said.
Lassa virus is transmitted to man by infected multi-mammate rats and humans become infected from direct contact with the urine and faeces of the rat carrying the virus.
People also contract the disease by touching soiled objects, eating contaminated food, or exposure to open cuts or sores.
Secondary transmission from person to person can also occur as a result of exposure to the virus in the blood, tissue, urine, faeces or other bodily secretions of an infected patient.
Lassa fever can also be passed between patients and staff at poorly equipped hospitals where sterilisation and protective clothing are not standard.