Mr Ibu's Wife Cries Out For Help As She Accuses Him Of Physical Assault, Neglect, Infidelity And More… See Details
The home of popular comic actor, John Okafor popularly known as Mr Ibu is currently in chaos as his second wife, Stella Maris Okafor, has accused him of beating her up and neglecting her while focusing on his girlfriend.
Stella who married Mr Ibu after his separation from his first wife, shares three kids with him.
Stella took to Instagram late on Friday night, Jan. 3, to share a series of videos showing a physical altercation between her and Mr Ibu.
In one video, Mr Ibu is seen confronting his wife and lightly puts hands on her at some point. She's then heard warning him to leave her because she has high blood pressure.
"Talk to me now, you said Chioma did what to you? What's the issue between you and Chioma,"
Mr Ibu asked his wife.
Chioma Jasmine is the popular TikToker who claims to be Mr Ibu's daughter.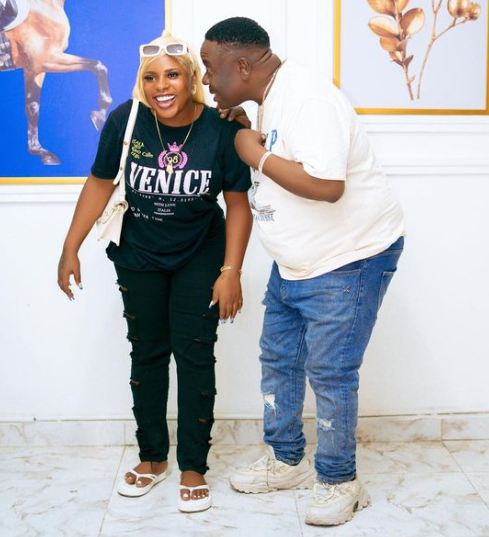 In a follow-up video, Stella is seen crying while alleging that Mr Ibu's is trying to kill her.
"He came from his girlfriend's house to come and beat me," she said in the video.
This led to allegations that Chioma Jasmine is Mr Ibu's girlfriend, not his daughter. Stella also shared a video of her house and car and accused Mr Ibu of neglecting her and their kids financially.
Stella had earlier taken to controversial blogger, Gistlover to cry out for help over Jasmine's ploy to dupe her husband.
According to the wife, Mr Ibu suffers from dementia and as such can't remember things. Knowing his health failure, Jasmine has been taking advantage of it and has been parading herself as one of the actor's children.
Exposing her identity, Stella disclosed that the lady is from Imo state and her real name is Chioma Florence Okekeagukwu.
Since gaining her way into Ibu's heart, she has changed her name to Chioma Jasmine Okafor.
Stella further claimed that Jasmine is now her husband's manager and has been receiving all money allocated to him. She claimed that she has to pass through the fast rising social media influencer to get money from her husband.
She is even the one managing all Mr Ibu's social media accounts as he doesn't remember his password, the wife said, adding that the lady and Ibu seem to be having an affair.
She added that her kids are currently out of school because of lack of fees as Jasmine, who is in charge of his accounts wouldn't authorize the paying of their school fees.
SEE ALSO: Comic Actor, Mr Ibu Reacts To Daughter's Engagement And Upcoming Wedding To Man She Met On TikTok Two Months Ago
Gistlover added that Jasmine went as far as harassing Stella with police from Ajiwe police station where they threatened her to keep silence.
She, Jasmine is currently at the verge of selling Mr Ibu's CBN estate in Abuja for N65million.
Reacting to her claims, Jasmine took to her Instagram live session to blast his wife.
Gistlover shared:
"Hello tueh tueh , Otife get started, you see the level some girls go just to get fame ehn, he go shock you ooo, you dey knack person dey call am your papa, Jasmine come here , heaven and earth will be against you from this very moment, I say it's about to get started , Mr Ibu has loss of memory and a girl who is not related to him at all took advantage of that ,took his Instagram password and using Mr Ibu for content and to get fame, infact she add her page for mr Ibu bio, they are not related at all, in fact she is at the verge of selling Mr Ibu house today before this matter come out, it's about to be a long night, full story soon , get your popcorn, ogun go soon Kee person now , Moun nbo 🚶🚶🚶🚶🚶.
ALSO SEE: 'I would have been a story' -Celebrity Dad, Mr Ibu Recounts Near Death Experience After Being Poisoned By His Staff | WATCH
Hello tueh tueh, GLB NATION you see otun ti zeh oooo, I never even write damage control don dey fly left and right, now I would want everyone to read through this whole chat and it will be dropping more later in the morning for people wey din sleep for naija, I go even bring Mr Ibu wife come on live video, The girl parading herself as Mr Ibu pikin isn't related to her according to the wife, the girl took charge of all Mr Ibu social media account and is the one taking payment for all Mr Ibu work, don't be deceived by that their yeye damage control, wife sef go come online today and tell her on side of of the story, it's about to get messy, as it is now, the wife was arrested earlier today by this same Chioma with Ajiwe police station people and they threatened her not to spill anything online and also to vacate the house as them wan sell am for 65m, but na ogun go kee any policeman wey go put mouth for this matter , Chioma dey knack one of their boss hence she harrassing the wife with Police, wahala is about to happen for this mark Zuckerberg app,Mr Ibu sister sef dey my dm saying na memory loss dey disturb mr Ibu say them no sabi the girl ooo, she is about to ruin Ibu, dropping more videos in few minutes make everybody wake first , I dey come.
ALSO READ: Comedic Actor Mr Ibu Reveals Why he Flaunts his Wife on Social Media
Continuation: Slide to read all chat, this was earlier today when Chioma brought shameless Ajiwe police station to harass Mr Ibu wife because according to eye witness Chioma Dey knack one of their oga too, read the previous post and this continuation to understand all those twist wey them gather twist the story for daddy freeze live video no go work, damage control in the mud, posting old pictures of she and Mr Ibu won't work either, you have been exposed shey na chioma abi jasmine be your name, she uses Mr Ibu to get traffic and money on TikTok, blocked all access from the wife, Mr Ibu children dey house no go school but this girl wey nor get one single work dey send her own pikin to big school all from money she makes on Ibu, I will bring Mr Ibu family and wife come this live , I go also drop medical reports of wetin dey do Mr Ibu, no be clear eyes Ibu take dey do all these things , I say matter is about to get messy , Chioma wey be popular olosho for Cyprus come dey form Ibu pikin all of a sudden just to gather fame and clout,since yesterday wey I i post her picture sef na him all Chioma old customers don full my dm 🤣🤣🤣🤣matter dey start soon seh, make everybody wake up first , all these ones na intro, live video soon, as for those two sons that came online to support Chioma wetin una expect , this is why I will never support polygamy, matter what disunity go dey ni Sha , you expect them to like their step mother ??? Toh, we don hear from Chioma next na Ibu wife, we can't be one sided , she dey come live video soon, I come in peace."