Yetunde Bakare To Fellow Mums: Why They Shouldn't Find It Offensive When Their Partners Ask For DNA Paternity Test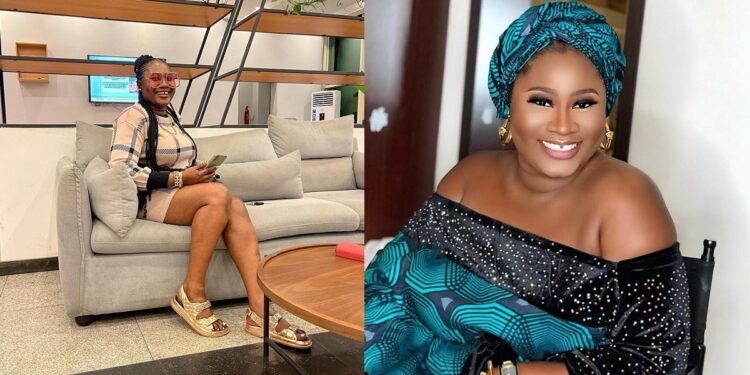 Famous Yoruba actress, Yetunde Bakare has urged men to take paternity tests for their children at birth by all means necessary.
Reacting to the current rampant wave of paternity fraud, the single mom took to her Instagram page to encourage men to save or borrow if need be to ensure they had the paternity test done.
On the other hand, the thespian also advised her fellow women not to be offended if their husbands demanded paternity tests because the dishonesty people experience daily on the issue is alarming.
According to her, if their hands were not dirty then they had nothing to be angry or disappointed about.
She wrote;
"Dear men … in everything that you do,,,, please do DNA No matter how broke you are, please save up for DNA or borrow money!

As a woman you shouldn't find it offensive when your Man ask for DNA at birth …..
With the level of dishonesty/Paternity Fraud we see on a daily 
Eni ti o je gbi ko le ku gbi "
READ ALSO: Single Mum, Yetunde Bakare On How "I raised my son without 'hoeing' around"
What is your take on her submission?
A few months back, US-based Nigerian supermodel, designer and upcoming actress, Faith Morey also revealed why men should carry out DNA test on their kids.
The former basketball player-turned model made this known as she wrote on the importance of carrying out DNA test, while narrating how paternity fraud destroyed the home of her close friend.
The mom of one, took to Instastories to stress on the importance of DNA test, stating that her brother must do the same because of how rampant the scandal is becoming in Nigeria.
ALSO SEE: Celebrity Dad, Rotimi Salami Tells Fellow Men The Only Time To Carry Out DNA Tests On Their Kids
Writing further, Morey narrated how her close friend was left devastated and heartbroken last week after he discovered that his beloved 10 years old son is not his biological child.
Buttressing her point, Morey said a lot of men have been raising children that are not theirs and there is nothing as painful as that.