Actress, Doris Ogala Expresses Concern For Colleague, Yul Edochie: 'Something Is Not Adding Up'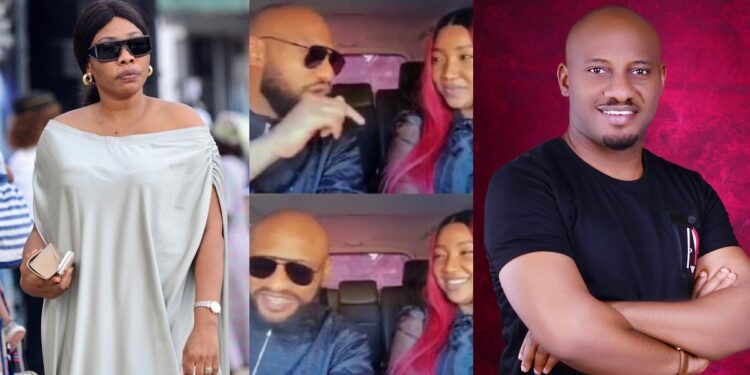 Nollywood actress, Doris Ogala, has taken to social media to express her concern for her colleague, Yul Edochie.
This comes after Yul, who recently lost his first son with his first wife, May, shared a loved-up videos with his second wife, Judy, on social media.
In one of the videos, which was posted on Yul's Facebook page, he and Judy can be seen singing along to a romantic song while in his car.
As expected, netizens flocked to the comment section of the post to criticize him, deeming it insensitive toward his first wife.
Before now, Yul posted a video of Judy thanking God for the safe delivery of their child, which did not also sit well with many. They tagged the video as 'insensitive' because it comes just weeks after the death of his first son with his first wife.
Amid the backlash, the actor, who was unbothered by the criticisms, shared another video of himself and Judy singing along to a song 'Unbreak my heart' in his car.
However, reacting actress Doris opined that something was fishy about the actor's recent actions.
She pointed out that the videos have only been shared on his Facebook page, suggesting that someone else may be handling the page.
READ ALSO: Georgina Onuoha Attacks Yul Edochie's 2nd Wife, Judy Austin Over Her Post About His Late Son: 'Only A Witch Will Dare This Level Of Stupidity'
She further stated that Yul could be facing some form of blackmail, as she finds it difficult to believe that he deliberately posted such content while his first wife is still mourning.
In her words:
"Let's get one thing straight. Why is Yul not posting on his Instagram? I doubt Yul is the one controlling that Facebook. Yul won't be heartless. Haba. He just lost his first son. Something is not adding up.

No, no, no. I refuse to believe Yul is the one posting those videos. He might be under blackmail. Why is he not posting on his Instagram page."
READ ALSO: Yul Edochie's Daughter, Danielle Yanks Off Father's Name Amid Family Crisis