Barack Obama Addresses Hard Times In Marriage With Wife, Michelle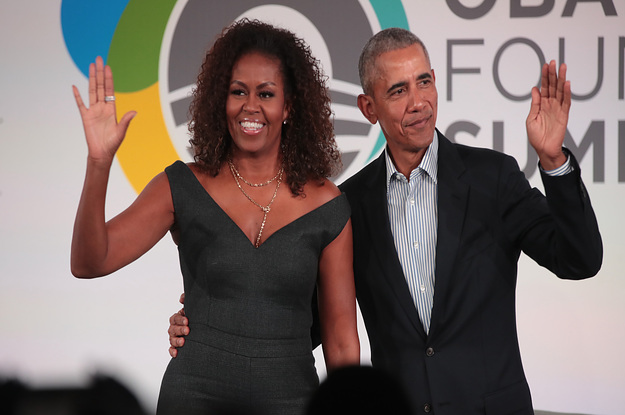 Former US President, Barack Obama has opened up about his at-times challenging marriage to his wife, Michelle Obama.
Obama who served as the 44th President of the United States, recently told CBS Mornings' Nate Burleson that when it comes to working on strengthening his relationship with his wife, "it sure helps to be out of the White House, and to have a little more time with her."
The dad of two, 61, approached the topic after being asked by Burleson about an interview the former first lady gave last year, during which she said there were times in their marriage when "she couldn't stand" her husband.
Recall that in December 2022, Michelle sat down with REVOLT Studios, where she spoke about the stress of living in the White House and raising their kids, opening up about a challenging period in her marriage to her husband.
Michelle said at the time:
"People think I'm being catty by saying this — it's like, there were 10 years where I couldn't stand my husband."
She continued:
"And guess when it happened? When those kids were little… Because you can be all great individually when you're just married, you got your life, he's got his, you come together it's like 'oh, good to see you, bye, take it easy.

And for 10 years while we're trying to build our careers and, you know, worrying about school and who's doing what and what, I was like, 'Ugh, this isn't even.' And guess what? Marriage isn't 50/50, ever, ever.

There are times I'm 70, he's 30. There are times he's 60, 40, but guess what? Ten years — we've been married 30. I would take 10 bad years over 30 — it's just how you look at it. And people give up … 'Five years; I can't take it.'"
ALSO SEE: 'I Couldn't Stand Him For 10 Years' -Michelle Obama On The Challenges Of Raising Two Young Daughters And The Strain It Put On Her Marriage
Michelle also in an interview with CBS Mornings last month, stated that she opens up about these things "because marriage is hard." In her words:
"And a lot of young people quit on marriage over things that are just a part of the commitment," she said. "We've been married for 30 years. If I fell out with him for 10, and we had a great 20 years. I'd take those odds anytime."
She said that at a time when marriage is glamorized and "more about the dress," it is incumbent upon people who have had successful marriages to be honest about the fact that making a commitment to be with someone means compromise, which "ain't always fun."
Asked about those remarks, Barack said,
"Let me just say this: it sure helps to be out of the White House. And to have a little more time with her."
SEE ALSO: What Michelle Obama Recently Shared About Her Marriage Will Help Other Couples Fare Better In Their
Barack continued:
"Michelle — when our girls were growing up, that was priority number one, two, three and four. And so, I did not fully appreciate, I think, as engaged of a father as I was, the degree of stress and tension for her, knowing that not just me and Michelle were under scrutiny and in this strange environment, but that we were raising our daughters in a kind of situation that just wasn't normal.

"Now that they're doing good, she is a little more forgiving of all my flaws. What she's told me is, you know, 'Looking back, you did okay as a dad.' And if I passed that test, then she'll forgive me most of my other foibles."
Former President @BarackObama opens up about his relationship with @MichelleObama, after she revealed she didn't like him for 10 years of their marriage: "Let me say this, it sure helps to be out of the White House." https://t.co/hNA68lo1u1 pic.twitter.com/CQqmyO4e9G

— CBS Mornings (@CBSMornings) May 16, 2023