UK Government Bans Nigerian Students, Others From Bringing Family Members | Details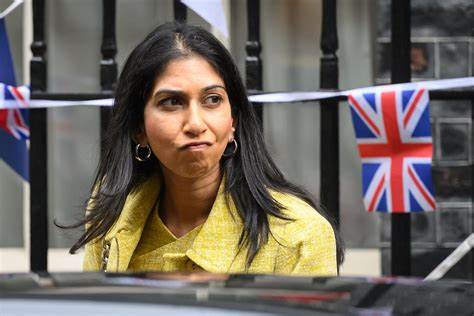 Nigerian and other international students have been banned from bringing family members to the UK unless they are on PhD courses, in a crackdown announced by country's Home Secretary, Suella Braverman ahead of expected record immigration statistics.
Under current rules, only students enrolling on full-time, postgraduate courses lasting nine months or longer can bring family members with them to the UK.
Those students can bring their partner and any children under the age of 18, and must prove they have at least £680 per month to support each of their dependents.
However, announcing the ban on Tuesday, May 23, Braverman said family members of foreign students will no longer be allowed to live in the UK.
Making the announcement, the Home Secretary said;
"The UK is a top destination for the brightest students to learn at some of the world's best universities. But we have seen an unprecedented rise in the number of student dependents being brought into the country with visas.

"It is time for us to tighten up this route to ensure we can cut migration numbers and meet the government's pledge to the British people to cut net migration."
Also commenting on the recent ban, Education Secretary Gillian Keegan said;
"Attracting the top students from around the world isn't just good for our universities – it's essential for our economy and building vital global relationships. But the number of family members being brought to the UK by students has risen significantly.

"It is right we are taking action to reduce this number while maintaining commitment to our International Education Strategy, which continues to enrich the UK's education sector and make a significant contribution to the wider economy."
SEE ALSO: 'Don't Have Kids Yet' – Lady Warns Newlyweds Planning To Relocate To The UK; Gives Reasons 
Ms Braverman said they will also remove the right for foreign students to switch out on to work visas during their studies, amid concerns that some people have been taking advantage of the system.
The Government will also crack down on "unscrupulous education agents" selling "immigration not education" to international students.
The changes are due to take effect in January 2024, with the Home Office set to implement delivery plans in the coming months.
It comes after international students brought 136,000 dependents with them to the UK last year, marking an eightfold increase compared to 2019.
Ms Braverman announced the new measures ahead of net immigration figures due to be published on Thursday, May 25.
It is understood that Ms Braverman is focusing on foreign students as a more achievable method of shrinking overall migration numbers while the Government scrambles to get a grip on illegal immigration.
The Home Secretary said on Tuesday that the clampdown on foreign student visas "strikes the right balance between acting decisively on tackling net migration and protecting the economic benefits that students can bring to the UK".
Ms Braverman had been pushing for a wider crackdown on international students, but that her proposals had been successfully fought off by other Cabinet ministers.
Both Jeremy Hunt, the Chancellor, and Gillian Keegan, the Education Secretary, warned that tougher measures would inflict major damage on the British economy and drive international students to seek courses elsewhere.
A report published last week by London Economics calculated that international students boosted the UK economy by an estimated £41.9bn last year – jumping about a third over the past three years.
Home Office figures published last year showed that some foreign students brought up to six family members with them in the year to June 2022, with huge variations by nationality.
Chinese students made up the largest percentage of foreign students who came to the UK in the year to June, but brought the smallest number of dependents with them. In total, 114,837 Chinese students came to study in Britain last year, bringing with them a total of 401 dependents.
By contrast, 34,031 Nigerian students came to the UK last year, seven per cent of the total figure, but brought 31,898 dependents with them. Meanwhile, 93,049 Indian students came to Britain with 24,916 dependents.