26 Years And Counting! The Akenbors List Five Principles That Make Successful Marriages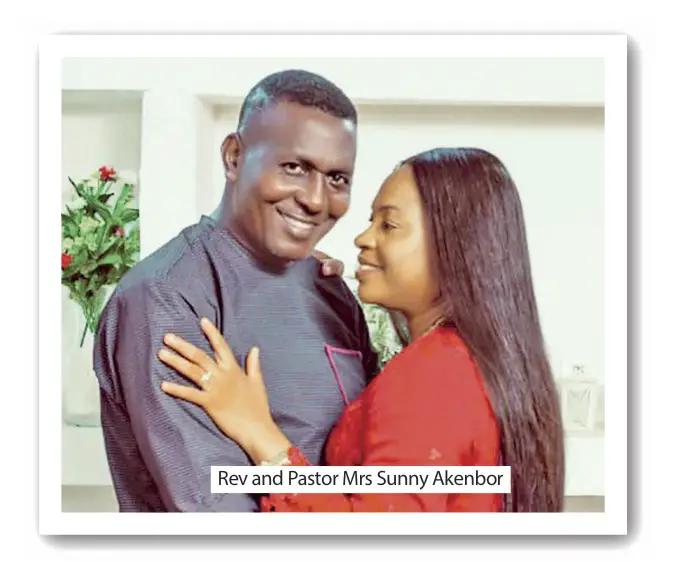 General Overseer and Founder of God's Greater Grace General Assembly International, Rev. Sunny Akenbor and his wife, Pastor Amen, have been married for about 26 years.
In a chat with Daily Sun in Benin, the couple who are blessed with four kids, list five principles that make marriages to be successful as forgiveness, understanding, patience, love and commitment.
How did you meet your wife?
Rev Sunny: We met 26 years ago. I was praying for a wife to marry. Though I had a girl that I was supposed to marry before, along the way, something happened that we parted at that time. I was now believing God for a wife. 
I was praying and fasting. We knew each other before when she was coming to our house at Esigie, but for three, four years, we didn't see each other again.
She went to school. But that eventful day, we just met at New Benin and immediately I got the conviction that, 'this is your wife.' We greeted each other. That was in the month of December. 
During the Christmas day, I went to their house and I met her at home. On that day, we just discussed about relationships. She then said let's keep praying and believing God. Gradually, she went to school. She was attending Auchi Polytechnic and she was a final year student.
And any time she came from school, she would visit me. We kept on building the relationship like that. That was how it resulted to marriage.
Madam, how did he propose to you?
Pastor Amen: I knew him before through my late cousin. I was also in a relationship before but the person was not a Christian, he belongs to Grail Message. So, my mother was not comfortable with me going into a relationship like that. She discouraged me. Then it happened that we were having a programme in our local church then. Then, I was training under Pastor Mrs Ehai.
So, they set that day aside and said it was a festive period and all spinsters should gather in the church to do a programme, fast, just tell God the kind of husband you want. Then, in the evening they decided to send me to go and get food at New Benin Market.
So, on my way at the Four Junctions, I just met him. He asked me to stop. He was just asking me questions and I couldn't play any pranks because I had been fasting. When I got to church I told my friend. She is also a pastor's wife now. She is based in the UK, Sister Esther.
I said Sister Esther, see what happened. She said, you don't know if this is your husband and that God has answered your prayers. We laughed over it and we left. So, I was surprised in December, he came to our house. I was at home after church. He said he just came to visit us.
So, I was just uncomfortable. You know, in my house, I don't have that freedom that somebody would just come to your house. So, he now made friends with my elder brother's wife and also my immediate younger brother. They became close.
So, he was coming to our house to see them. Those ones were now the ones convincing me, especially my elder brother's wife. I said he should give me time to study him, and let us begin to pray about it and if it is the will of God, it will work out. That was how it started and to God be the glory, we got married.
Any regrets so far?
Rev Sunny: No, no. It has been peaceful, it has been joyful. You see, what really convinced me about her, the one I wanted to go for before, whenever she came to my place, I was always spending money and I was not having peace within myself though I was only forcing myself into the relationship.
The very day the one I now married came to my house with her younger brother, I gave her money to go and get us something to eat. She just went to the market bought beans, bought things for soup, under one hour, she cooked stew, cooked soup and swept the whole house.
I then asked, buy us something to eat, you are preparing something? She said in case you want to eat, put this one in your fridge. I then asked, do we still see a lady like this? She swept the whole house. I now saw the difference between this one and that one.
Madam, any regrets so far?
Pastor Amen: No. At times, there will be challenges but God has been faithful.  On our wedding day, I knelt down before the altar, I told God that this home that I am going, I want you to go with me. Challenges have come and gone and God has given us the grace to overcome and I don't have any regrets.
My children say we're like brother and sister. That is how we live. Though at times we also have some arguments, we usually resolve it.
There was a particular time we were having an argument. So he was angry. My husband is not the type that talks but me I like talking. So he became angry and he was mute, and whenever he is mute, I don't like it.
So when we were now praying in the evening, I said father Lord, touch my husband, help him to be talking. He was standing by me. He now talked and I said glory be to God, thank you for answering our prayers. At that point, that issue was resolved. So, God has been so faithful and His grace has sustained us.
What do you do when she offends you?
Rev Sunny: Sometimes we disagree to agree. There must be disagreement. Any marriage where there is no argument, one of them is playing the role of a fool and the other one is wise.
Anything you are saying, you respond, yes sir. But if two adults stay together, there must be certain differences. If you say you don't like it, the other will say she likes it but you just have to compromise.
Five principles govern marriage. Forgiveness, understanding, patience, love and commitment.
If you adopt these five principles in your marriage, no matter what happens, you will scale through it. The bible says love covers multitude of sins. If there is love, before the problem comes, you have already made your mind to forgive because of the love.
My wife is somebody that likes to talk. And I don't like talking. I will just remain mute. She will be looking for how to convince me to talk but I will just be laughing. Sometimes I will just laugh and forget about it. You must be patient. 
Number three, understanding. She came from a different home and I came from a different home too, different upbringings. It takes understanding to stay together to understand her character. With understanding, you can stay together.
The other aspect is commitment. If marriage is of one side, it will not work. Both of us must agree. Amos 3:3 says can two work together except they agree? If there is no agreement, it will not work. That is why we must commit ourselves to living together peacefully till death do us part and we are pursuing one goal and everything that will enable us to achieve that goal, we will do it.
SEE ALSO: 'Real Talk Women' Founder, Tolu Odukoya-Ijogun Shares Six Golden Rule For A Successful Marriage
What do you do when your spouse is angry?
Rev Sunny: Two things are powerful in life: 'I am sorry' and 'thank you.' Any time somebody tells you thank you, I am sorry and he acknowledges his fault, you will forgive the person. Where there is a problem is when the person wants to prove a point when she knows that she has wronged you. That will create more problem.
Pastor Amen: It depends on what happened. I easily say I am sorry, man of God, please forgive. Another thing, at times he is angry and wants to be on his own. Or maybe you are putting pressure and you notice you want to get angry, I will just give him some space.
I will even tell my children that daddy wants to relax maybe few hours later, I can come back, crack some jokes, apologise, then he opens up to tell you that this thing that you did, he didn't like it. I will say I am sorry.
Do you have a joint account with your wife? 
Rev Sunny: No, because right from the beginning, we have never planned to have a joint account. She has her own account and I have mine. When she receives her salary, she says this is the money I am receiving and how she spends her money I don't know. But when we have a project, I will say I need such amount of money.
She will bring it and add to the project. I don't bother about how much she has in her account but the way we work in our family, I don't even know how much we spend on feeding. I don't even know the size of my shoes and clothes, she buys everything. But let's say to build a house, buy a car, that is my responsibility. If I see a good car and she needs it, I will buy it for her.
Even the children's school fees, she pays them. I don't even know when. At times, she will say I have bought books for them, I will say thank you. During Christmas now, the food, I don't even know how she gets them.
At times, I will just see two bags of rice and every other thing, I will just say thank God, but buying of car is my responsibility or we are building a house, I will say give me some amount of money, she will give me.
Pastor Amen: Well, for those that can do it, it's okay but just as he explained, we have not really thought of having a joint account. I don't know good cars but I just ride cars. I think this is my 10th or 11th car that I have changed. All my life, my first car, I just came back from work and I saw a car parked outside.
I asked where did you see the car? Where did you see money? Then we were just still coming up. He said I decided to buy you a car. I said I thank God. I was so excited about it because I could remember something my roommate told me years ago when we were in school.
She said, Amen, I pity you. This your Christian Union something will just finish you. You want to marry a man, the man doesn't even have a car. All the way from Benin to Auchi Polytechnic, he could not even get a car for himself. He could not even borrow to come and see you but he came with a big bible and you are just too excited about it.
So, that thing actually touched me but I just said go away but when my husband now presented me with my first car, I was so happy and I said to myself that I didn't make mistake.
So, ever since, that is how I change my cars. I could remember there was a time he told me that there was a land and they wanted to sell it. I asked him, do you want us to buy? I am expecting some money. We bought that land.
I didn't even know the place, even when it was completed. But I know he has completed it because he told me he has completed it. That is how we have been managing ourselves and for the children, he has been committed. So, he also helps me to shine. 
When my second daughter was looking for admission in the school of nursing, she was 14 years old. She got admission, but at the point of registration, they said she has to be 18. She started crying. So, as I was driving through Benson Idahosa University (BIU), I just saw a signboard. Somehow, I was convinced and said my daughter will go to this school.
When I got home I told my husband that BIU has the course and we can take our daughter there. My husband just laughed and said do you know how much they pay in BIU? When I found out, it was close to a million naira. So he said, do you know how much a million naira is? I said yes, let us start.
I paid part of the school fees. I think I paid about N300,000 or N400,000. So I came with the teller and he asked, you mean you have paid such amount of money? I said yes. He said okay, let us see. That is how she started and to God be the glory she graduated with a First Class. God has been helping us.
As a Pastor, to what extent does wife assist you in your ministry? 
Rev Sunny: In every area. She is a pastor of pastors. She pastors me to pastor people. Even at home, when I am weak, she encourages me. She is a praying machine. Financially, she supports the work of God.
ALSO SEE: Popular Relationship Speaker, Jay Shetty Dishes Out 5 Secrets To A Successful Marriage
What advice will you give to parents, families and the society?
Rev Sunny: The bible says, the family that stays together, prays together and for you to succeed as a family is a battle. You need prayers and encouragement. Sometimes, we don't leave our children to do what they like to do. Tell them what is good to do.
The bible says, a child is right in his own way but by the rod of correction, they will learn. Don't leave them. The bible even said train up a child the way he should go and that when he is old, he will not depart from it. Training, advising them, praying for them.
And the family needs to live together. Some of the problems we are facing are that the mother will like to live separately. There are five keys to a successful marriage. We must adopt that pattern. Forgive your wife before the quarrel will start. Sometimes we have misunderstandings.
She will not even ask me for forgiveness before I forgive her because if you are waiting for sorry every time, it will lead to more quarrels and prolong problems. So, we have to forgive before the quarrel comes out and let us continue to build marriage together, husband and wife.
Some of the things that cause problem is keeping of secrets from your spouse. When my wife wanted to build her house, she told me. When some wives are building their houses, their husbands will not be aware. 
There is one I know, the woman built a house, and they rented it. They were paying rent to the lawyer and the lawyer was giving the money to the man's wife and until five years before the husband got to know about it and he became very angry and almost fainted. It is not healthy for marriage.
Another thing is that when there are issues, let us address them. Communication is very important in marriage. I also knew a man that was having a problem, he didn't say it out until he got to their family meeting and started reeling out what his wife did with dates attached to them.
He started narrating what his wife did to him in the last six years and his wife was surprised. She said you mean you have been having all these in your mind and you didn't bother to tell me? So, let communicate and learn how to forgive each other.