'I Would Have Stayed In My Marriage If I…' – Toke Makinwa And Iyabo Ojo Discuss Their Failed Marriages In New Interview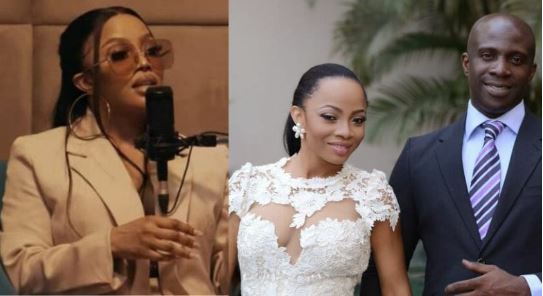 Media personality, Toke Makinwa, has revealed she would have stayed and compromised in her troubled marriage with her estranged husband, Maje Ayida if they had a child together.
Recall that Makinwa got married to fitness expert, Maje Ayida in 2014, but the marriage was dissolved in 2017 after discovering that he was cheating on her with another woman and even impregnated her. The illicit affair produced a baby boy.
Speaking during the latest episode of her podcast, TokeMoments, with guest, Nollywood actress and mum, Iyabo Ojo, Makinwa stated that she would have become 'one of the women' who stayed in marriage for their children.
According to the thespian, she would have had to compromise if she had a child. The successful OAP, who is still single and searching said,
"A lot of women stay in unhealthy marriages for the children. For the longest you hear so many women say things like, 'the marriage is done but I only stay for my kids.'

And I'm going to be honest here, if I have had a kid while I was married, I may have been one of those women. Because I also had the trauma of losing both parents at the age of 8. I mean, I was adopted.

I have a great life which I'm thankful for but there were times that I wondered what life could have possibly been like if that didn't happened.

So, for the sake of my children, I may have had to compromise just because I wanted them to have mum and dad. I may have been one of these women. So, I'm not even judging anyone right here."
ALOS SEE: Join The Discussion As Toke Makinwa And New Mom, Kiekie Dialogue On How To Get The Best Out Of Men, Husbands
In her reaction, Iyabo Ojo said she left her marriage with her children instead of staying back with them because she was young at the time. According to the single mum, she has a better understanding of life now and would have stayed in her marriage.
In her words:
"I was young at the time. If I was at this age, a lot of decisions I took, I probably would not had taken. Because now I'm more wiser and have a better understanding of life.

"But then I was coming from a place where I was already damaged as a child. You know when you come from a very wealthy home but you've to still raise yourself? Things like that.

"I didn't grow up to know my mum and dad. I was living with dad, my grandmother and his brothers. My granny was my mum to me. And my dad, I used to call him his name. My dad was not like a dad. He was like a brother and friend. He was like an uncle because he enjoyed life too much and he really didn't had time to pay attention to me.
SEE ALSO: Toke Makinwa Makes A List Of Things Her Ex-husband Did While Cheating On Her
"Me growing up in that kind of situation where I didn't even know what they called 'mummy'. I didn't know I had a mother. I knew my mum when I was about seven. My parents were never married. They just had my brother and I together."