Actress Wumi Toriola Gets Honest About Her Personality, Career, Failed Marriage And Why She Doesn't Mind Being A Second Wife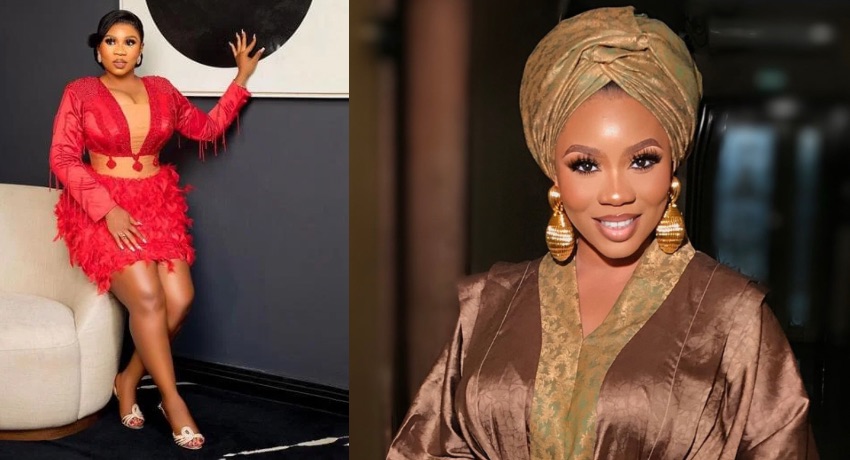 Actress and show host Debbie Shokoya unveiled a new episode of her celebrity talk show, "Exciting Moment With Debbie."
In this new episode, Debbie sits with actress and single mum, Wumi Toriola as she opens up about her personality, career, what led to the crash of her young marriage, why she doesn't mind being a second wife and also clears the air about some misconceptions about her.
Wumi tied the knot with her man in 2018 and welcomed their first child the following year. In 2023, she took to her Instagram page to disclose that her four-year marriage had come to an end.
During the recent chat with her colleague, the movie star expressed her willingness to embrace the role of a second wife.
According to the divorced mother of one, her perspective on being a second or third wife has changed since her marriage crashed.
She went further to reveal the very reason she will agree to be a second wife, adding that it is because she's 'after-one now". The thespian said she has been single for "a while now".
READ ALSO: Celebrity Mum, Wumi Toriola Confirms Marriage Crash, Addresses Estranged Husband's Allegations
In her words:
"I used to have the mindset that I can't be a second or third wife, but that has changed because I'm after one now."
Toriola, emphasizing her pursuit of personal happiness, asserted that she would gladly marry an individual who shares a similar experience, such as being a widower or someone who, like her, has previously been in a marriage.
She added:
"If I see an after-one like me too or a widower, I will marry him. What matters is my happiness."
Contrary to the perception that female celebrities are exclusively interested in wealthy men, Toriola argued that not all of them hold such preferences.
ALSO READ: Actress, Wumi Toriola Accused Of Brutalizing Her Son's Nanny Over Claims She Drugged The Minor | See Details
She revealed that many men are hesitant to approach actresses assuming they are only open to relationships with affluent men.
Toriola also debunked the stereotype that attributes actresses' luxurious lifestyles solely to relationships with wealthy men, emphasizing that most actresses earn their wealth through their own efforts.
Watch: