Celebrity Mum, Wumi Toriola Confirms Marriage Crash, Addresses Estranged Husband's Allegations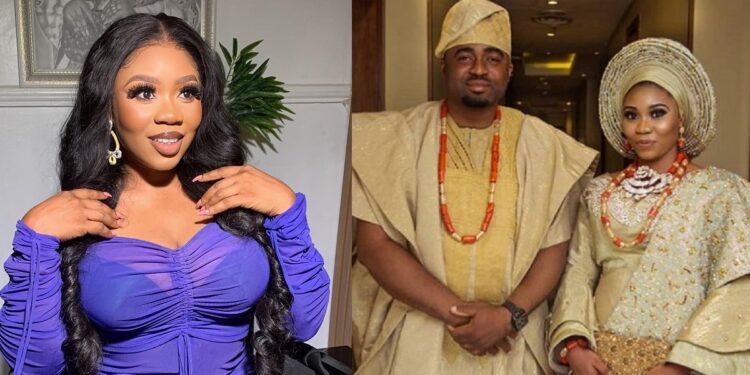 Nollywood actress, Wumi Toriola has confirmed that her marriage of three years has hit the rocks.
The movie star disclosed this in a statement shared via her official Instagram account.
There had been rumours that the famous Yoruba actress and her husband, who married on May 13, 2018, had parted ways.
However, the mother of one finally confirmed the rumour in a lengthy note on Tuesday, January 24 revealing that the marriage ended over a year ago.
Wumi also dismissed rumours that the marriage ended because she is violent and allegedly beat up her mother and mother-in-law.
Before now, Wumi's ex-husband had opened up on their crashed marriage to his new love interest. While speaking on their failed marriage, he said that their marriage was filled with violence, deceit and betrayal from Wumi.
The actress' estranged husband made this known to his new Igbo girlfriend, who allegedly leaked their conversation to Instagram blogger, Gistlover.
The blogger claimed that a lady had reached out to her when she broke the news of the couple's crashed marriage. The lady alleged that she was dating Wumi's husband and he had denied being married.
After confirming that her new man was the actress' ex, she confronted him and he opened to her on his 'toxic marriage'.
Although, not going deeper, the father-of-one revealed that his marriage to the actress was an ugly one, filled with physical assault and deceit. Describing his marriage as a total regret, he accused the actress of assaulting his mother.
Addressing his allegations, Wumi said their marriage just didn't work out, and they both decided to go their separate ways without any drama.
She stated that she has never been physical with her mother-in-law nor her mother and she has witnesses to back her up.
READ ALSO: Actress, Wumi Toriola Narrates How She Battled Infertility Before 'Miraculous Conception' 
Her full post read:
"There has been a lot of media attention on me lately regarding my marriage.

Yes it is true that the marriage is over. We have gone our separate ways for over a year now. It didn't work out, there was no need for drama hence my reason for not letting my fans know. But yesterday, I saw a report where it was alleged that I was violent while the marriage lasted and I used to beat my mother and my mother-in-law.

It was reported that my ex allegedly comforted this lies. For the records, I am not a violent person. I have not had to exchange punches with anyone and I was never violent in the marriage.

The most painful part of the report is that I used to beat my mother. This is not only personal attack, it is satanic. It is against everything I stand for and believe. As a properly raised Yoruba lady, it is costly to lay your hands against your parent.

As a matter of fact, my mum has been late for over 20 years. And I never raised my hands against my mother-in-law, it never happened. My family members, my ex's family members and our neighbors can testify to that.

I wish those who started the rumor and those spreading well and pray that God rewards everyone of us according to the works of our hands.

As for me, I am focused on the next level, and I have moved on from the past. I advice everyone else to do the same."
ALSO SEE: Actress, Wumi Toriola Accused Of Brutalizing Her Son's Nanny Over Claims She Drugged The Minor | See Details
See screenshot of her post…