Graphic Photos: Woman Sentenced to 4 Years in Prison for Using Razor Blade to Torture 12 Year Old Niece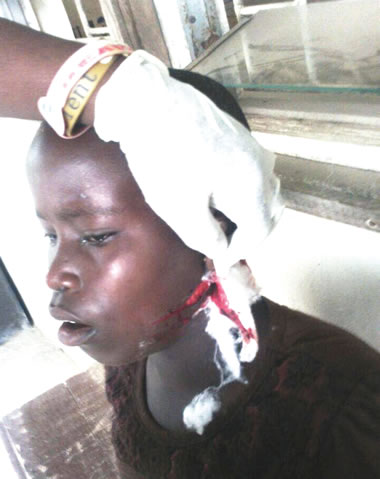 A woman identified as Funmi Otitoloju, has been arrested by the police in Lagos State for allegedly brutalising her 12-year-old niece, Adeola, on Thursday, June 9, 2016, at about 6:00am, in the Baiyeku community in the Ikorodu area of Lagos state.
According to Punch, Otitoloju allegedly used a razor blade to cut her niece, a primary 3 pupil on the neck and hand because she entered their neighbours' apartments without her permission.
The victim was subsequently rushed to  General hospital.
Reports state that a neighbour had reported to Otitoloju that Adeola stole from her room and when the neighbour was asked what the victim stole, she was unable to answer.
Otitoloju then reportedly punished her niece after her landlady also came to report that the girl sneaked into her apartment.
After several reports from neighbours, it was gathered that the girl was cut with a razor blade on that morning.
A worker with the Child Protection Network in the Ikorodu area was said to have been invited and the worker reported the matter at the Ikorodu Police Division and thereafter, the police arrested Otitoloju, while the victim was treated at the hospital and had been taken into government's custody.
On Monday, the police arraigned Otitoloju on two counts bordering on child abuse at the Ikorodu Magistrates' Court, Ikorodu.
The charges read, "That you, Funmi Otitoloju, on June 9, at about 6.30am on Sambi Street, Off Macaulay area, off Baiyeku Road, in the Ikorodu Magisterial District, did assault one Adeola, 12 years old, with a razor blade on her right hand and neck, causing her bodily harm, and thereby committing an offence contrary to and punishable under Section 171 of the Criminal Law of Lagos State of Nigeria, 2011.
"That you, Funmi Otitoloju, on the same date, time and place in the aforementioned magisterial district, did unlawfully and indecently deal with a child, thereby committing an offence punishable under Section 135 of the Criminal Law of Lagos State of Nigeria, 2011."
The accused pleaded guilty to the charges.
The razor blade was presented as an exhibit in court and the Magistrate, A.A. Oshoniyi, sentenced Otitoloju to four years' imprisonment with no option of fine.
Photo credit: Punch