Finally! Federal Government Sets To Put A Stop To Girl Child Marriage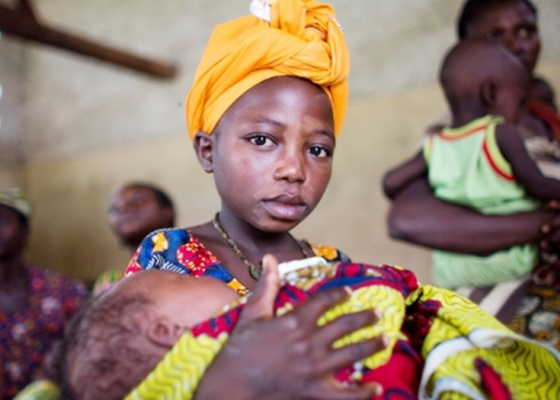 The Federal Government of Nigeria has taken steps to put an end to the girl child marriage which is now widely recognised as a violation of children's rights and a direct form of discrimination against girls.
Vanguard gathers that the Minister of Women Affairs and Social Development, Senator Aisha Alhassan, stated that FG has developed a technical working group to develop policies and legislation that will end girl-child marriage in the country.
According to the minister and the Chairman of the National Population Commission, NPC, Chief Eze Duruiheoma, who spoke at a media briefing to commemorate the 2016 world population day, themed:
"Investing in teenage girls" agreed that early child marriage is an act of violent against a girl child.
According to him: "Without education, in poor health, and with little or no control over her body, the future of the teenage girl in Nigeria imperilled, and her potential may never be realized.
"The challenges and obstacles faced by a teenage girl multiplies if she lives in a village and is from a poor household.
"Access of the teenage girls to reproductive health services and the information is severely limited thereby aggravating cases of unwanted pregnancies, unsafe abortion, sexually transmitted disease, STD, including HIV.
"The use of any planning method is 6.1% among women aged 15-16despite the fact that 61.1% of women in the age group are sexually active.
"With the increasing spate of insecurity and organised crimes in Nigeria, the teenage girls, more than their counterparts, have been victims of various types of physical violent and abuse including rape, kidnapping, child trafficking and torture.
"It is worthy to note that teenage girls have become tools in the hands of the Boko Haram insurgents who constantly deploy them for various activities including suicide bombings to carry out the mass killing.
He continues: "No nation can lay claim to development until its teenagers have equal rights and opportunities to lead a healthy life and free from culturally induced attitudes and negative practices that limit their capacities to make meaningful contributions to national development."
Senator Aisha in her remarks said the situation of teenage girls in Nigeria was appalling.
She said: "We know that history of early marriage is violent against girl child because it is depriving children their right to aspire high, the right to develop, the right to contribute effectively to the nation building.
"We are aware of the peculiarity of this country, we are aware of the traditional areas of the early girl child marriage. We are all aware, we are also aware of the negative impact of not trying to stop it.
"We have developed a technical working group comprises of all the stakeholders; we have gotten the Directors and State directors of child Development to be part of it.
"As I am talking to you now, we have a consultant going round to engage the states and all the stakeholders, within NGOs, faith-based organizations, everybody to be part of it.
She also stressed that: "Today adolescence is the adult of tomorrow. As we all commemorate 2016 world population day, I urge stakeholders at all level to take appropriate measures to ensure the adolescence girls meet their full potentials.
"I would like to use this opportunity to intimate you that Child marriage is one of the major challenges affecting investment in teenage girls in Nigeria.
"The Federal Ministry of Women Affairs and Social Development along other stakeholders is planning to convene soon a national launch of the campaign to end child marriage in Nigeria."