Human Right Activist Calls For Investigation As 15 Year Old Houseboy Runs Mad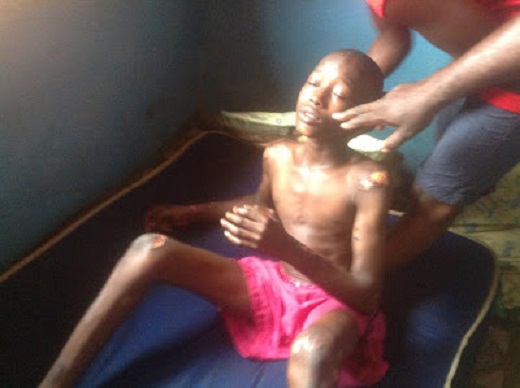 Tragedy struck in the Abule Egba area of Lagos state as a 15-year-old houseboy Uchenna Iyike who lives with his madam, Mrs Nneka Ikeme, ran mad.
The mysterious story was shared by a social media user Emeka Obogwu. He narrated:
"Uchenna's elder sister, Joy Iyike said her brother was taken to Lagos by Nneka's husband, Mr Chigozie Ikeme,  to assist his wife in the business of selling provisions around March last year with nothing wrong with him health-wise.

They were living at Abule Egba until last week when she got a phone call from Nneka that her brother was having health issues.

Joy stated that she is working at a hotel in Ogidi where Mr Chigozie Ikeme serves as the manager and somehow along the line Mr Okeke requested that he wants a house help who could assist his wife in business at her provision store in Lagos, thus she brought Uchenna and Ikeme took him to Lagos and enrolled him at Army Children School Abule Egba as he began to serve his wife as house help.
Joy added that her brother lived until last week when she got a telephone call from Nneka telling her that her brother is having a problem and has been referred to a nearby hospital.
Getting to Lagos, she said she met her brother at a hospital called Mercy Maternity hospital with injury all over his body adding that the hospital workers told her that he was violent. He was tested for malaria and typhoid fever and treated but to avail.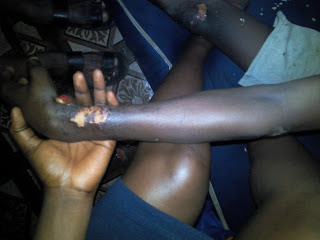 Seeing her brother in such situation, the heartbroken sister said that she had to bring Uchenna back to Ogidi after which she sent him to a psychiatric hospital for further examination. After running series of tests, he was given some drugs and discharged from the hospital is still violent.
When Joy was asked if Uchenna has had a history of mental problem in his life or whether he is used to strange characters that suggested that he has mental problem, Joy said no, adding that Uchenna was once remarked by a pastor in their village as a very brilliant boy who would be great in life if nurtured well enough.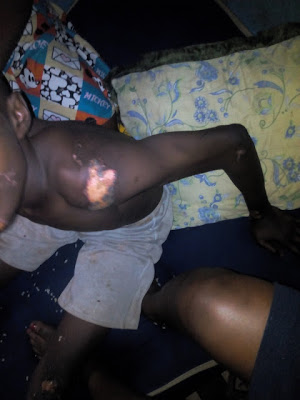 However, advocate Eric Okafor, an international human right activist in Ogidi has called for the police investigation of the matter stating that Uchenna may have sustained such myriad of injuries as a result of severe torture by his guardian, adding that such brutal torture could lead to mental disorder.
"The boy could not have afflicted himself with such injuries all over his body, from head to toe including his back, everywhere is full of bloody marks, common sense tells us that something is wrong somewhere" Okafor added
When Mrs Ikeme was contacted on the telephone, she said she treats Uchenna as her own son just like she treats her own children.
Narrating how Uchenna sustained the injuries on his body, she said that the boy suddenly started fighting himself and everything around him in the midnight adding that before she could know what was going on, he had sustained injuries all over his body.
"Uchenna was sleeping in the same bed with Chinedu, my son that night, somehow, I noticed that he was resting one of his legs on Chinedu and I tried to draw his attention and consequently he changed direction and started talking to himself, suddenly he became violent and started fighting himself inside the room.
I had to shout to draw the attention of my neighbours and we took him to the hospital and while he was receiving treatment, I called my husband and his sister who came down and took him to Ogidi for further treatment"
As the time of filling the report, the Authority gathered that the sister, Joy with the help of Okafor and others is battling to get Uchenna back to normal as they took him to Iyienu Mission Hospital for treatment but unfortunately he is not responding to treatment as expected.
Odogwu says he was told that police has been invited to investigate the matter but when contacted the divisional police officer DPO of Ogidi division police headquarters Mr Hassan Musa said he  is not yet aware of the case, so also is Anambra state police command, DSP Okechukwu Ali.
Photo credit: Emeka Odogwu