"You took on a role you didn't ask for and made it your own…" Watch Barack Obama Tear up while Addressing Michelle and Daughters in his Emotional Farewell Speech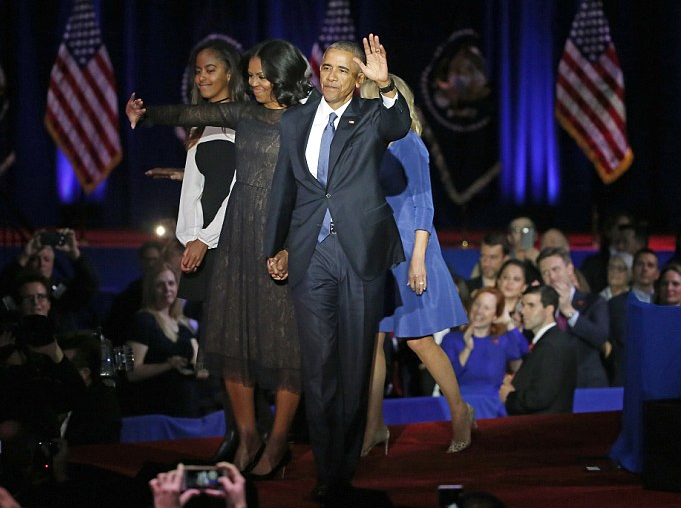 https://www.instagram.com/p/BPHNUGogGQD/?taken-by=motherhoodinstyle_mag
https://www.instagram.com/p/BPHLPaAgnqK/?taken-by=motherhoodinstyle_mag
US President, Barack Obama delivered his farewell speech in Chicago last night, as he prepares to hand over to Donald Trump on January 20th.
Declaring "yes we did," Obama called on citizens to become politically engaged and uphold the values the country was founded on, as his eight years as president comes to an end.
The president was accompanied on his trip by the First Lady, Michelle Obama and their elder daughter, Malia. The White House said Sasha, 15, did not attend because she had an exam in the morning, CNN reports.
The first part of his moving speech reads:
"My fellow Americans, Michelle and I have been so touched by all the well-wishes that we've received over the past few weeks. But tonight it's my turn to say thanks.

Whether we have seen eye-to-eye or rarely agreed at all, my conversations with you, the American people — in living rooms and in schools; at farms and on factory floors; at diners and on distant military outposts — those conversations are what have kept me honest, and kept me inspired, and kept me going. And every day, I have learned from you. You made me a better president, and you made me a better man."
The most interesting part of the speech was when 55-year-old Obama got into the personal thank yous. He simply said the word "Michelle," and the crowd erupted and gave the gorgeous First Lady a standing ovation.
Obama wiped a tear from his eye while thanking his wife, calling her his best friend, he said: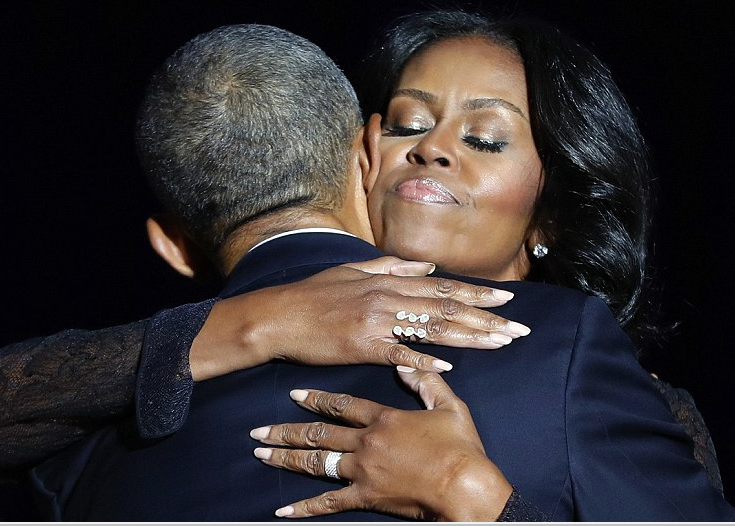 "For the past 25 years, you've been not only my wife and mother of my children, but my best friend.

You took on a role you didn't ask for and made it your own with grace and grit and style and good humor. You made the White House a place that belongs to everybody. And a new generation sets its sights higher because it has you as a role model. You've made me proud. You've made the country proud #potus #flotus."
He also used the farewell address as an opportunity to praise his two daughters, noting that they are his proudest achievement. The First Lady put her arm around a tearful Malia as the President spoke: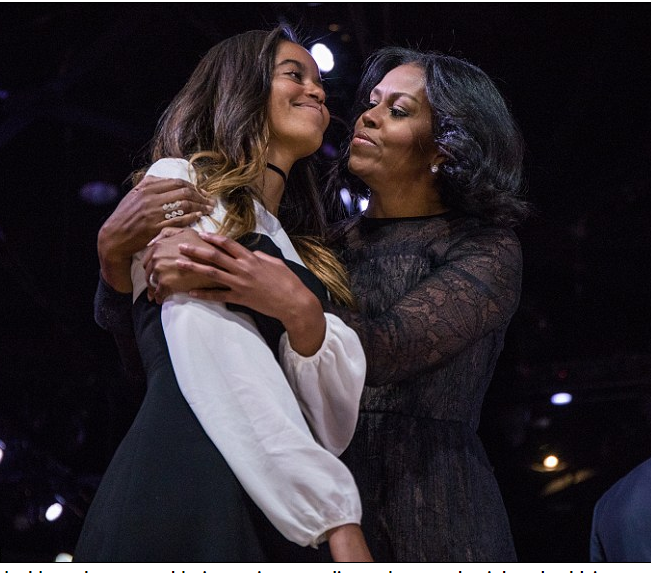 "Malia," Obama said, gesturing to his eldest daughter, "…and Sasha, under the strangest of circumstances, you have become two amazing young women.

You are smart and you are beautiful but more importantly, you are kind and you are thoughtful — and you are full of passion. And bore the burden of years in the spotlight so easily. Of all that I have done in my life, I am most proud to be your dad."
Obama, the country's first black president and son of a Kenyan immigrant, also discussed race and immigration.
"All of us have more work to do. After all, if every economic issue is framed as a struggle between a hardworking white middle class and undeserving minorities, then workers of all shades will be left fighting for scraps while the wealthy withdraw further into their private enclaves. If we decline to invest in the children of immigrants, just because they don't look like us, we diminish the prospects of our own children – because those brown kids will represent a larger share of America's workforce."
In reaction to the encomium her hubby showered on her, the First lady shared this lovely throwback of her strong family writing: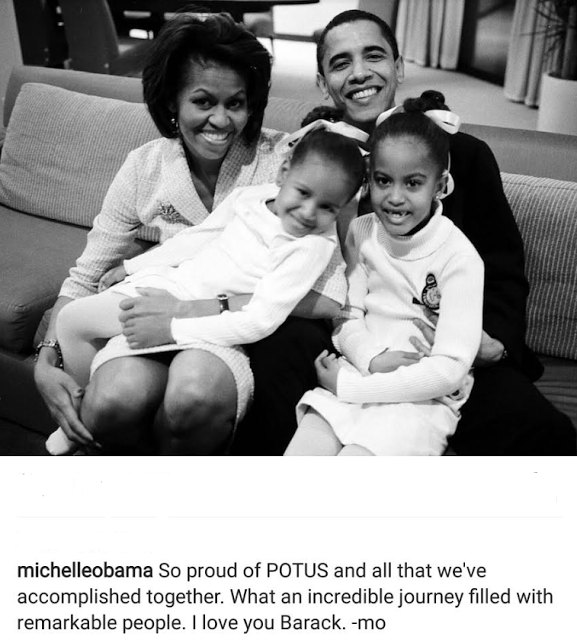 "So proud of POTUS and all that we've accomplished together. What an incredible journey filled with remarkable people. I love you Barack."
America will miss this lovely family!
Watch how the proud hubby and papa showered praises on the three beautiful women in his life…
Photo credit: TNS/AP/Getty Images