"Do your Worst" – Oyo Gov. Ajimobi Taunts Protesting LAUTECH Students Over 8 Month Closure of their School (WATCH)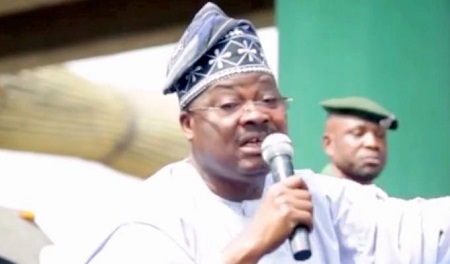 Oyo State governor, Abiola Ajimobi has been caught on camera daring protesting students of Ladoke Akintola University of Technology (LAUTECH) Oyo, to do their worst after they got him provoked while he was addressing them.
Reports revealed that students were protesting the eight-month closure of the institution marched to the governor's office last Monday.
The video, published by Sahara Reporters, shows the furious governor telling students to "do their worst" and that he could not be blamed for the school's shutdown.
"You are here to protest, am I the one who locked your school?" Mr. Ajimobi queried.

"Your school being locked for eight months is no big deal. Is your school the first to be locked, if this is how you will come to talk to me, go and do your worst, I dare you."
The governor continued as the students grew restless:
"Every government lacks funds; even we lack funds; if you want to be troublesome, go ahead, I am ready for you. You are coming here to say that it will be tough this time, tough with me, if someone of my calibre has come here to address you, you should have respect for constituted authority, your school locked for eight months what, did I lock your school."
The school, located in Oyo State was closed in June 2016 due to the inability of the Oyo and Osun governments to fulfill there financial obligations to the varsity.
Watch the video…