"I see two people who genuinely love themselves enough to love each other" – Betty Irabor Pens Moving Note to Newlyweds Yvonne Jegede & Olakunle Fawole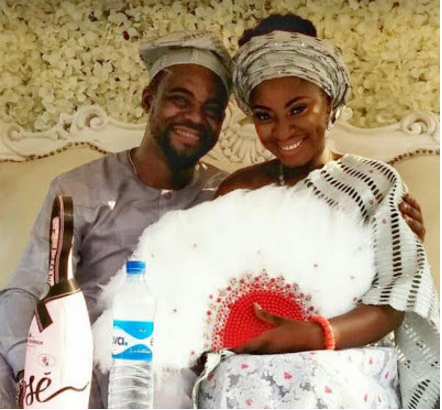 Nollywood actress, Yvonne Jegede and late Bukky Ajayi's son, Olakunle 'Abounce' Fawole, tied the knot on his birthday in Lagos yesterday. (read here)
Yvonne and her hubby Olakunle, looked so in love at their wedding yesterday which was noticed by many including Betty Irabor.
The proud mom of two and publisher of Genevieve Magazine, took to Instagram to celebrate the happy couple with heartfelt words. Read below: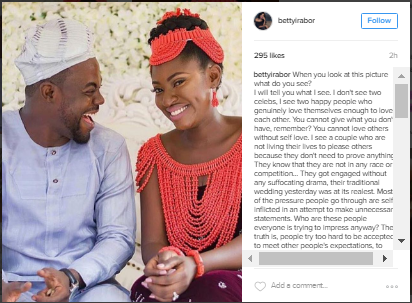 "When you look at this picture what do you see? I will tell you what I see. I don't see two celebs, I see two happy people who genuinely love themselves enough to love each other. You cannot give what you don't have, remember? You cannot love others without self love.

I see a couple who are not living their lives to please others because they don't need to prove anything, They know that they are not in any race or competition… They got engaged without any suffocating drama, their traditional wedding yesterday was at its realest.

Most of the pressure people go through are self inflicted in an attempt to make unnecessary statements. Who are these people everyone is trying to impress anyway?

The truth is, people try too hard to be accepted, to meet other people's expectations, to please others who really shouldn't count…what really should count at the end of the day is the marriage not the wedding….marriages begin where weddings end .


I have come to know Yvonne and Kunle better and I believe what they share is deep, very deep.. And at the end of the day, that's what counts…


Congratulations my darlings. Please don't make me eat my words! ( I know you won't )"
Betty Irabor, is married to seasoned broadcaster Soni Irabor. They have been married for over 30 years.