Kemi Olunloyo Celebrates her 1st Child who Clocks 30 Today | Advices Single Moms to Learn from her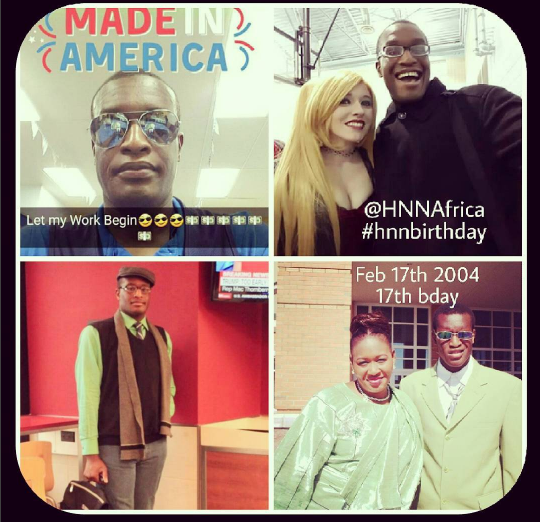 Controversial Media personality and journalist, Kemi Olunloyo, 52, took to her Instagram page this morning to celebrate her first child, Enitan Robert, whom she single-handedly raised beginning from 30 years ago.
In honour of Enitan's 30th birthday, the single mum adviced other single mums to learn from her success.
"30 years ago today, I had my first child. I raised him alone and made it. To all the single moms out there, success is possible so better learn from me. Happy 30th birthday ????Enitan Robert. February 17th 1987. #MadeinAmerica

Thank u Soodabeh Jaffari Godmom Susan Ruane-Dao, Debbie Makowski, Grandma Anita and Late Grandpa Paul Ruane and aunty Bridget Ruane for all being there for Eni since the Shamokin, Pennsylvania days. Miss Constance Chesney y'all look good, enjoy the PARTY!!

Special thanks to a BFF @toyin_abraham fomerly #Aimakhu for the inspiration!! #Iyabadan u are the BEST! May God bless u with a great child like this. Special thanks to the mentors @LorenzoIceTea Thomas, Ms Jean Ross, LaShea Conyers."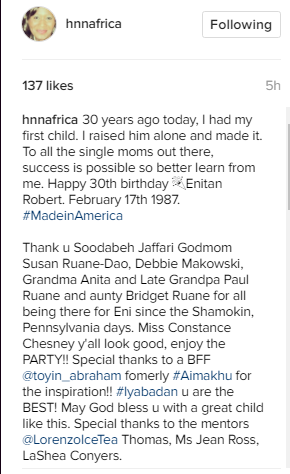 Happy birthday to him. Keep making your mama proud!
Photo credit: Instagram