UPDATE: LAUTECH Doctor Reveals the Real Cause of Davido's Uncle Senator Isiaka Adeleke's Death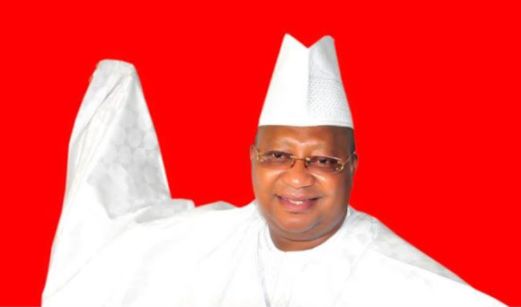 The Chief Medical Director of Ladoke Akintola University of Technology Teaching Hospital, Akeem Lasisi, has revealed the real cause of the death of the Senator representing Osun-West senatorial district, Chief Isiaka Adeleke.
The 62-year-old three-time senator passed on last month at Biket Hospital, Osogbo, Osun State.
According to Lasisi, Adeleke died of an overdose of banned injections.
Testifying before a coroner, Olusegun Ayilara, in Osogbo on Monday, Lasisi said the Chief Medical Director of Biket Hospital, Osogbo, Dr Adebisi Adenle, called him on the telephone on April 23 to tell him that Adeleke had died.
READ ALSO: "My father was killed" – Senator Isiaka Adeleke's Son Alleges 
Lasisi, who said he saw Adeleke's remains on a table at LAUTECH's morgue, added that a pathologist, named Solaja, two resident doctors, who are also pathologists, the Officer in Charge of Homicide, Osun State Police Command, Divisional Police Officer, Dugbe Police Station, Osogbo, and the Consultant Pathologist, LAUTECH, were all present when an autopsy was carried out on Adeleke.
Speaking further, he said the aide informed him that the person, who treated Adeleke was not a doctor but could not say if he was a nurse, Vanguard gathered.
He stated that he, however, failed to ask for the name of the person who treated Adeleke but he wanted to know what was administered and the competence of the person that administered the drugs.
He went on to say that among the injections given to Adeleke was Analgin, which he said was outlawed when the late Dora Akunyili was the Director General of the National Agency for Food and Drug Administration and Control.
"Analgin has been outlawed since the days of Dora Akunyili in NAFDAC. So, I don't know where they got it from. They were given in excess dosage," he said.
I saw the corpse. Before any process of examination of any diagnosis in medicine, there is what we call history before examination. So, we asked for the person who knew the conditions surrounding the death of the senator.
So, the family pointed to one of the aides and the aide said he (Adeleke) was active the previous day and he came at midnight and started complaining of leg pain. So, they sent for somebody who came to give him injections.
I asked clearly the medical status of the person that administered the injections. I asked, 'Is the person a doctor?' but he said no. 'Is he a nurse'?, he said he didn't know but the person was a face they were used to.
He mentioned various injections, so at that point I asked him if could lay his hands on the empty ampoules of the injections. The family members went home to get them. The injections were five per cent dextrose. We saw empty sachets; it was like a fluid and with it, we saw an intravenous fluid-giving set and scalp vein needle. We saw that empty. We saw two ampoules of Analgin, four ampoules of valium (diazepam) – 10ml each making 40 milligrammes, one ampoule of pentazocine, one ampoule of gentamicin and two ampoules of hydrocortisone.
All of these were empty and his aide said these were what he was given. He also added that after he had been given, he (Adeleke) called him that he doesn't want to entertain any visitor and he went to sleep. He (the aide) said he later went back to check him and saw that the senator's eyes were wide open but he wasn't breathing."
In addition, the he stated that diazepam 'sedates and tranquilises when given in moderate dosage' but said it could knock off reflexes if given in the type of dosage Adeleke was given and could eventually lead to death.
He stated that if the injection would be given intravenously at all, it should be given at a facility where the patient could be resuscitated with artificial oxygen in case his breathing stopped.