Eva Alordiah Finally Speaks About the Rumored Crash of her 15-month  Engagement
Multi-talented rapper, Eva Alordiah, has finally taken to social media to indirectly address the viral report of the alleged crash of her 15-month engagement to her longtime boyfriend, Caesar, (read here).
Here's what Eva wrote: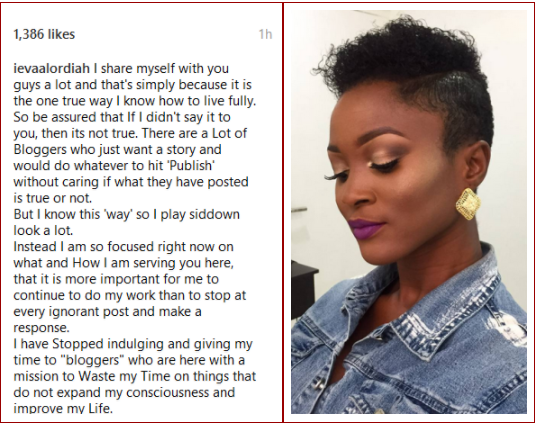 READ ALSO: Eva Alordiah Slams Fan Who Criticizes Her for Being Unmarried Despite Being Engaged for Over a Year
"I share myself with you guys a lot and that's simply because it is the one true way I know how to live fully.
So be assured that If I didn't say it to you, then its not true. There are a Lot of Bloggers who just want a story and would do whatever to hit 'Publish' without caring if what they have posted is true or not.
But I know this 'way' so I play siddown look a lot.
Instead I am so focused right now on what and How I am serving you here, that it is more important for me to continue to do my work than to stop at every ignorant post and make a response.
I have Stopped indulging and giving my time to "bloggers" who are here with a mission to Waste my Time on things that do not expand my consciousness and improve my Life.
To have a Great life, You've got to become Highly critical of what takes your time and energy.
Your Mind is the most important asset you have on this Physical plane of Existence. Guard it Jealously.
What you feed your Mind is what your life becomes. You are a Valuable Human Being, or don't you think so?
Stop feeding your mind Junk.
It deserves better than that!

See bah, I didn't go through these very painful time in my life these past couple of Years for nothing. And I wouldn't stand back and watch you do the same to yourself.
RETRAIN YOUR MIND my friend. It is all you have here. You must give it life if you are to have a life you are happy about.
This week, Try this with me, MAKE SURE YOUR EYES, YOUR EARS, YOUR MIND, are all fed with Powerful things, visuals, thoughts, speeches, and see how your life will change.

One Life.
And you don't even know if you'd have tomorrow.

I have said one thing to say another. But I have written something here for you. Catch it! I love you, E
#tranquil #alive #thoughts #Consciousness #awareness #EvaAlordiahNotes"
Is she confirming the engagement is over?
Photo credit: Instagram