Igbonla Model College Kidnap Update: Kidnappers Contact Parents & Demand N 1 billion Ransom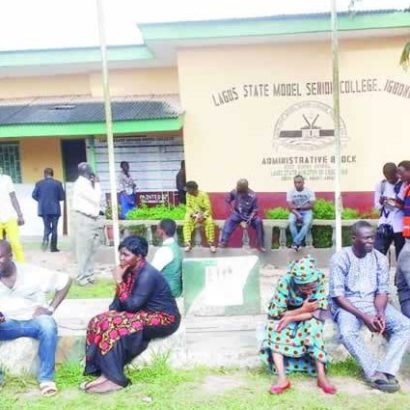 A gang of militants, early on Thursday morning, struck at Lagos State Model College, Igbonla, Epe, abducting six students from the boys' hostel (read here).
Giving an update on the kidnap, Punch reports that the abductors of the six pupils have contacted some parents of the victims on Saturday, demanding N1 billion ransom to release them and also allowed them to speak briefly with their children.
The names of the abducted students are Pelumi Philips, Farouq Yusuf, Isiaq Rahmon, Adebayo George, Judah Agbausi and Peter Jonah.
It was gathered that the kidnappers contacted four of the parents. While two of them were asked to pay N100 million ransom per child, two others were asked to pay N400 million each for their kidnapped sons.
They were reportedly told to meet with the school authorities and the Lagos state government to raise the money.
Meanwhile, details of ransoms demanded from the remaining parents had yet to be ascertained as of the time of filing this report.
The gunmen had gained entry into the school premises at about 6am on Thursday through the creek at the back of the college and headed for the boys' hostel after breaking the school fence.
They broke the hostel doors, seized 10 senior secondary school pupils and led them to the shore where their boat was parked.
After profiling their family backgrounds, four pupils were released, while the assailants whisked away the remaining six pupils.
Some parents, who spoke on condition of anonymity, said the kidnappers called between 3pm and 5pm on Saturday.
A parent said, "They allowed me to speak with my son. I asked him if he was fine and he said yes. They asked me to meet with the school authorities to raise N400m for my child to be released."
Another parent of one of the pupils said they begged the kidnappers that they had only menial jobs when they demanded the same amount.
"I said N400m was much, but one of them told me not to worry myself. He said I should meet with the school authorities and the government. I was also allowed to speak with my child. I spoke with two other parents and they said they were asked to pay N100m each," the parent said.
However, the Lagos state commissioner of Police, Fatai Owoseni, has vowed to ensure that the students are rescued and their abductors are apprehended.
Photo credit: Punch