"I paid my bride price"- Tonto Dikeh Continues to Reveal More Dirty Details about her Failed Marriage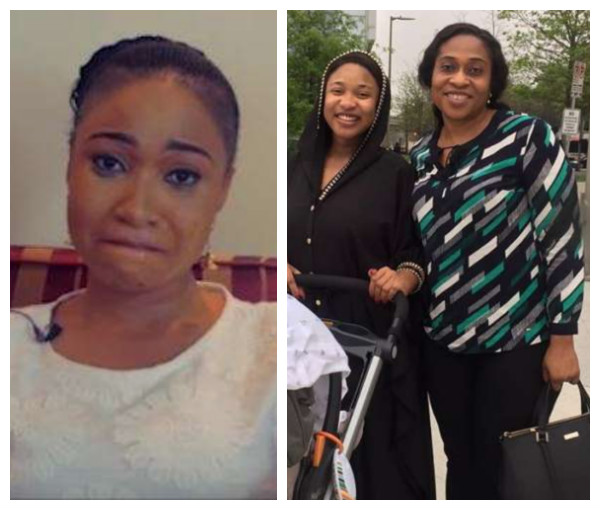 More dirty details have emerged in the marital crisis between Tonto Dikeh and her estranged husband and father of her only child, Oladunni Churchill.
In an alleged leaked chat obtained by Pulse, supposedly between Tonto and her mother-in-law, the actress revealed she paid for her own bride price and alleged that Olakunle's ex-wife, Bimbo Coker, paid for her own wedding too.
The 32-year-old diva didn't stop there. She went on to accuse her mother-in-law of witchcraft and claims she has watched Churchill touch his mother inappropriately.
Read the full chat below:
"Thinking back and after talking to Bimbo Coker, it's safe to say you are in on Kunle's fraud and dirty lifestyle.

Flew your son, clothed him, gave him pocket money, helped him with every sweat in my body, you watched your son dupe me for all my hard earned money.
You disappoint me even Bimbo Coker paid for her own wedding and bride price. Is this a curse?

I have watched you bring in dirty charms and fetish item into my home. I have watched your son touch you inapropraitely. I have witnessed darkness with you all and I just wonder what kind of woman you are.

Leave me alone Mama Kunle, leave me alone I beg of you. Am done with your family, all I need is my safety and that of my child."
See screenshot below…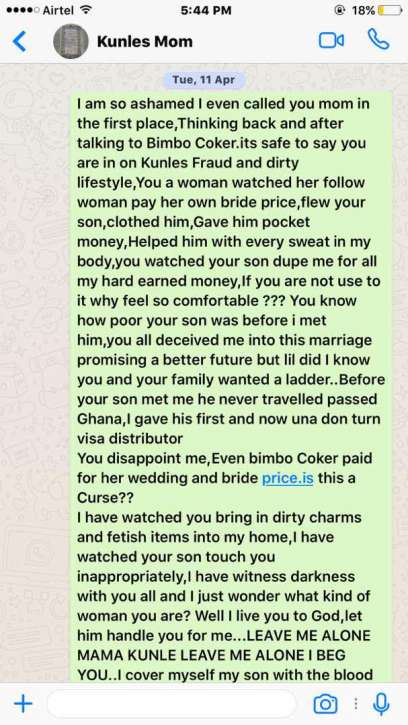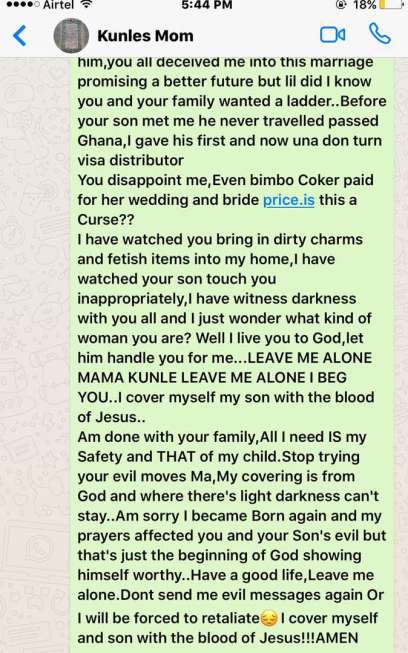 Tonto released these shocking details after she dressed as a man for her son's Father's Day celebration at school and one of Olakunle's relations, On-Air Personality, Lara Olubo, released a vile text message between Tonto and her mother-in-law (read here).
Her estranged husband also reacted to her action saying people shouldn't play victims to circumstances they created (read here).
Meanwhile, Churchill's first wife commented on Lara's post saying that her ex-husband's family are all liars.
"Smh, this people will never stop lying or even change from their evil ways… soon I know your can of worms will be open Kunle and you mom..Wicked family filled with evil thoughts and evil plans.

Someday people will know the real you kunle, just can't wait for that day to come," she said.