See Ubi Franklin's Epic Clap Back at Fan Who Advised Him to Make Peace With Estranged Wife, Lilian Esoro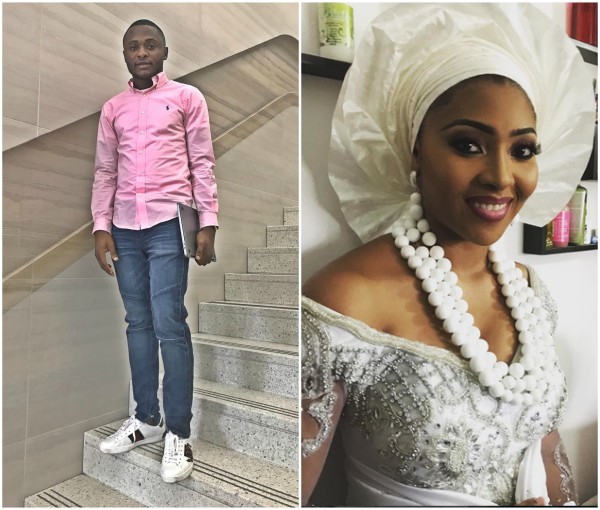 Nigerian Music label boss and father of one, Ubi Franklin, took to his Instagram page yesterday to share a photo and what he learnt from the Sunday service he attended at House on the Rock.
One of his followers however advised him to leave the past behind and make up with his estranged wife, Lilian Esoro, as his 'everyday preaching' are all gimmicks would all prove to be gimmicks if he doesn't make up with the mother of his son, Jayden.
"Oga, abegi, this your everyday preaching will only make sense when you go and make peace with your wife."
READ ALSO: "Your Marriage Wasn't Based On Love" –  Journalist Pens Open Letter To Lilian Esoro & Ubi Franklin
Reacting to this, Ubi told his follower clearly that he has had enough, as his marital crisis has drained him enough.
"Listen to me, it's your time, you mind your business and let me mind mine. I don't need to make sense to you and pls don't come to my page again. If I don't make peace, go and help me make it. Enough of this, it has drained me enough and it's behind me now. Move on bro and stop creating different accounts to attack me about my marriage."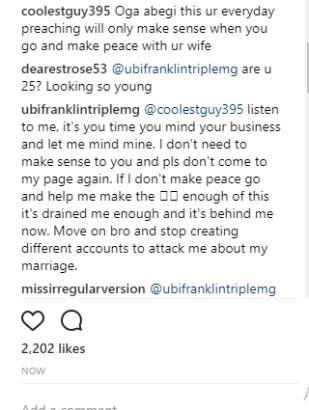 Moments later, Ubi, who has been at the center of marital crisis (since last year) with his estranged wife also penned an open letter to  'Self Anointed' Marriage Counselors.
READ ALSO: "Children ought not to be victims of the choices adults make." Says Ubi Franklin Following Separation Rumours
According to him, those marriage counselors are not without despicable and disgusting sins.
Here's what he wrote:
"THIS PIECE IS FOR THOSE THAT HAVE ANOINTED THEMSELVES TO BE MARRIAGE COUNSELORS ON SOCIAL MEDIA:

For Those of you who are professionals in pointing fingers at who did wrong or who did right, whereas you're not without despicable and disgusting sins yourself.. If you can at least care to take the initiative to inquire of those in troubled marriages what they go through and have to deal with everyday, they will tell you that "If they have the opportunity they wouldn't dare go through that phase ever again.

It behooves on us to quit and desist from gossiping with our friends about people's marriage challenges.
It's most wise if we INTERCEDE for them instead.

The Bible says "Wisdom is profitable to Direct." The devil doesn't choose marriages to attack. he has every marriage on his hit list, so be careful when you laugh at others. you may just be the next target.

Let's not be ignorant.

Bless.. ????????✌????????????
Back to My meeting before I was interrupted.
Money Making time and Nice Weather in London ????????"
Photo credit: Instagram