Omoni Oboli Addresses Negative Feedback She Got After Sharing Photo of her Son Cooking
Following the news we reported yesterday about actress and mother of three boys, Omoni Oboli, who posted a picture of her last son Chizi Oboli making puff puff for the first time, while also encouraging mothers to teach their sons to cook (read here), a Nigerian man has written a lengthy message criticizing her.
According to him, Omoni, 39, is only trying to feminize her son by teaching him how to cook.
You will recall that this was the message Omoni posted yesterday:
"Mothers of boys, teach your sons to cook! Make dem nor go turn another person pikin to perpetual cook ????or make person nor go use food catch them.
READ ALSO: 5 Reasons We Think Omoni Oboli is One Cool Mum
He mixed it from start to finish himself. I helped him with the frying sha #ChefChizi#ProudNunuMom#OmoniNunuRecipes????????????????????????#Repost@chizioboli.

First time making puff puff and it came out great ???????? You can call me Chef Chizi ????????✨ , Omoni captioned the cooking picture.
READ ALSO: "Chizi makes me one of the happiest women in the world!" –  Omoni Oboli Pens Heartfelt Birthday Message to Son
Reacting to the comment made by the Nigerian man, Omoni, who is also a scriptwriter and digital filmmaker, took to her Instagram page to address it and ask her fans their opinions: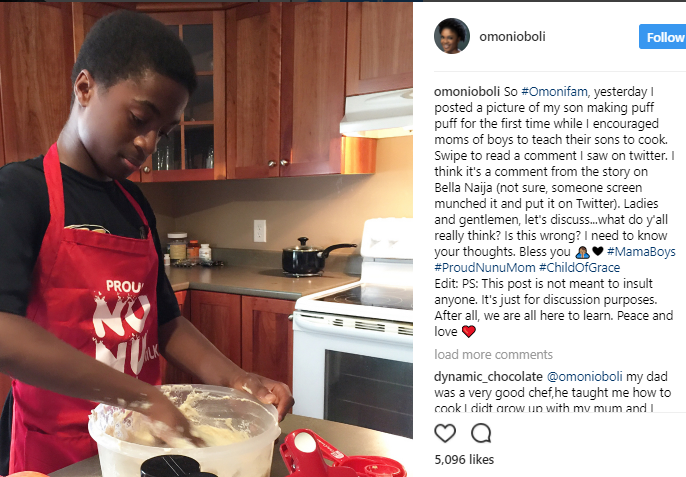 "So #Omonifam, yesterday I posted a picture of my son making puff puff for the first time while I encouraged moms of boys to teach their sons to cook.

Swipe to read a comment I saw on twitter. I think it's a comment from the story (not sure, someone screen munched it and put it on Twitter). Ladies and gentlemen, let's discuss…what do y'all really think? Is this wrong? I need to know your thoughts. Bless you ??❤ #MamaBoys #ProudNunuMom #ChildOfGrace

Edit: PS: This post is not meant to insult anyone. It's just for discussion purposes. After all, we are all here to learn. Peace and love ❤️."
See the lengthy comment from the man below, which Omoni shared:
***
"I'm so disappointed with this and the language in it…inflamed honestly.I'm saddened to read this nonsense.I completely disagree.I know that It's natural for a mother to nurture her son but there is a fine line between feminizing your son and being a helicopter mom.Women of nowadays are raising wussies, pansies and weenies.

Omoni Oboli you are doing a terrible job by exposing your son to femininity.This is unAfrican. You see the reason why boys today softer and more effeminate than in previous generations.You see how these new generation of moms reek havoc and sow the seeds of discord in the lives of their sons.

You see how these mothers do their sons a disservice by not encouraging them to be masculine.Why are women teaching their sons this?What is the new generation of mothers thinking by allowing their sons to enter kitchen? This is disgusting.

This is not visionary.You see why a woman cannot train a boy to be a man like how we men have limits when it comes to raising and training girls.

There are certain that these young boys need psychologically,spiritually,mentally and emotionally that you mothers are taking away from them(Masculinity,testosterone,the male ego)Please women should leave the manhood training to men.

You modern mothers are ruining your sons by emasculating them,depriving them of their masculinity,weakening them,as soon as they reach adulthood ,these harmful traits make them soft. You new generation mothers are raising a generation of wimps,.

We now face a future dominated by boys who never grow up to be men smh…It's becoming more and more apparent of the influence that these strong feminists are having on boys.

We men have to start to realize that these women are feminizing our sons.Women should stop involving their sons in feminine activities like cooking. Western culture has contaminated the traditional values of Africa.Shame!!Modernity is taking away our African cultures smh."
What do you think? Tell us in the comments below!
Photo credit: Instagram