Why Heartbroken Mum of 3 Is Warning Couples Never to go to Bed Angry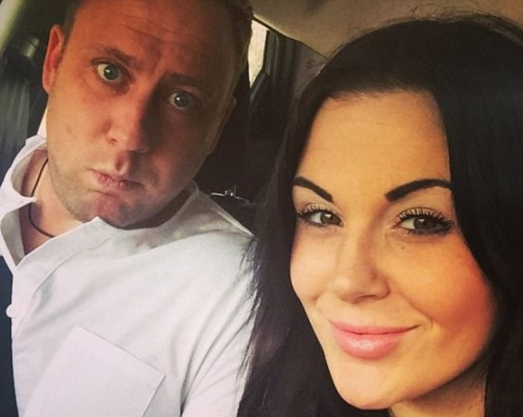 A heartbroken mother-of-three has urged couples to not go to bed angry without solving an argument after banishing her husband to the sofa in a row over him working long shifts.
Ashley Murrell said she has been left feeling guilty because she quarrelled with Mikey Murrell, 36, before banishing him to the sofa – where she discovered his lifeless body in the morning, Dailymail reports.
Ashley, a beauty therapist further said that the fight had broken out as she had been annoyed Mikey, who worked as a carpet cleaner, had been working so much – but was left devastated to discover he had been putting in the overtime to save up for a holiday to celebrate their anniversary.
READ ALSO: Not All Men Are Beasts Series: My Husband is a Rare Gem!
Now she has spoken out about her tragic story, telling people to always kiss their loved ones goodnight and not to go to sleep on an argument.
Paying tribute to her late hubby, who lives in Wellington in Somerset, the widow said:
READ ALSO: Read How a Pivotal Moment Helped Change a Father's Attitude Towards His Wife
"Mikey was so caring, if he walked into a room and saw someone unhappy he would be the first person there trying to cheer them up. He absolutely loved his family.

He wanted his kids to have all the things in life that he didn't and he worked so hard to make that happen. He would work 16-hour shifts, seven days a week just so he could save up enough to take us all to Disney every year. He was so worn out but he would do anything just to see us smile.

But the hours he was working were just getting too much. He was so exhausted all the time and he was running himself into the ground and his health was going downhill fast.

When he came home that night he was a mess, I have never seen him so exhausted. I couldn't stand seeing him like that and I got angry. I was sick of it. I had a go at him and told him to sleep on the sofa which was stupid because I really just wanted him around more."
READ ALSO: Victoria Beckham Reveals Her Secret to a Successful Marriage
However the following morning she woke to find her husband had died 'exactly where she left him' on May 16.
"When I came out of the bedroom and saw him the next morning I knew something was wrong straight away. He was lying exactly where I left him and his face was all discoloured – he looked grey. I walked over and touched him but he was cold and I jumped back and ran out the room. I started screaming "your dad's dead" to my 14-year-old and ran into the street screaming "Mikey's dead".

I blacked out and had to be carried back into the house by neighbours. It felt so surreal, I couldn't process it. I didn't feel like he was dead, I felt like he had left me. When the ambulance came and they confirmed he was dead I collapsed onto the floor and I was sick. Nothing made sense.

I felt so guilty. I was so angry with myself for making him sleep on the sofa. I still find it so hard to think that my last words to him were out of anger. When I found out he'd been saving to take us on an anniversary holiday it was awful – heartbreaking doesn't begin to cover it.
READ ALSO: MUST READ! Dr. Joe Abah Shares Marriage Tips Every Husband Should Know
Losing Mikey has changed my entire perspective on life. Life is too short to go to bed angry and not to spend every moment you can with your family.I knew something like this was going to happen, I knew he was doing too much but you can never prepare yourself for this.

Explaining it to the kids has been one of the hardest parts. I didn't at first but they kept asking when daddy was coming home. Now my little boy always asks if we can visit daddy in heaven – it's really hard.

Some days are easier than others and I think I'm doing OK but then a day comes along where every little thing is a reminder. The other day I was driving along and the kids were singing in the back and it was all so happy but then I just started having flashbacks about finding him. It's going to be like that for a while.

It's going to be tough doing all the firsts without him. I already had our first anniversary alone. All I know is that my feelings for him will never go away. He was too amazing to even describe him in words."
A post mortem revealed Mikey choked in his sleep but the cause behind it was inconclusive, Ashley said.
The couple met in 2007 and were married in 2010.
Photo credit: Mercury Press & Media