Nigerian Singer, Jodie Pens Inspirational Notes To Mothers of Special Needs Children
Following her recent life-challenging situations, the pretty Nigerian singer and mom, Jodie is grateful to God for how far she has come and how far she will go.
Her baby boy who was born with Lissencephaly and cerebral palsy. However, she had been strong sticking to her son and not giving up. Revealing that everything that had happened to her in a short while was overpowering but God was dominating in her favor.
She took to her Facebook, and wrote this encouraging piece to mothers whose children have special needs.
Read below:
"G'morn ????

Lately I've been pondering on how my life turned around since God "shocked" me into *Godsciousness* through events in my life – especially by giving me a special son. My boy is special – not because of what the medical system thinks, but because he actually IS special indeed.
READ ALSO:"When people walk away from you … let them go…" Singer Jodie Fuels Divorce Rumours
Dear special parent, sometimes, God wraps gifts in cases we may not understand at first, but as the gift unfolds, we are struck by the awesomeness and mercy of God. I used to ask "Why me?" (in sorrow) months ago, but now, I ask "Why me?" out of deep gratitude.
READ ALSO:'This #breastfeeding stuff is no joke' – Kandi Burruss Gushes As She Shares Breastfeeding Photo
I don't care what you think may have happened to cause your child to be the way he/she is at the moment – you may say it's the hospital that caused it; or the doctors may have said it's genetic; or maybe a sickness shortly after he/she was born… whether it were avoidable or unavoidable: whatever the case you think it is, remember this, "God has ALLOWED it to happen". Please submit to Him… the PURPOSE will be accomplished.

Follow Him one day at a time – that is what I am doing o! As you go through, things will be clearer. That child is God's child FIRST and be assured God loves him/her more than you do. He laid down His life for that child and we are all meant for Him. (Rev 4:11)
READ ALSO:Nigerian Singer Jodie Celebrates Son's First Birthday
This text is not for everyone, but if it is meant for you, please take it to heart.

God is sovereign
God is all-knowing
God is all-seeing

God! God!! God!!!

God is the reason I can smile again.

Have a blessed day ????????????

#2017myyearofJESUS."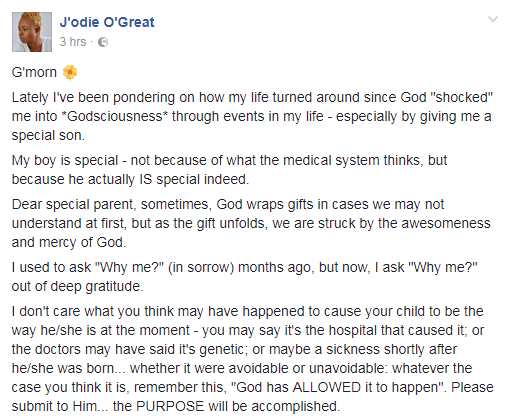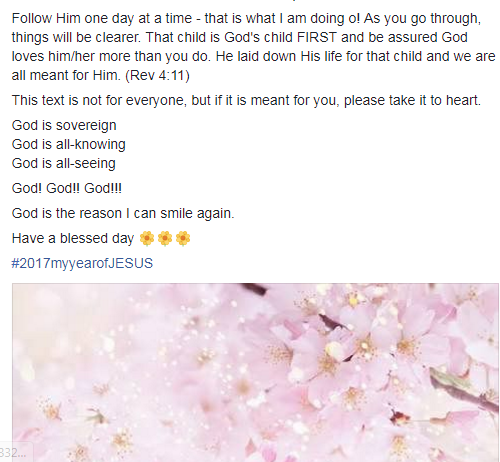 Photo credit: Facebook