"Your baby is still fat and obese" -Kemi Olunloyo Comes for Seyi Law Again!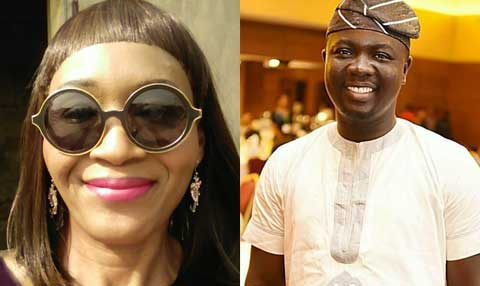 Controversial Nigerian blogger, Kemi Olunloyo, who was recently released after spending weeks in Prison for allegedly cyber-bullying a Port Harcourt-based Pastor, David Ibiyeomie (read here) has replied ace comedian  Seyi Law who said he was happy over her arrest (read here).
Recall that Olunloyo once had a face-off with Seyi, after she made a public post that Seyi Law's daughter is obese and should be monitored (read here).
In another post, Olunloyo has reignited the beef between the two, still dragging his daughter, Tiwaloluwa into it.
READ ALSO: Kemi Olunloyo Dishes Out Marital Advice To Distraught Couple, Ubi Franklin and Lilian Esoro
She wrote;
"MY REPLY TO @SEYILAW1 the complete IMBECILE OF A COMEDIAN. I GUESS I CAN SAY I DID NOT REJOICE WHEN I HEARD HE WASN'T THE ONE BADOO CULTISTS KILLED… RIGHT?
I heard you were happy I went to prison @seyilaw1. Your baby is still FAT AND OBESE. Take lessons from a health professional. There are lots of children in prison and all are healthier than Tiwa. I don't sugarcoat things. Your baby could hardly move in one crawling video.
Stop overfeeding her. I heard someone called her Kungfu panda. All these fake fans hyping her baby fat are laughing behind you. I went back to prison for another 24hrs due to a technicality and was glad to go back to check up on our 4 newborns and 5 toddlers.
The food is better than your mom's cooking. There is no prison food. You cook your own food. Now I go weekly to prison to drop off supplies and money for inmates with babies and IPOB protesters forgotten by Nnamdi Kanu. Excellence, Precious and some of those babies in there need our help, instead you are busy rejoicing about people going to prison, a pharmacist who advised u of your child's potential health danger. Shame on you and YOUR dumbass comedy.
I highly regret interviewing you giving u the exposure to my 27 million global blog readers. Go and read more about #childobesity. @majeayida pls forgive my anger here. As a foremost fitness trainer in Nigeria, you promised to do a write up to address fitness in children and childhood obesity but I was locked up for posting a news tip. People like Seyi should focus on people giving them correct info rather than promoting fake cybercrime laws against media professionals. As soon as you are back, pls DM. Sorry about the #Lekki floods. Thanks everyone for reading.

READ ALSO: Embattled Journalist Kemi Olunloyo Begs Nigerians to Donate to her N1 million Bail Fund… Fans React
See Seyi Law's epic response…
"Oh Madam Kemi, when will you realise you have become an object of ridicule? You try too hard to find LOVE on social media because you are family reject.

You wish you could have a lovely face to wake up and go back home to see like Tiwaloluwa, my precious daughter hence your bitterness towards her. O ma se o. Akuku bi omo. Omo taa ba gbe sonu ka toju ibi e (A child we should have thrown away and keep the placenta). You are such a shame to the name you bear.

All your cooking without people to eat with must be very painful. Eeeyaah!! I am a professional journalism, pharmacist this and that yet, you had to beg for your bail and feeding like a bed ridden patient. If only you were dedicated and committed to taking your drugs, you would not be raving like a rabies infected dog.

I wish I didn't have to do this, but training an Adult child is not a bad idea. A fool well over Fifty only deserves our prayers. We remembered you in ours tonight.

Ladies and Gentlemen, this marks the end of SEYILAW ever replying nitwits and incoherent psychiatric bound adult children. Let me take you back to your class, I hope with this few points of mine I have been able to convince you and not to confuse you that your stupidity is regrettably a birth defect. Anuofia."
https://www.instagram.com/p/BWi8ToLBLbs/?taken-by=seyilaw1