Brother of Sick Actress, Halima Abubakar, Reveals Nature of her Ailment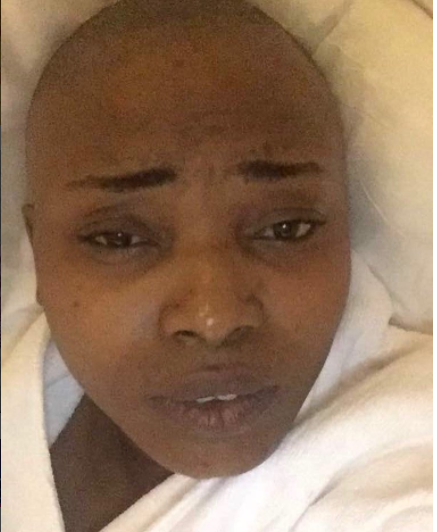 Born in Kano, Nigeria, Halima Abubakar is one of Nigeria's finest acting talents. Abubakar has not been seen in public for a long time now, but on Sunday, Tonto shared an image of the ailing actress yesterday who appeared to be on a hospital bed (read here).
Tonto informed her fans that she had just picked her up so she could  take good care of her.
In a thankful message to Tonto and the First lady of Kogi state, Rashida Yahaya Bello, the younger brother of Halima, Isah Abubakar, took hold of her page an hour ago to reveal his celebrity sister is down as a result of complications from fibroids.
He shared a picture of his beautiful sister captioned:
"On behalf of our big sister, we want to thank everyone who called, commented and prayed for her. We all are grateful. And to Aunty Tonto for being a good friend and for always being there.

And to her mentor and guidance, The First Lady of Kogi state @rashidayahayabello for being an example of love and kindness towards our sister who had complications from fibroid.

We love and pray for God to keep uplifting you for all you do for every one. For being a mother to our sister. Your kindness will never go in vain.

Written by @itsyungissy Isah Abubakar."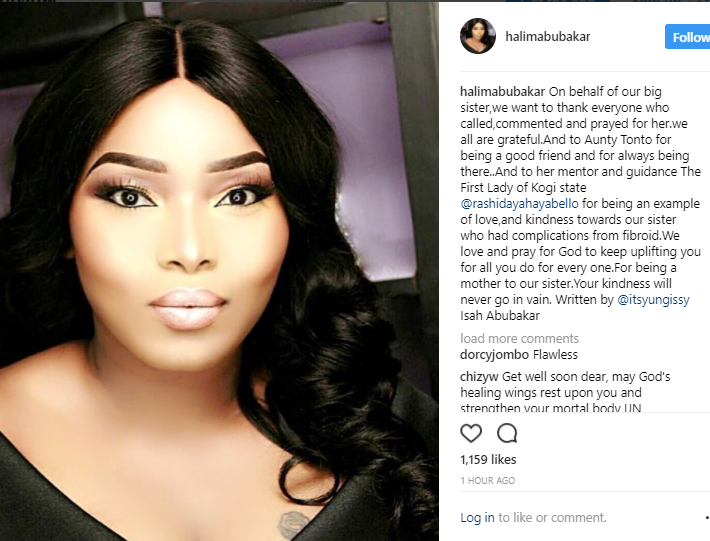 Get well soon!
Photo credit: Instagram