Why Jada Pinkett Smith is Jealous of Her 64 Year Old Mom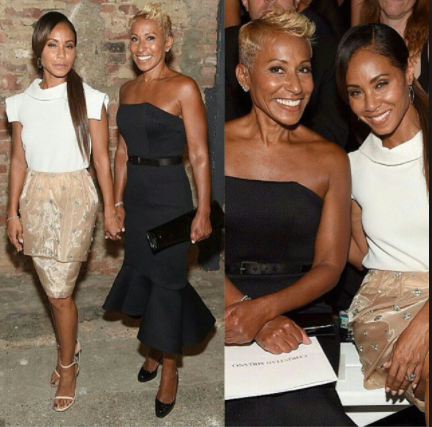 Though most women look up to their mothers for various reasons but there aren't many who want to have bodies like their 64-year-old mothers. Jada Pinkett Smith admitted she is jealous of her mother's Adrienne Washboard's fabulous figure but is hoping she has inherited those same good genes.
READ ALSO: Jada Pinkett Smith Talks On Marriage To Will Smith
The 45-year-old actress and mother of two teenagers revealed this when she was interviewed on the red carpet at the premiere of her new comedy, Girls Trip, co-starring Regina Hall and Queen Latifah, in Los Angeles on Thursday.
A picture of Adrienne showing off her six-pack in a bikini recently went viral after the award-winning star posted it on Facebook back in 2014.
Speaking to '
Entertainment Tonight
', she said:
"I have good genes, don't I? She rocks one better than me. When your own mother can put you to shame, I'm like, 'I don't know if I gotta get back in the gym.

I don't know what I gotta do.' I just told her, 'All that right there, just make sure your passing all those good genes down here!' "
Jada certainly inherited all her mother's physical attributes in the beautiful gold gown she wore to the premiere.

Jada took her mum and brother, Caleeb Pinkett, to the premiere, but didn't dare bring her 16-year-old daughter, who had ashed if she could accompany her to the first premiere, but Jada refused to take her due to one particular scene in which she performs a sexual act using a grapefruit.
READ ALSO: Jada Pinkett Smith Reveals Fitness Secrets
"Jaden's working in New York and Will's working. And Willow is too young," Jada said with a laugh.

"Now, she can see this with her friends. But, I was like, I don't want to sit with her through the grapefruit scene. No, not that part. She was like, 'Mom, I want to go see this.' Not tonight. Not tonight. I was like, 'You better go to the movies and sneak in like you supposed to. This is so sneaking movie stuff for your age.'"
Photo credit: Willy Sanjuan/AP/Facebook/Twitter