Valuable Lessons to Learn from Duncan Mighty & Wife as They Celebrate 2nd Wedding Anniversary Today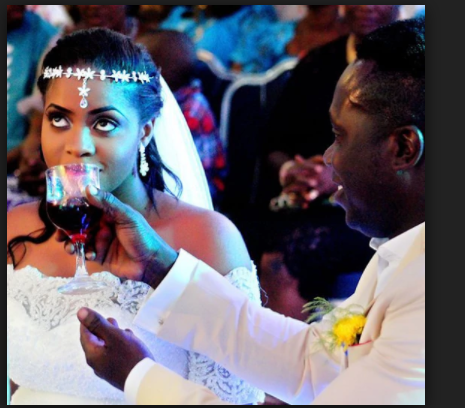 Port Harcourt base singer Duncan Mighty and his beautiful wife Vivien, are celebrating their second wedding anniversary today, July 25th.
Duncan Mighty took to his page to shower praises on his wife for giving him two beautiful kids, Icon and Michelle, sending all his maids away and cleaning his mansion all alone. He also expressed his gratitude for her 12 midnight prayers for the family.
So much to learn from this amazing couple.
READ ALSO: Nigerian Singer Duncan Mighty Reveals One Of His Success Secrets Is 'Remembering The Widows'
Read what he wrote below;
"The very first time you came into my life, every wrong and fake persons around me flew the next thing I realized was been afraid of losing you and on your birthday I proposed to you which you said yes.

The next day you joined bible school just to have the knowledge of CHRIST in your marriage now just between 2015 and now I have two world best kids a son and daughter ICON and MICHELLE, own a construction company, built multimedia centre. My mom now leaves in her own crib driving her own cars.

It was recently you accepted having a maid because of MICHELLE because since I got married to you my other maids left and you alone clean my mansion, you pray every 12 mid night, we are always by each other, my mom became happier ever since you came, your family saw light ever since we became one.
READ ALSO: Daddy Duties! Duncan Mighty Shares Adorable Clip With Newborn Son
Your Dad will always tell me he wouldn't want to hear that we have misunderstanding. Your mom calls me the special son IN-LAW and also calls me her special son, honey you've always tolerated me in all side.

It took me 24 hours to carry out our marriage ceremony…. having top legendaries and A list celebrities all over the place, our toast" NEVER ABOVE YOU ALWAYS BESIDE YOU I PRAY FOR ONE WEDDING AND MANY ANNIVERSARIES chai my life partner forever I will always cherish, love, adore and most especially be by your side all the days of my life honey.

Happy 2 years anniversary to us. I love you my world….. #duncanmighty#besthusbandeverliveth watch the first 24hours wedding ceremony .."
READ ALSO: Nigerian Singer Duncan Mighty Lends His Voice To End Girl-Child Marriage
He also shared videos from their wedding two years ago.
https://www.instagram.com/p/BW9sWDkge7Z/?tagged=duncanmighty
https://www.instagram.com/p/BW9wxcTgQif/?tagged=duncanmighty
Congratulations to the lovebirds!