Not Too Early to Start! Chris Brown's Daughter, Royalty Starts Business At Three … See Photos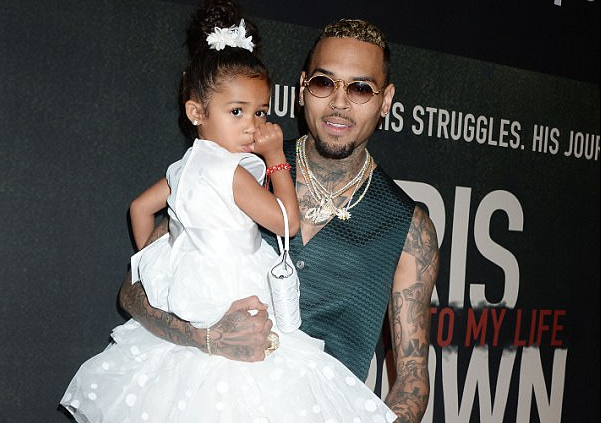 Singer Chris Brown's daughter, Royalty, may be getting lots of pay checks in the near future as she is more than ready to explore the fashion world.
Despite being only three, the toddler is to be the face of new unisex kids fashion range, 'Royalty Brown Clothing', which she has supposedly 'helped to design with her mother, Nia Guzman.
TMZ exclusively reports that the collection features monster graphics, two-pieces and even cosmetics.
READ ALSO: WATCH: Doting Dad, Chris Brown Gushes About Fatherhood
It was also gathered that Nia, filed an International Class 25 trademark under Royalty's name, which includes clothing, footwear and headgear, in May.
READ ALSO: 'I'm happy I took the responsibiility to be a father' Chris Brown Writes To Daughter, Royalty
The youngster's goal is to push threads for the fun and energetic kid with an outgoing personality.
This is a clear case of "like-father-like-daughter" in the clothing department as Chris also has his own line of duds – Black Pyramid.
Chris, 28, and Nia's relationship is factious, with Nia, 34, trying to regain full custody of Royalty with only monitored visitation for Chris last year.
According to reports, a judge denied her demands (read here), which also included stopping Chris' mother from seeing the little girl and for the artist to submit to a drugs test.
Nia had previously claimed that Royalty developed asthma (read here) because he smoked excessively around her.
When Nia filed her legal bid asking for a change in the custody agreement, a judge ordered Chris to give her $20,000 to fund legal representation but after having all her requests denied, the judge ruled she wasn't entitled to the money and needed to pay back her estranged partner.
There was also supposed to be another hearing on child support, with Nia asking for her $2,500 payments to be increased to almost $16,000, but she requested the petition be dismissed.
It is never too early to start making money!
Picture credit: TMZ/Instagram